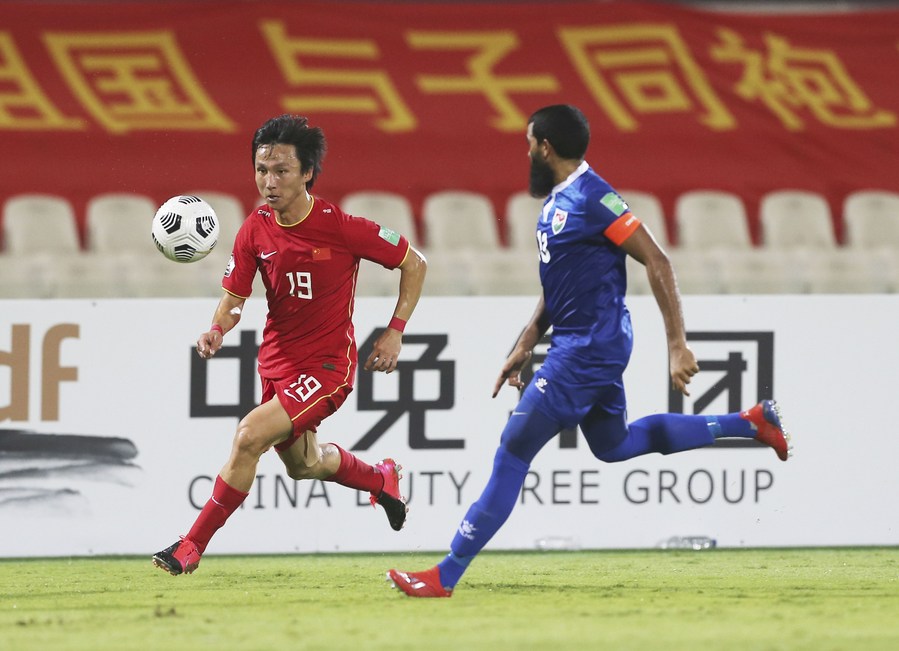 SHARJAH, UAE-Sharjah is Team China's "second home" and has provided its best facilities to help Li Tie's men prepare for their 2022 World Cup qualifiers, according to Eisa Al Hazami, chairman of the Emirati city's sports council.
China's national team is preparing for its next qualifier, against Vietnam on Oct 7, in Sharjah, where it clinched three vital wins in June this year to reach the final phase of Asian zone qualifying.
The Chinese Football Association (CFA) decided to move the national team's home games to the United Arab Emirates due to China's international travel restrictions in response to the pandemic.
"UAE and China have historic ties. Our job is to support and enhance this relationship in sports. We also have great infrastructure to organize any international soccer event," Eisa said.
"I told the CFA we will make the team feel as if this is their second home, we just needed two or three days to finalize that.
"We activated the emergency plan. Our management team knows the procedure and they are expert enough to handle all these issues, even during the pandemic," Eisa noted, adding that Sharjah is providing the best possible facilities to the Chinese delegation.
"We will do our best to make their mission easy. Our relationship is like a brotherhood," said Eisa, adding that he built a mutual understanding with CFA staff even before the pandemic, when Team China participated in the 2019 AFC Asian Cup in Sharjah.
Both China and the UAE lost their opening two matches of the final phase of qualifying, leaving them with a tough task of reaching the 2022 World Cup finals.
"The road to Qatar will be hard. I hope both teams can qualify," Eisa said.
"As a matter of fact, we signed with the academy of Ajax and set up a new strategy to develop new kids and a new generation of players. Ajax is considered the fourth-largest soccer academy in the world. Now with advanced training technology, people are willing to send their kids to play soccer," the local sports chief said, adding that soccer has been developing rapidly in Sharjah, and he is expecting broader sporting cooperation with China in the future.
"We are talking about developing Sharjah into a new sports city. Now we have a plan about developing individual sports, we know China has great results in individual sports. We are planning to host players and coaches and also send our players to China," he said.
Xinhua