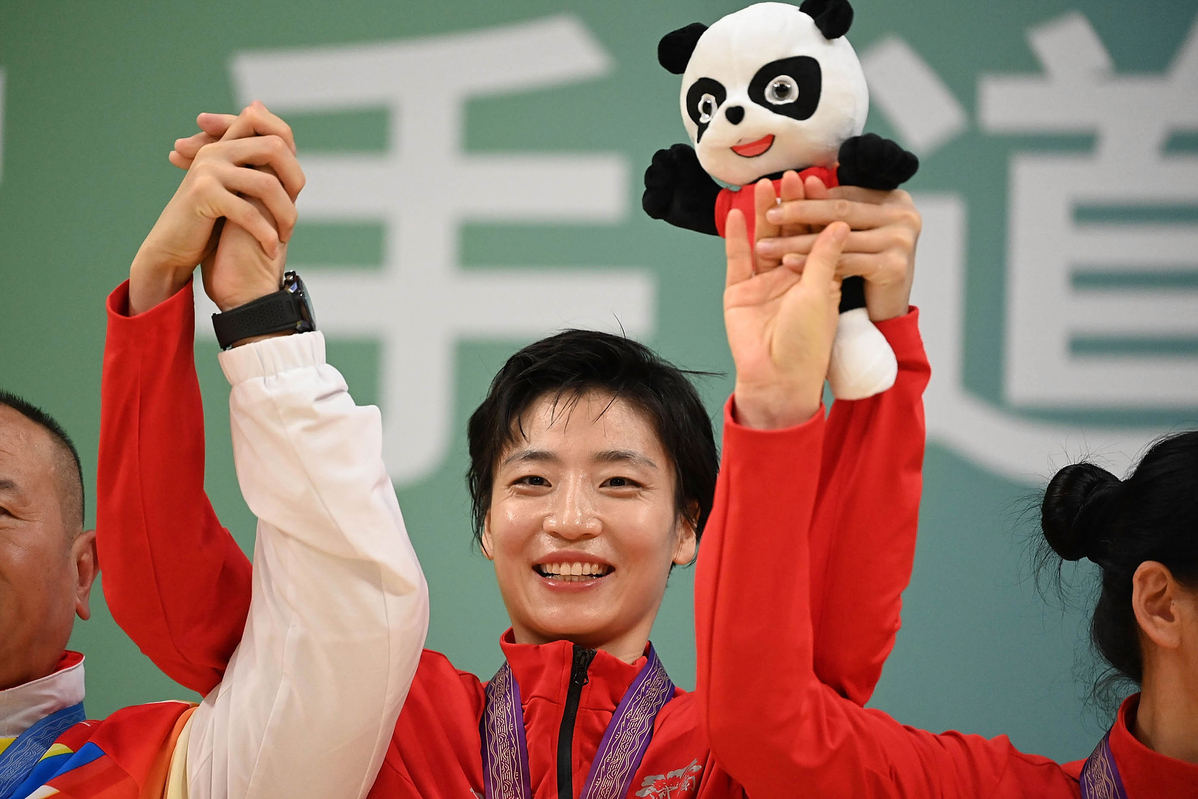 Bubbly karateka vows to continue promoting sport despite setbacks
XI'AN-Just as her name connotes, China's history-making karateka Yin Xiaoyan always wears a smile on her face.
"My mom gave me this name, as I loved smiling at a young age," said Yin, whose given name translates as talking with a smile, after retaining her kumite-61kg title at the ongoing National Games in Xi'an on Saturday.
The 28-year-old won China's first-ever Olympic karate medal in Tokyo. But for her, the disappointment of failing to stand atop the podium in the Japanese capital remains. With karate now dropped from the program, Tokyo 2020 was her last shot at Olympic gold.
Yin lost the Olympic final to archrival Jovana Prekovic on Aug 6.The defeat was tough to take for the Chinese, especially considering the match had ended scoreless, with judges awarding gold to the Serbian by 'Hantei', deciding she had better form.
"Seeing China's national flag hoisted, I felt that everything had paid off," Yin said. "However, not standing on top of the Olympic podium may be the biggest regret of my life."
She said that the National Games offered a welcome chance to bounce back from her Tokyo disappointment. "I wanted to showcase myself and redeem myself by standing on top of the podium here," she added.
Yin switched from volleyball to karate in 2007, making her debut for Team China in the sport two years later. Recalling her first international competition, Yin said she enjoyed the moment of stepping into the arena and seeing everyone's eyes fixed on her when she scored. She has remained unbeaten in national competitions for a decade.
The silver medalist from Saturday's final, Ren Yilin, paid tribute to Yin, describing her as her idol. "When I joined the provincial team, she was already the top Chinese karateka. I grew up watching her in action," said Ren.
Yin, though, tries to keep a low profile around the young karatekas because she has "experienced what they are experiencing".
Yin encountered a low ebb in her career in late 2018 and early 2019 when she found it difficult to cope with a tight schedule after karate was introduced to the Olympic program. Participating in an overseas tournament almost every month, she soon found herself exhausted, and then had to deal with personal tragedy when a family member passed away.
"I felt that I was burned out," she recalled. But she never gave up.
"Winning once is easy, but winning continuously is not," she said. "Keep on going, and never give up until the final second, as you have the chance of turning it around at any time."
After concluding her National Games campaign, Yin plans to take some time off to ponder her future.
"One thing is for sure-no matter where I am or what I do, I will spare no effort in contributing to the development of karate," she said.
Fist-bumping with a young fan before Saturday's final, Yin showed what a fine ambassador she is for the sport-a role she could choose to make more formal after her competitive career ends.
"Maybe this is a new hope for karate. As karatekas, we cannot let anyone who loves the sport get away," she said with a smile.
Xinhua