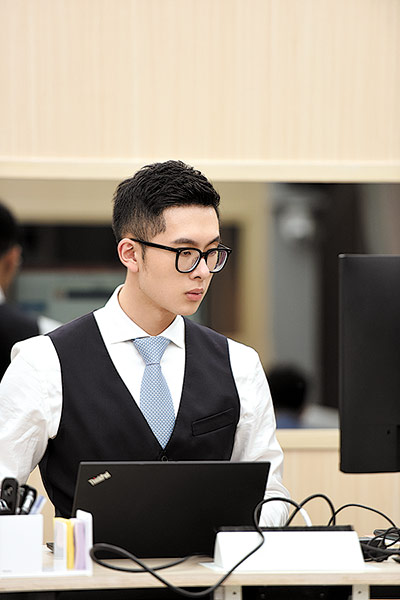 New reality show highlights careers in the securities industry, Li Yingxue reports.
The bustling office was like a scene from the Wolf of Wall Street, but set in 21st century China. Nine young brokers stare intensely at the four screens in front of each of them, nervously waiting for the key moment to buy and sell their bonds by phone.
With 100 million yuan ($15.4 million) each to trade with, their deal volume had to surpass 300 million yuan by the end of the day. The one who made the most profit won.
They were all so focused, enduring a roller-coaster of emotions as the numbers on the screens flickered and changed. While the money they were playing with wasn't real, the feelings of euphoria and desolation were.
The young traders, actually interns at Huatai Securities, a leading integrated securities group in China, were engaged in a simulation bond trading competition as part of the reality show, The Shining One, produced by Jiangsu TV.
The 12-episode series, which premiered on April 16 and ended on July 9, witnessed nine Chinese job-seekers, all in their 20s, battle to win their dream job at the company.
Four candidates received the final offer after the one-month internship, during which they completed six different tasks-in groups or individually-to showcase their capabilities as a finance professional.
The show started with a complex interview in which 30 finalists were tested and interviewed by five senior industry professionals from the company, four of whom became mentors to the final nine interns.
Six celebrities formed an observation group to comment on the interns' performance in each episode. One of the interns is eliminated at the halfway point of the series, leaving the remaining eight candidates to battle it out for the four positions on offer at the company.
Ma Dong, a renowned host and also a member of the observation group, thinks that leaving the show does not represent failure, just that the person is not suitable for that particular position. "The workplace is where you find a sense of achievement, it's a joy and self-recognition when you reach success. It's not ice-cold but homothermal," he says.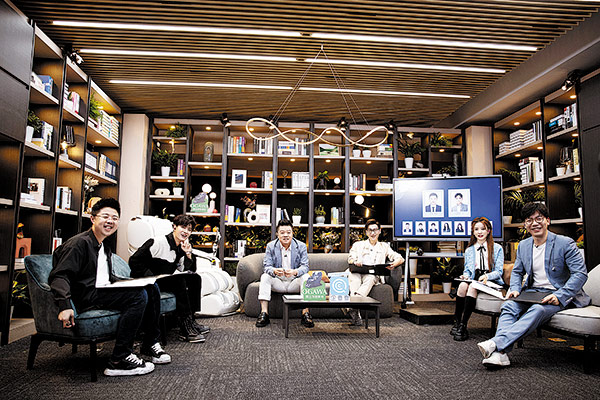 According to Bai Xue, producer of the show, around 10,000 youngsters signed up for the show and most came from top universities from both China and overseas. They all had different academic backgrounds, such as business, computer science, electronic and electrical engineering and mathematics.
Bai says the 30 finalists for the show were all qualified for the company's hiring standards. "We hope to see a group of young people who are alive and passionate. With different personalities, they bring a different mindset when it comes to working, learning, friendship and family," she says.
Wang Xi, deputy director of Jiangsu TV, thinks job hunting and employment is a hot-button issue among Generation Z, and they want to create a program focusing on that topic.
"The financial industry has not been touched by variety shows in China, yet it's an industry that people are curious about. So, the show is unique. Also, it's an industry that gathers a bunch of talented people from top universities," Wang explains.
"We also want the audience to get a closer look at how a securities company applies professional skills to help their clients with asset allocation and helping both the economy and companies achieve healthy growth," he says.
Wang is impressed by all nine interns. "They show the courage and resilience the young generation has to offer. They compete, as well as cooperate, with each other with an open mind, critical thinking and the character of perseverance."
Lin Yinggu, 24, won second place in the bond-trading task and stood out among his peers during the internship to win a job offer.
A graduate of Peking University with a master's degree in finance, Lin thinks the internship gives him a chance to learn about different business paths in the financial industry.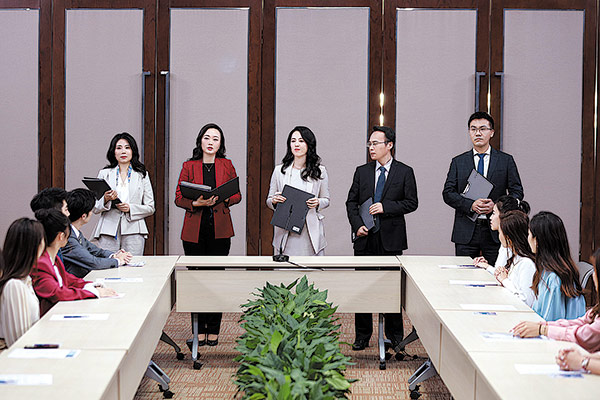 Lin doesn't see himself in a career as a trader after the task, even though he achieved good results. He thinks that the job is more suited to people who like to deal with massive data sets and that doesn't really interest him in the long term.
"The experience is interesting and new, but I see myself more suitable for investment," he says.
Having finished his bachelor's degree in law from Peking University, Lin gradually found his interest in investment through several internship experiences in law firms, private equities companies and investment banks.
"Working in investment satisfies one's curiosity and the people you are meeting are all top talents in different industries. Not only are they smart and easy to communicate with, but also they can help me, as an outsider, to quickly understand a new industry," Lin says.
To find an ideal job after college, a person has to start early, trying different internships as soon as they are enrolled in college to find a career that interests them, Lin says.
"The difference between college and high school is that, in high school, the core is study and the schedule is set by your teachers, while in college, you have to plan your schedule on your own, and select courses by yourself. You need to talk to more people and try harder to discover your career focus," Lin says.
Su Junxin, 24, another of the four who received an offer, also has his eye on becoming a successful investor.
Su studied electronic and electrical engineering at Nanyang Technological University in Singapore with a full scholarship from 2015-19.
After one year of work, he went back to campus-this time he chose to study a master's degree in finance at the University of Singapore in 2020.
Su says all of the tasks in the show are very close to a real workplace experience, especially the need to finish them in a short period of time, which is quite challenging for all interns.
"I noticed the cameras on the interview day, because walking into the conference room, there were many of them. However, as soon as we started to do our work, we barely had time to care if we looked good on camera or not," Su recalls.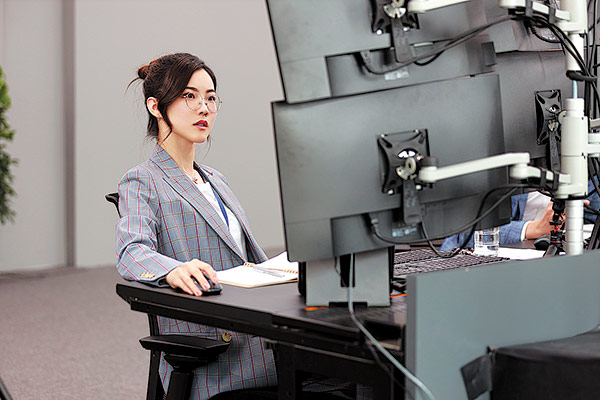 "The internship provided us an opportunity to learn about different business paths as part of a large financial platform," he says. "I've made many new friends through the show, and I've learned a lot from all my mentors."
The experience reinforced Su's desire to work in the investment industry. Wishing to combine such a career with his background in engineering, he is keen to find companies with the potential to make a difference.
"You can talk to people about their products, future or how to change the world. It feels like you are part of something cool," Su says.
On the 2020 Forbes Midas List, an annual ranking by Forbes magazine of the best deal makers in high-tech and life science venture capital, 22 of the top 100 investors are from China.
Qin Qin, one of the mentors who specializes in equity investment, says the reason that the list includes many Chinese investors is because, from the demand side, China has over 1 billion people and millions of entrepreneurial companies; and from the supply side, the Chinese venture capital investors are diligent and smart.
"It's the best time for entrepreneurship and also the best time for investment," she says.
Each of the four mentors, who are from different business fields, has worked for over a decade. They can understand the feelings of the interns and the difficulties they face, Bai says.
"Each of them has their own specialty. For example, Zhang Jiqiang manages a healthy lifestyle and gets to sleep at 11 pm despite an intense working schedule. Yu Wanting is vigorous and resolute who works hard and plays hard," Bai says. "They may remind the audience of someone they have met or hope to meet at work," she says.
Bai thinks the graduates from top universities are more competitive in the job market, and solid internship experience is also a plus. Candidates with multidisciplinary backgrounds are more favored by employers, she adds.
"Even though the audience sees the nine interns' process of competing for an offer, we want all students with a passion in finance to see themselves in the show and find their position in this industry. No matter which university they come from or which company they are working for, each one can be the shining one," Bai says.