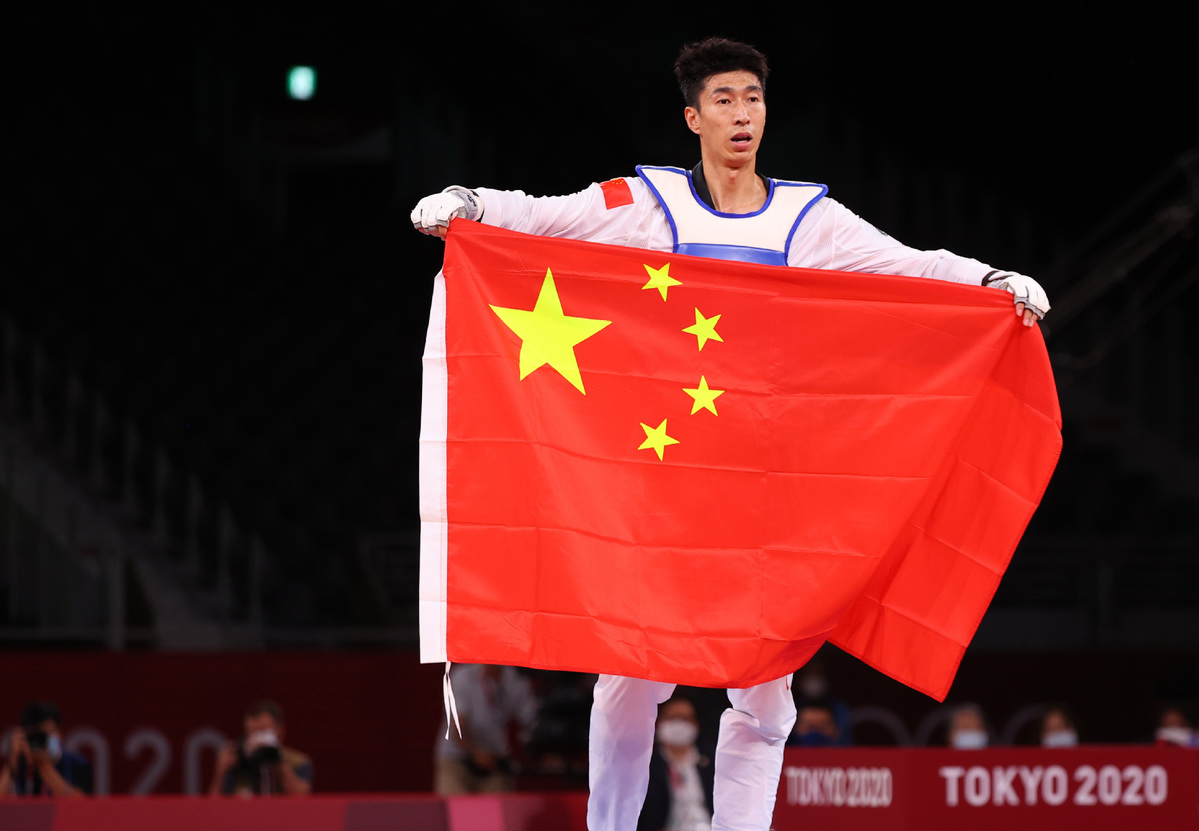 Public getting right behind nation's Olympians at Tokyo 2020-even when results don't quite go their way
China's Olympic gold medalists aren't the only athletes feeling the love from the fans, as taekwondo star Zhao Shuai has discovered.
As one of China's flag-bearers at the opening ceremony, expectations were high that Zhao could retain his men's 68kg title in Tokyo.
A semifinal defeat to Britain's Bradly Sinden scuppered his gold-medal hopes, before Zhao bounced back to beat South Korea's Lee Daehoon and claim a consolation bronze on Sunday.
Zhao could not hide his disappointment at not delivering gold for the nation, however the mood back home was far from despondent.
The hashtags "Zhao Shuai failed to reach final" and "Zhao Shuai won bronze" both became trending topics on social media platform Weibo on Sunday, when many fans were keen to stress that he should be proud of his efforts.
"All who have watched Zhao's match would feel the same, and there's no shame in admitting that for Zhao the bronze medal was not enough. However, the bronze medal is the same weight as the gold," read a China Sports Daily commentary.
"As a Team China flag-bearer at the opening ceremony of the Tokyo Games, Zhao had attracted a lot of attention before the match started. He is the most iconic Chinese taekwondo athlete, and Zhao's goal has always been to stand on the highest podium.
"Even though Zhao failed to earn his second Olympic gold medal in Tokyo, what he stands for has not changed, and he continues to be an inspiration. From his post-match interview, it's clear that he was not satisfied with the result. But no one can always keep winning no matter how competitive they are."
In the wake of the public's outpouring of support, Zhao is now determined to resume his fight for Olympic gold in 2024 in Paris.
"It's a pity that I didn't seize my chances in the semifinal, but it is what it is. A defeat is a defeat, and there's no excuse. So in the bronze-medal fight, I needed to give all that I had and try my best," said Zhao after claiming the third-place prize.
"I was not proactive enough, and I didn't handle the details in certain moments well. That's why I had such a result.
"Compared with the Rio Games, it was impossible for me to stay in the same mindset.
"All I can do is to stay focused on matches and training… I will be back to prepare for the future from zero. I will continue to give my all in the next phase of my career."
Wu's heart-warmer
Chinese women's taekwondo legend Wu Jingyu failed to win a medal in Tokyo. The 34-year-old former Olympic champion was knocked out of the 49kg class at the quarterfinal stage on Saturday, and afterward confirmed she is retiring from competition.
Wu claimed golds at Beijing 2008 and London 2012, then quit taekwondo after the Rio Games to give birth to her daughter, before deciding to return to the sport she loves in 2018.
Despite bowing out without a medal around her neck, Wu's appearance in Tokyo earned her huge respect from fans and the global sports community.
International Olympic Committee (IOC) president Thomas Bach took time to speak to Wu after her defeat, describing her as a great athlete and mother.
"My daughter's English name, Gloria, was given to her by president Bach," revealed Wu.
"He told me today that many people expected to see me win a medal again. When my kid grows up, I hope she can also participate in the Olympics and win medals."
Wu added that she will now start a new chapter in her life with "no regrets" about her athletic career.
"Taekwondo is a very important part of my life," she said. "It means a lot to me, and I have learned a lot from it. It's a passion and a belief to me. I trained for the sport for over 20 years, and I have no regrets now. I'm happy with what I have achieved and I'm proud of myself."
Friendly fire
Chinese shooter Wang Luyao has also been on the receiving end of the public's goodwill in recent days. While her teammate Yang Qian won the first gold of the Tokyo Olympics, in the women's 10m air rifle competition, Wang failed to qualify for the event's final. After the defeat, Wang posted a selfie on Weibo accompanied by the message: "I'm sorry everyone. It's a pity. I admit that I got cold feet today. See you guys in three years' time."
While some cynics questioned Wang's cheery disposition in her photo, and what they interpreted as an inappropriate choice of words ("cold feet"), the majority of fans rallied behind the 23-year-old.
"Wang Luyao is still the pride of her native Zhejiang province. It's a pity that Wang failed to qualify for the final, but victory and defeat are both normal in sports competitions," read a commentary by People's Daily.
"The new generation of Chinese athletes have huge passion for their lives and careers and they will always train hard. We believe Wang will have a brighter future."
Responding both to her critics and backers, Wang said: "I want to congratulate all Chinese athletes who have great performances at the Tokyo Olympics. I am grateful for the support from media, friends and fans. At the same time, I accept all criticism," Wang wrote on social media.
"The foundation of my future success is harder training. In regard to the phrase 'cold feet', I just wanted to say it's my first Olympics and it's normal that I'm too nervous to have a good performance… I will start everything from zero and I will never just give up. So I will return for the Paris Olympics."