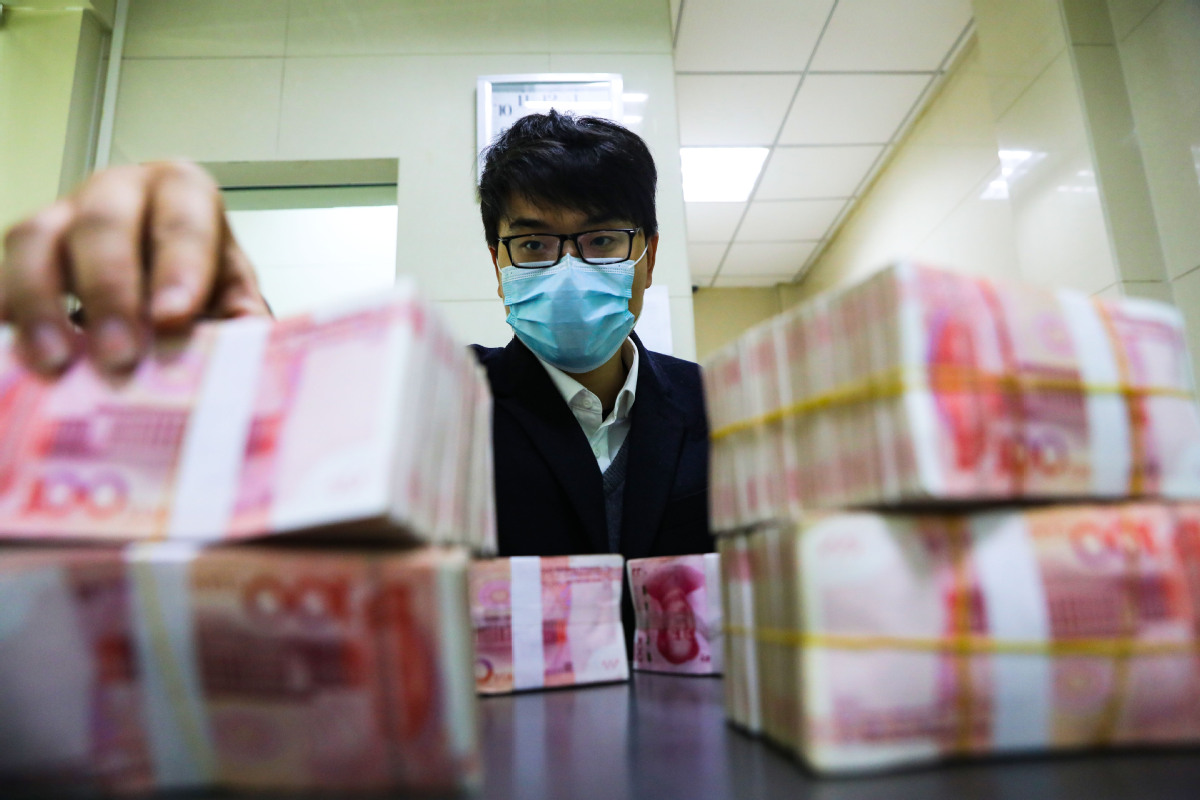 Any woes at 'too big to fail' institutions won't be allowed to snowball into risks
China will launch standardized and unified requirements for large and medium-sized banking and insurance institutions to make resolution plans.
Commonly known as "living wills", resolution plans are detailed strategies for orderly resolution of material financial distress or failure of institutions. They help prevent systemic risks and maintain financial stability during such circumstances.
The China Banking and Insurance Regulatory Commission, the country's top banking and insurance regulator, announced on Friday it started soliciting public opinions on interim measures for the implementation of resolution plans of the banking and insurance institutions whose assets amount to a certain scale.
This will prevent "too big to fail "financial institutions from taking excessive risks or becoming over-reliant on public assistance during a crisis, experts said.
Banking institutions, including commercial banks, rural credit cooperatives and financial asset management companies, whose on-and off-balance sheet assets after adjustment, both domestic and abroad, were no less than 300 billion yuan ($46.3 billion) at the end of the previous year, should make resolution plans, in accordance with the requirements of the interim measures.
The same rules will apply to insurers whose on-balance sheet assets, both domestic and abroad, were no less than 200 billion yuan at the end of the previous year.
"Large banks know that the government will use public funds to bail them out if they fail, so they may take excessive risks to make short-term profits while leaving possible risks to the country in the long run," said Zeng Gang, deputy director-general of the National Institution for Finance and Development.
"According to the measures, shareholders of large financial institutions will be required to make arrangements for problems that may occur in the future while the FIs are still running normally.
"The shareholders will also be required to handle possible risks by using the FIs' and their own funds to the greatest extent. This will increase the attention paid by shareholders and executives to the risks of their own financial institutions and force them to make arrangements accordingly.
"In this way, if major risks occur at a large financial institution, the regulator will be able to cut the costs of risk spillover effects between the FI and the financial system as much as possible."
Ever since 2011, financial regulators have instructed Bank of China Ltd, Industrial and Commercial Bank of China Ltd, Agricultural Bank of China Ltd, China Construction Bank Corp and Ping An Insurance (Group) Company of China Ltd to make and update resolution plans. The regulators also set requirements for trust companies and privately held banks to make such plans comprehensively.
Despite the preliminary practices, detailed rules on resolution plans still need to be made, regulatory standards need to be unified and the scope of application needs to be expanded, said a CBIRC official in a written reply to media questions.
Dong Ximiao, chief researcher at Merchants Union Consumer Finance Company, said: "Although China's financial risks are generally controllable, there are still factors affecting financial stability. In an event of failure of some large financial institutions, risk infection among them may become a major cause for financial risks and crises.
"Therefore, making institutional improvement on resolution plans of our country's financial institutions and creating effective plans is conducive to early prevention of risks and the enhancement of efficiency of risk disposal, so that financial institutions will nip the problems in the bud.
"The CBIRC drafted interim measures for the implementation of resolution plans of banking and insurance institutions by fully learning from international regulatory practices, to shore up weak links regarding regulations in this area. This will help large banking and insurance institutions win a tough battle against financial risks and will also help maintain financial stability."
Wang Guojun, an insurance professor at the University of International Business and Economics in Beijing, said many insurers have not yet made resolution plans, as they have never expected to file for bankruptcy.
By setting unified and detailed requirements for such plans, the regulator will increase insurance companies' risk awareness and better protect consumer interests, Wang said.