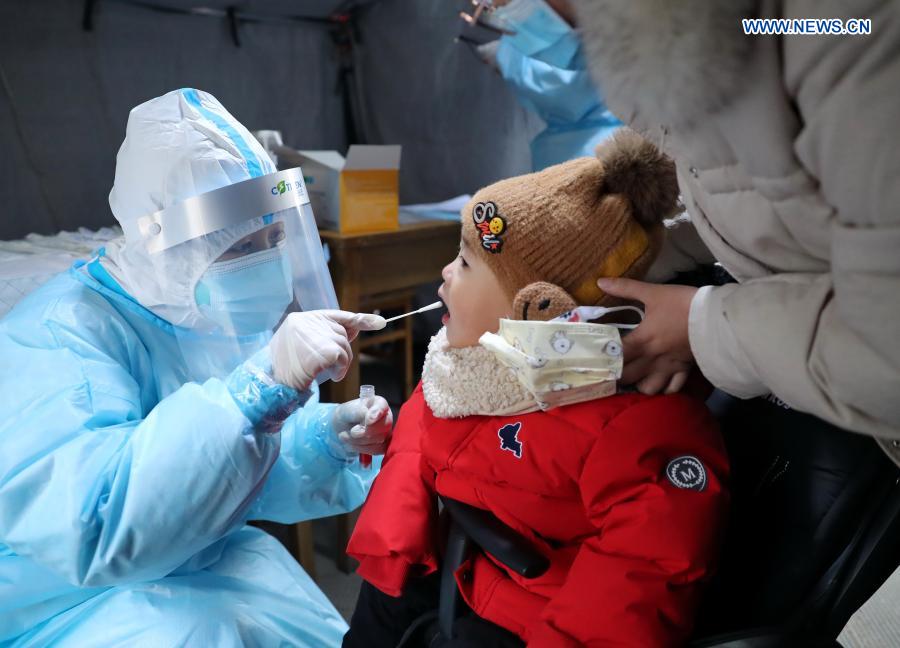 Contact tracing to find the origin of coronavirus infections in Hebei province is focusing on the period from early November to Dec 15, according to an expert from the Beijing Center for Disease Prevention and Control.
The earliest confirmed cases — some seniors in Shijiazhuang's Gaocheng district — had no contact with imported objects or people, indicating that they are not the first to be infected, or "patient zero", said Tian Lili, who is now in the city in Hebei province to conduct and epidemiological survey. He was quoted by Beijing Daily.
Hebei reported 90 new confirmed COVID-19 cases and 15 asymptomatic carriers on Wednesday morning, the highest daily rise of confirmed cases in the province since the cluster infection broke out on Jan 2.
The cases were all detected during a 24-hour period on Tuesday.
After the jump, Hebei has a total of 395 recently confirmed COVID-19 patients and 215 asymptomatic carriers under medical observation, the provincial health commission said. Among the confirmed cases, one person has acute symptoms, 12 have severe symptoms and the rest are displaying medium or mild symptoms.
The new cases in Shijiazhuang include several children, the youngest a 6-month-old.
Some had been to outside places, including the Hebei cities of Baoding, Cangzhou and Dingzhou, as well as to other provinces, including Shaanxi and Shandong. Some infections were found in more than one member of a family.
Most of the newly confirmed cases in Shijiazhuang were confined to villages in Gaocheng district, while several were from other counties or districts. Many of those infected had attended weddings or other gatherings.
The province has reported new confirmed cases for 11 consecutive days since the new outbreak was discovered.
Among those, 84 were found in Shijiazhuang, Hebei's capital, 27 of which involved people previously diagnosed as asymptomatic carriers. The other six were from Xingtai.
Of the new asymptomatic carriers, 14 were in Shijiazhuang and the rest were in Xingtai.