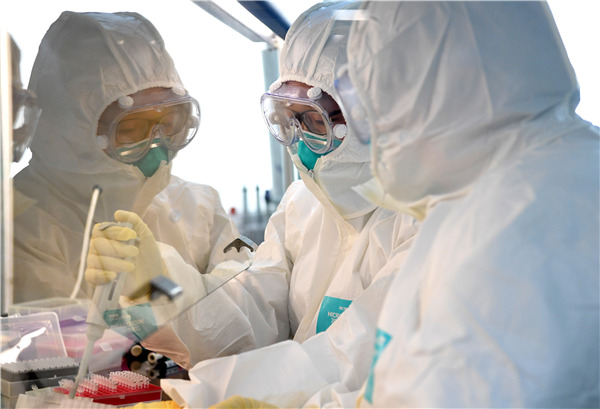 While most people are taking measures to avoid the novel coronavirus that has claimed more than 1,000 lives in China, Bu Ge has been in close contact with it for at least eight hours a day over the past three weeks.
The virus sits in his hands and fills the air in his laboratory-which perhaps is the riskiest venue in the megacity of Fuyang, East China's Anhui province. Bu is responsible for nucleic acid detection.
Soon his goggles fog, and he has to keep his eyes wide open to continue testing. "We are extremely strained. The density of the virus here is much higher than in a hospital, and we must make sure the hazmat suits are worn properly," says Bu.
Shrouded in two layers of hazmat suits together with an N95 mask, a pair of medical goggles, latex gloves and waterproof protective boots, Bu works for eight hours in a row at a constant temperature of 25 degrees Celsius. By the end of the day, he is drenched in sweat.
"Just putting the outfit on takes over 20 minutes, so many of us would rather wear diapers than go through the hassle of going to the toilet," he says.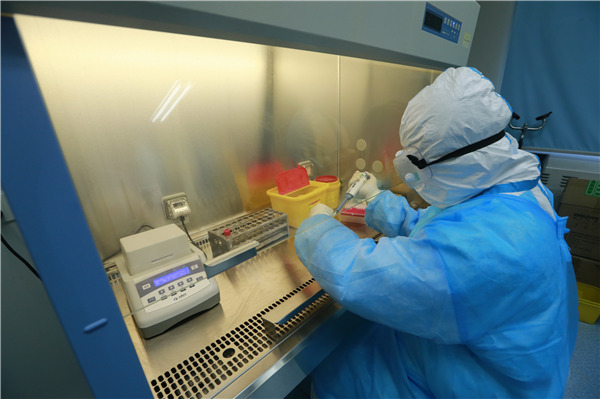 Nucleic acid detection has been the most important method to screen the latent virus in the body of a patient since the outbreak, but it was not as easy as people thought.
Bu's first confirmation of the novel coronavirus pneumonia took six days. The first specimen was delivered to his lab on Jan 15, when they had no NCP detection reagent.
Bu and his colleagues ruled out all possibilities-ordinary flu, bird flu, SARS, MERS and respiratory syncytial virus. They sent the specimen to the provincial center for disease control and prevention the next day for an NCP detection, and again it was negative.
They continued the tests with two kinds of reagents and three methods to extract nucleic acid, and the specimen finally tested positive for NCP in the early hours of Jan 22. It was the first confirmed case of the novel coronavirus in Fuyang.
The workflow of a nucleic acid detector is highly risky. They have to open the cap to culture the virus by mixing the cells with nutrients in a big jar and swirling it around, during which a large quantity of aerosols that are extremely contagious will be generated.
"To be honest, I thought the epidemic was still faraway until I began detecting nucleic acid myself. When I'm working, I can really feel how tight the fight against the virus is," says Bu.
"To confirm each case requires at least three nucleic acid tests, so their workload is very heavy, and they must concentrate as the number of suspected cases keeps going up," says Hu Yunkai, director of Fuyang's CDC.
Meng Zhaoqian, Bu's wife and colleague, rubs the bridge of her nose and her cheekbones after taking off her gown. "My face really hurts after wearing the goggles and masks for so long," she says. The two take turns to go home and rest to avoid cross-contamination.
As of Feb 8, the laboratory has tested nearly 800 samples and more are yet to come.