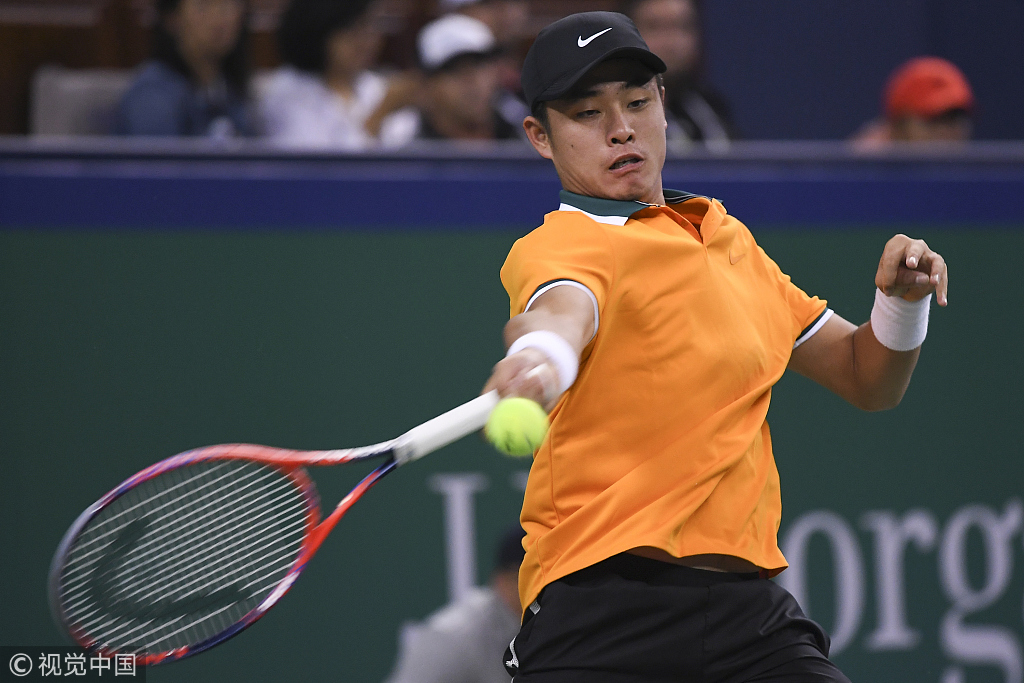 Excitement on and off the court highlighted Monday's opening of the Rolex Shanghai Masters and underlined its influence on Chinese tennis since the tournament's inception in 2009.
The Qizhong Tennis Center in western Shanghai was bustling as thousands of fans jostled for courtside seats to watch the afternoon practice sessions of Swiss great Roger Federer and Serbian star Novak Djokovic.
Spectator enthusiasm carried over into the evening, with loud cheering for local youngster Wu Yibing's straight-sets victory over compatriot and fellow wild card Li Zhe. The win was Wu's first on the ATP Tour and booked a second-round clash with world No 12 Kei Nishikori of Japan.
"Year on year, we have an obligation to grow and improve our quality of competition and the fans' experience," tournament director Michael Luevano told China Daily.
"We have a new generation of tennis stars starting to emerge that will be the next challenge, and it's our responsibility to help them become fan favorites in China."
Tennis' booming status in China, where the men's tour has four events on the mainland and the women's tour has seven, has inspired tournament organizers to take it up a notch.
"We want to become a larger draw with 96 slots and lengthen the tournament to 12 days. That's something that I focus on and it's a dream that will soon be realized," said Luevano.
Among the nine ATP Masters 1000 events, only the back-to-back Indian Wells and Miami stops currently feature 96-man main draws and last longer than a week. Six others, including Shanghai, have a 56-man draw, while Paris is limited to 48.
Although it's the youngest Masters event, the Shanghai tournament offers the largest total prize pool - more than $9.2 million - and was voted Master 1000 tournament of the year from 2009-13 by the players.
As the flagship event on the ATP's Asian swing, Shanghai still has much to improve, such as adding another roof to its secondary court and diversifying the fan experience.
Boosting attendance, particularly during weekdays, is another primary focus.
"Attendance is a priority for us, but there is no magic bullet for increasing it," said Luevano. "Relatively speaking, 10 years is a very short period of time. We need to build our fanbase and it takes a long while to accomplish that."
The tournament, which always takes place the week following the National Day holidays, attracted 124,000 visitors last year. Its highest draw was 152,000 in 2014.
With the men's game growing more popular bolstered by young hopefuls such as Wu, Luevano is bullish on eventually increasing attendance to numbers that could rival Indian Wells, which routinely draws 400,000 fans.
Meanwhile, Nishikori said he would welcome the opportunity to play a longer and more lucrative tournament so close to his home in Japan.
"I can see this tournament can be made bigger," said Asia's top male player.
"I think all the players love the Shanghai tournament and this facility. Player services here are among the best on the tour. I'm sure everybody will like it."
The congested window on the calendar between the US Open and the year-end ATP Tour Final could pose a challenge in scheduling, Nishikori added.
"This time of the year is always tough. Many players get tired and injured, but it's an important event for me, especially being from Asia.
"I'd love to see many more big tournaments in this region."