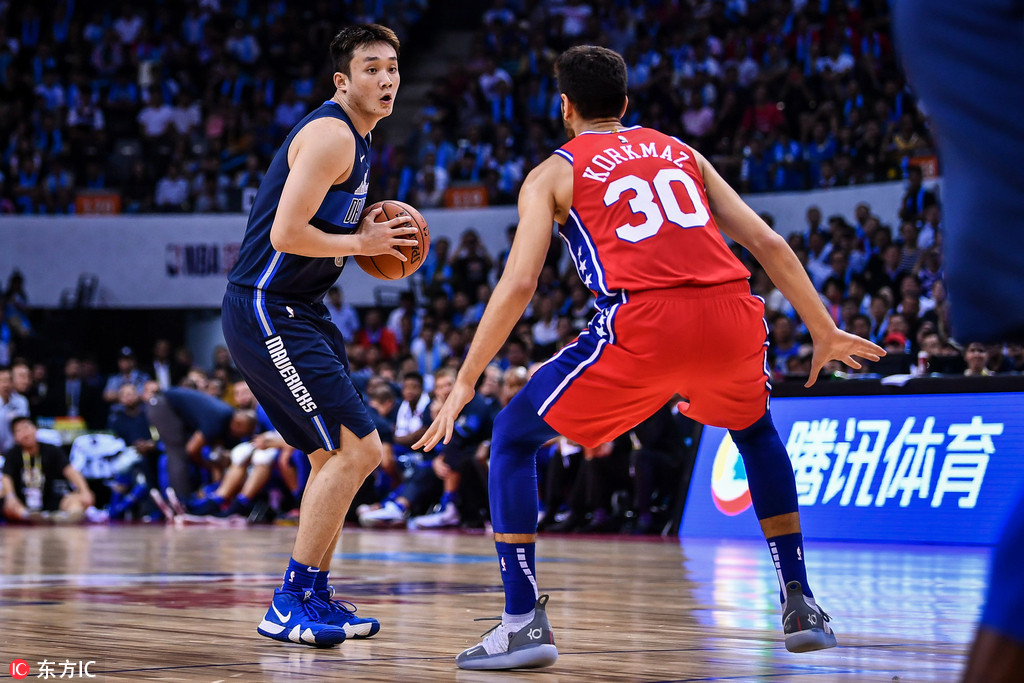 Chinese forward to join Mavs' G League affiliate for full season
Chinese basketball fans have something big to cheer about.
The deafening roar for Ding Yanyuhang's preseason debut with the Dallas Mavericks in Monday's second stop of the NBA China Games at Shenzhen's Universiade Center in Guangdong province foreshadowed the post-game announcement that the 6-foot-7 forward will officially start his NBA journey by joining the Texas Legends, Dallas' NBA G League affiliate, for the upcoming season.
Ding, the reigning MVP in the China Basketball Association, registered a point in the Mavs' 115-112 win over the Philadelphia 76ers and earned kudos from Mavs head coach Rick Carlisle, who made the announcement.
Carlisle said Ding will travel to Dallas with the team and join the Legends for the upcoming season.
Following in the footsteps of compatriot Zhou Qi, who debuted with the Houston Rockets last season, the 25-year-old Ding was the only homegrown player in this year's NBA China Games.
Nagging tendinitis in his right knee limited Ding's participation at training camp and kept him out of the lineup against the 76ers in the first stop of the China Games at Shanghai's Mercedes-Benz Arena on Friday.
But when he took the court against Philadelphia on Monday, his teammates joined the capacity crowed in shouting his name and cheering the long-awaited moment.
"It's my first NBA China Games and I really want to thank my coach and teammates for all their help and support," said Ding.
"The NBA has been a dream for me. Even though I suffered from injuries and other difficulties, the heartfelt chase of my NBA dream never changed.
"As long as there's a tiny possibility, I'll try my best to fight for it."
Ding's affiliation with Dallas started when he played for the Mavs in last year's summer league, and that stint made many remember his name.
"We know how special this night is for Ding and we love him as a teammate," said Mavs point guard JJ Barea.
"We had great fun last year when he came to the team, so we are proud of him and excited for him."
Ding averaged 26 points, 5.3 rebounds, 3.2 assists and 1.6 steals in 45 games for the CBA's Shandong Golden Stars last season, capped by his second straight domestic MVP award.
"Because of my injuries I did not have too much time to train with my teammates, so I'm still adjusting," he said after Monday's game.
"But the China Games is a good start for me. I'm very happy to be part of the Mavs, a team that has many international players.
"Other international players can teach me about the language and how to get along. I especially want to thank JJ, as he has been taking good care of me."
Mavericks captain and 13-time NBA All-Star Dirk Nowitzki has high hopes for Ding.
"If his health is OK, he will have a shot in the league," said Nowitzki, who in 1999 welcomed Wang Zhizhi to the Mavs as the NBA's first player from China.
Ding's progress punctuates the league's expressed desire to showcase more talent from China.
"We hope to have many more Chinese players in the future," said NBA deputy commissioner and chief operating officer Mark Tatum.
"Both Zhou and Ding were really good at the Asian Games. It's a process to get these players to develop. We have great NBA academies here in China working with former NBA players and collage coaches.
"Over time, more Chinese players will be capable of playing in every night of the NBA."