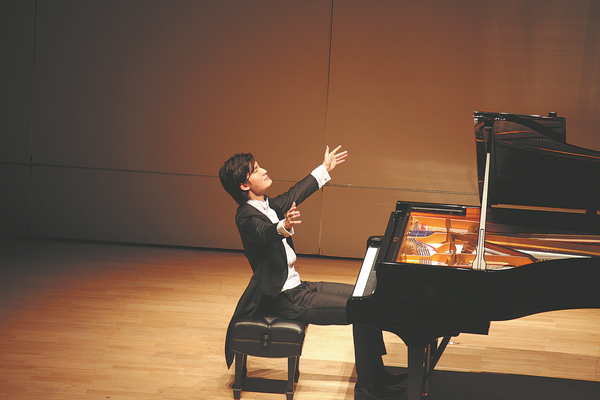 Early last year the pianist Niu Niu, like many classical musicians, canceled his concerts because of COVID-19. Disappointed, depressed and anxious, he stayed at home in Xiamen, Fujian province, and played the piano six hours a day.
"Usually I give nearly 40 shows a year, and suddenly everything had been turned upside down," says the pianist, whose real name is Zhang Shengliang.
"During the year I had to cancel one concert after another, about 20 shows, and it was heartbreaking."
He also postponed the release of an album dedicated to marking the 250th anniversary of the birth of Beethoven.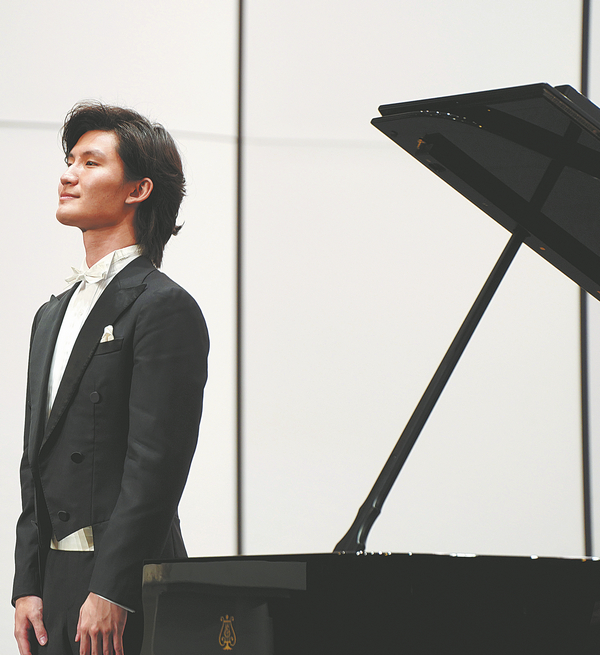 However, as he slowed he felt he gained some equilibrium, and unexpected opportunities appeared.
He wrote his first original composition, Impromptu No 1, which he named Hope and which was released recently as part of his latest album, titled Fate& Hope.
"I love improvising on my piano after daily practice," he says. "I just put my hands on the keys and randomly play melodies. It's a habit I picked up as a child. I feel freer playing my own music, which has a natural emotional flow.
"During the pandemic I had a lot of time at home, and that allowed me to finish my composition. I started writing the four-movement Hope at the beginning of the pandemic. Hope has been particularly important during the pandemic, and I wanted to write a piece to give people comfort and warmth."
He did not plan to include his composition on the new album but changed his mind after Universal Music Group, to which he is contracted, encouraged him to do so, he says.
He placed his composition at the end of the album after Beethoven's Symphony No 5 in C Minor, Op 67, which was arranged for solo piano by Franz Liszt, Beethoven's Piano Sonata No 8 in C minor Pathetique and Beethoven's Piano Sonata in C sharp minor, Op 27 No 2 Moonlight.
Performing those very well-known pieces by Beethoven is a rather audacious feat, given that plenty of great recordings already exist.
As a pianist Niu Niu learned about Beethoven's scores and notes. As a composer, he decoded Beethoven's pieces with a deeper understanding.
"I am 24 years old and by playing Beethoven's music pieces, I want to keep his spirit alive with my own interpretation. For example, Beethoven's famed fifth symphony expresses his unbending spirit of lifelong struggle with fate. But in the end, it brings hope."
Niu Niu has just played a concert in Shanghai.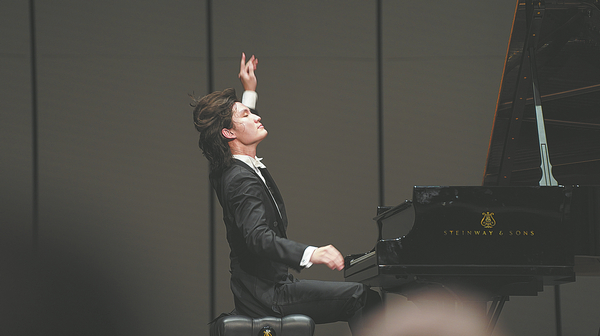 "Days without performances made me think about my job as a pianist," Niu Niu says. "I used to showcase my techniques and my emotions while playing onstage. Now, after the pandemic, I focus on what kinds of messages I can deliver to audiences."
Niu Niu, born in 1997 to a musical family and raised in Xiamen, was given his nickname by his parents, niu being a nod to his birth year, a year of the ox.
It is simple, catchy name, so he adopted it as his stage name, being easy to remember, particularly for Western audiences.
Music has been part of his life from even before he was born. His mother let him listen to Mozart's music pieces during her pregnancy, and after he was born his bedtime music was works by Chopin. Niu Niu's father is a music teacher who taught him to play the piano.
The boy first showed his music talent when he was 3 by playing a piece from John Thompson's Easiest Piano Course, without anyone teaching him. And he held his first solo recital a few weeks after his sixth birthday, with a program including a Mozart piano sonata and a Chopin etude.
When he was 8 he became the youngest student of the Shanghai Conservatory of Music, and when he was 10 in 2007 he performed Shostakovich's Piano Concerto No 1 at the Pearl Awards in London in the presence of Prince Charles, the Prince of Wales. He was admitted by the Juilliard School in New York in 2014 with a full scholarship and graduated in 2018.
"I can still recall the first time I performed onstage," he says. "I wasn't nervous at all. Right after the show I was asked about my performance, I said firmly, 'It was great'. I always enjoy performing onstage, either as a soloist or working with orchestras."
Like many children who learn music, Niu Niu had to sacrifice a lot of time playing outside with his friends. He recalls that when he was about 8 he felt bored and rebellious. Sensing this, his mother asked him to make a decision: to continue or quit.
"She told me to make a choice. I stopped playing piano for a few days, and I then realized how important music was to me. So I decided to continue, and I feel grateful that I made the right decision."
Contact the writer at chennan@chinadaily.com.cn