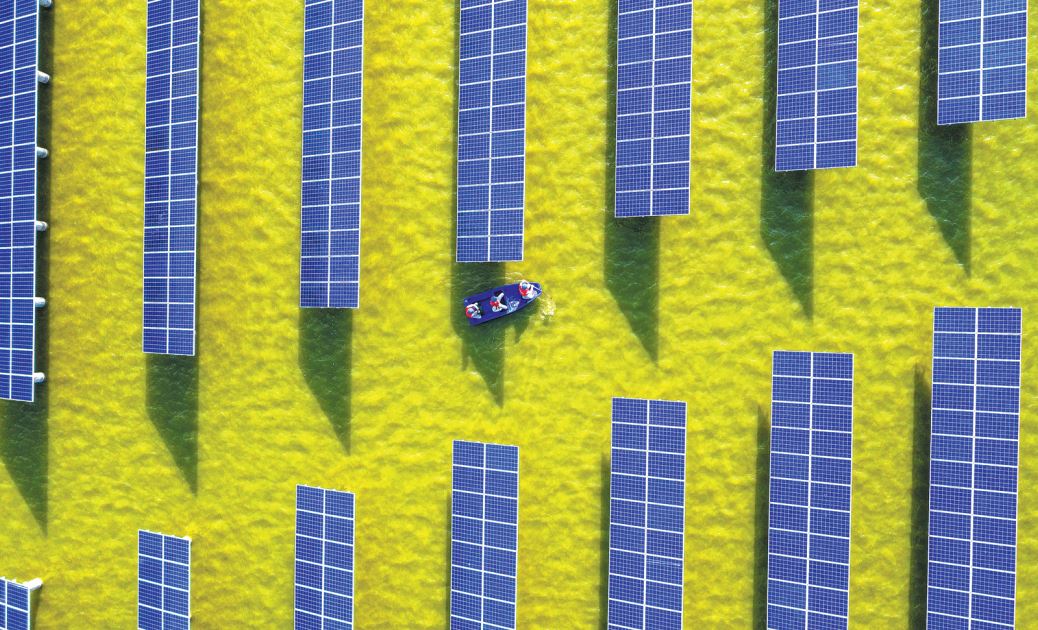 EU's climate action chief upbeat over cooperation with China
Frans Timmermans was delighted this summer when he learned China had launched its national carbon emissions trading market in an attempt to fight climate change.
The executive vice-president of the European Commission for the European Green Deal is also proud that the European Union's Emissions Trading System, or ETS, is inspiring other countries and regions to develop similar systems to make their economies less dependent on carbon. The ETS was set up in 2005 as the world's first such system.
Timmermans said the ETS, which operates in all EU member states plus Iceland, Liechtenstein and Norway, and covers about 40 percent of the EU's greenhouse gas emissions, has been extremely successful.
"I saw this summer China had also introduced an emissions trading system, and I want to really salute that step," he said.
Timmermans believes that bilateral exchanges and cooperation on climate might have helped China introduce its system.
The EU shared its technical expertise in recent years when China piloted emissions trading plans in several cities to pave the way for its national system.
China's national carbon market, launched on July 16, includes more than 2,000 companies in the power generation sector and covers over 4.5 billion metric tons of carbon dioxide annually. It replaced the EU's ETS as the world's largest such mechanism.
"This is a way to continue our cooperation on concrete measures and concrete steps forward," said Timmermans, who was named one of Time magazine's 100 Most Influential People of 2021 on Sept 15.
Timmermans, the Dutch foreign minister from 2012 to 2014, has been the No 2 person in the European Commission since 2014, when he served as first vice-president to Jean-Claude Juncker.
Timmermans said China has historically played a crucial role in getting the world to commit to keeping the rise of global temperatures below 2 C.
"We would not have a Paris Agreement without China playing a very, very active role in coming to a conclusion," said Timmermans, who is also European Commissioner for Climate Action.
The Paris Agreement reached in 2015 aims to limit the global temperature rise this century to 2 C from pre-industrial levels while pursuing efforts to further curb it to 1.5 C.
Timmermans is convinced there is a deep understanding in China that the country needs to continue to play a historic role in getting the world to come to terms with the climate challenge.
On Friday, a United Nations report said the global average temperature will rise by 2.7 C by the end of the century even if all countries meet their promised emission cuts. UN Secretary-General Antonio Guterres warned, "The world is on a catastrophic pathway".
Timmermans emphasized the need for a strong commitment from all major emitters to make the 26th UN Climate Change Conference, or COP26, in Glasgow, Scotland, a success. The conference is scheduled for Nov 1 to Nov 12.
He said speeches by President Xi Jinping and Xi's recent phone call with United States President Joe Biden gave him hope that China would make a major contribution to success in Glasgow.
Xi pledged at the 75th session of the UN General Assembly in September last year that China would aim to peak its carbon emissions before 2030 and achieve carbon neutrality before 2060.
In a phone call with Biden on Sept 10, Xi said China and the US should advance cooperation on climate change and other issues on the basis of respecting each other's core concerns and properly managing differences.
While China is the world's largest emitter of greenhouse gases, with about 27 percent of the global total, its per capita emission figure is slightly higher than the average for the EU's 27 member states and only half that the US, which is by far the largest historical carbon emitter.
Timmermans said nations, especially major powers, will act if they consider it in their interest, adding that they will not act just to please others, and this is also the case for China.
He said the EU has set a good example to show countries that came late to the industrialized world that there is a way to grow economically and still reduce emissions, adding that the EU cut its emissions by 24 percent while growing its economy by more than 60 percent in the past 20 years.
Timmermans said the EU and China can work together, especially in energy transition, an area which China has been advancing rapidly.
China is the world's largest investor in and producer of renewable energy, from wind to solar to hydropower, as well as electric cars. The nation is still the world's largest consumer of coal, but coal use is declining in its energy mix.
Xie Zhenhua, China's special envoy for climate change affairs, told a meeting early this month the proportion of coal in China's primary energy consumption fell from 72 percent in 2005 to 56.8 percent last year. The proportion of non-fossil energy in its primary energy consumption reached 15.9 percent, up from 7.4 percent five years earlier.
He described China's plan to achieve carbon neutrality from its emissions peak in just 30 years as the shortest in the world, compared with 70 years for the EU and 45 years for the US.
Timmermans said the EU and China can work together in many fields, from renewable energy to electric cars-not just for themselves, but to also help the developing world leapfrog and bring noncarbon-based energy to its people.
"I see very many areas where the European Union and China can develop their relationship to make this transition go smoothly, and to do it in the interests of our people and also to leave no one behind," he said.
Countries cannot afford to isolate themselves to new technological developments, Timmermans said.
"We need to share them as soon as possible," he said, adding that this must be done on a level playing field where investments are protected.
Timmermans feels that the use of coal should stop as soon as possible. Instead, the future of the steel industry lies in green steel, where the heat needed to make the alloy comes not from coal, but green hydrogen produced from solar and wind power.
"I think this is an incredible opportunity for the European Union, but especially an incredible opportunity for China," he said, clearly referring to China's massive steel production capacity, which accounts for more than half the world's total.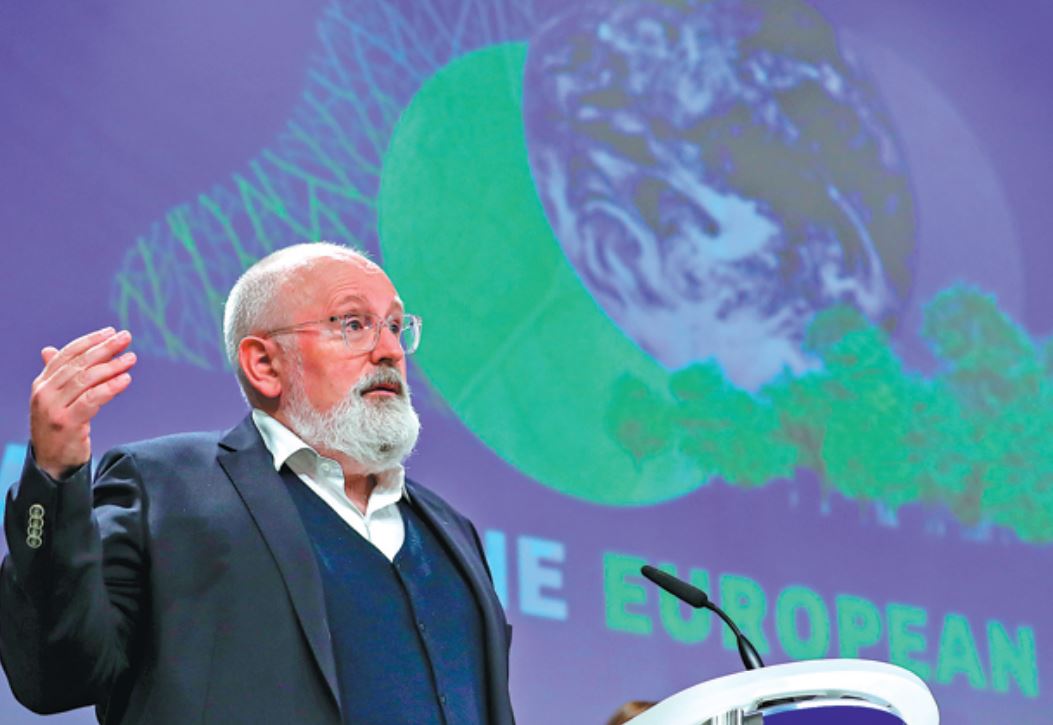 On the same page
Timmermans said bilateral contacts between the EU and China on climate have intensified since 2018.
"We have many, many exchanges. I want to particularly mention the several discussions I've already had with Vice-Premier Han Zheng. We are on the same page," he said.
Timmermans and Han inaugurated the first High-level Environment and Climate Dialogue between China and the EU on Feb 1.This mechanism was agreed at a virtual summit attended by President Xi, German Chancellor Angela Merkel, European Council President Charles Michel and European Commission President Ursula von der Leyen on Sept 14 last year during Germany's presidency of the Council of the European Union. Timmermans and Han also met via video link in July last year.
After the high-level dialogue with Han in February, Timmermans tweeted: "We have laid the foundation for a good partnership and will work closely together toward COP26 in Glasgow and COP15 in Kunming. We must seize these moments to put the world on a path of green recovery, to ensure everyone's health and well-being for generations to come."
Turning to Xie, China's climate envoy who was the nation's lead negotiator in this field for many years, Timmermans said, "We haven't known each other for very long, but we trust each other."
He said Xie is very clear about China's continued commitment to decarbonizing its economy and achieving carbon neutrality.
Timmermans said he is so positive about the relationship with his Chinese colleagues, and not because they agree on everything. They respect their disagreements, and even those disagreements "lead to a dialogue" and don't "spoil our positive cooperation on where we agree".
"I think this is a sign of a healthy and mature relationship that you don't just talk about the things you agree, but you also openly and directly address the issues where you disagree," said the 60-year-old, who has spent most of his life away from the Netherlands and speaks fluent English, French, German, Italian and Russian, in addition to his native Dutch.
He said there is not always agreement about coal, for example, but it is discussed because the world needs to move ahead on the issue of coal-fired power generation.
"We do this in a constructive way, even when we disagree. That's what I like about the relationship," he added.
Timmermans said China's continued commitment to decarbonize its economy and achieve carbon neutrality is very clear in their meetings, and he looks forward to further announcements about the nation's plans.
Ding Chun, director of the Center for European Studies at Fudan University in Shanghai, said Timmermans has been very active and pragmatic in promoting cooperation with China and has set a good example for such cooperation among countries worldwide.
Kunming to Glasgow
Timmermans voiced his appreciation for China hosting the 15th meeting of the Conference of the Parties to the Convention on Biological Diversity, or COP15 in Kunming (capital of Yunnan province). Due to the COVID-19 pandemic, the conference will be held online from Oct 11-15 and in-person from April 25 to May 8 next year.
Echoing Xi's comments over the years that "green mountains and clear water are equal to mountains of gold", Timmermans praised China for understanding that the threat of biodiversity loss is as much a challenge as the climate crisis.
"That is the premise on which Kunming is being prepared. I think that is very wise," said Timmermans, who attended a global biodiversity forum this month in Marseille, France, where Chinese Premier Li Keqiang delivered a pre-recorded speech.
Timmermans believes that splitting COP15 into two parts may help achieve even more success at the second meeting next year.
He said he sees a clear commitment from China. "We need to let nature restore itself," Timmermans added, citing the fact that if parts of the ocean are left alone, they restore themselves very quickly.
"So we need to come to an agreement internationally that we will let nature restore itself. We need to protect substantial parts of the planet," he said.
"I hope we can come to some conclusions in Kunming, and I know I can count on the strong commitment of the Chinese authorities."
China is the third-most biodiverse country in the world, with more than 34,000 known species of animals and plants, according to the International Union for Conservation of Nature, which hosted the Marseille meeting.
Timmermans also has high hopes for COP26 in Glasgow.
"I want us to be able to say afterward that we are still on track to keep the temperature rise well below 2 degrees and that we still have a shot at 1.5 degrees. That should be the collective conclusion at the end of COP26," he said, adding, "We are all faced with a huge responsibility toward next generations."
Timmermans said the pandemic poses a grave challenge, but it has also helped Europeans come together not just on vaccination, but in unleashing an unprecedented amount of money for investment to transform the EU economy into a more-sustainable model.
"We are investing in the future of our children and grandchildren," he said.
The EU has promised to become climate neutral by 2050. One-third of its 1.8 trillion euro ($2.1 trillion) investment from its NextGenerationEU Recovery Plan and seven-year budget will finance the European Green Deal.
A European Commission report in April showed that 93 percent of EU citizens see climate change as a serious problem. The report cited Eurobarometer, a series of surveys initiated by the European Commission to measure public opinion in EU member states.
Looking ahead to COP26, Timmermans is optimistic. "We can face the challenge," he said. "The only thing that can stop us facing the challenge is that we quarrel and don't come to common conclusions on what humanity needs.
"No nation on Earth can escape that responsibility. … We have no time to lose."
He called on rich countries to fulfill their obligation on climate financing to poor nations.
At the UN Climate Change Conference in Copenhagen, Denmark, in 2009, rich countries promised to provide $100 billion a year by 2020 in climate adaptation and mitigation for the poorest nations.
The latest report from the Organization for Economic Cooperation and Development shows that rich countries mobilized nearly $80 billion in climate financing in 2019, but much of it was in the form of loans, some of them on commercial terms, rather than grants.
The report showed that the US had the biggest shortfall among 23 countries, fulfilling just 4 percent of its $43 billion promise.
In her State of the Union address on Sept 15, von der Leyen, the European Commission president, said the EU has delivered its commitment by contributing $25 billion a year. The EU also proposes an additional 4 billion euros for climate financing until 2027.
"But we expect the United States and our partners to step up, too," she said.
Timmermans said that in addition to emissions reductions from all major emitters, rich countries need to deliver on the promise of $100 billion for climate adaptation and mitigation. Otherwise, the poorest countries, some of which risk literally disappearing due to climate change, will lose trust in the system and in rich nations.
"We need to strengthen the trust of the least-developed countries, of the island states, in the system that it will protect them, that it will give them the means to adapt to climate change," he said.
"That is something we need to do in Glasgow," said Timmermans, who was a strong candidate for the Party of European Socialists in the election for the European Commission presidency in May 2019.