Home Olympics making switch to ice worthwhile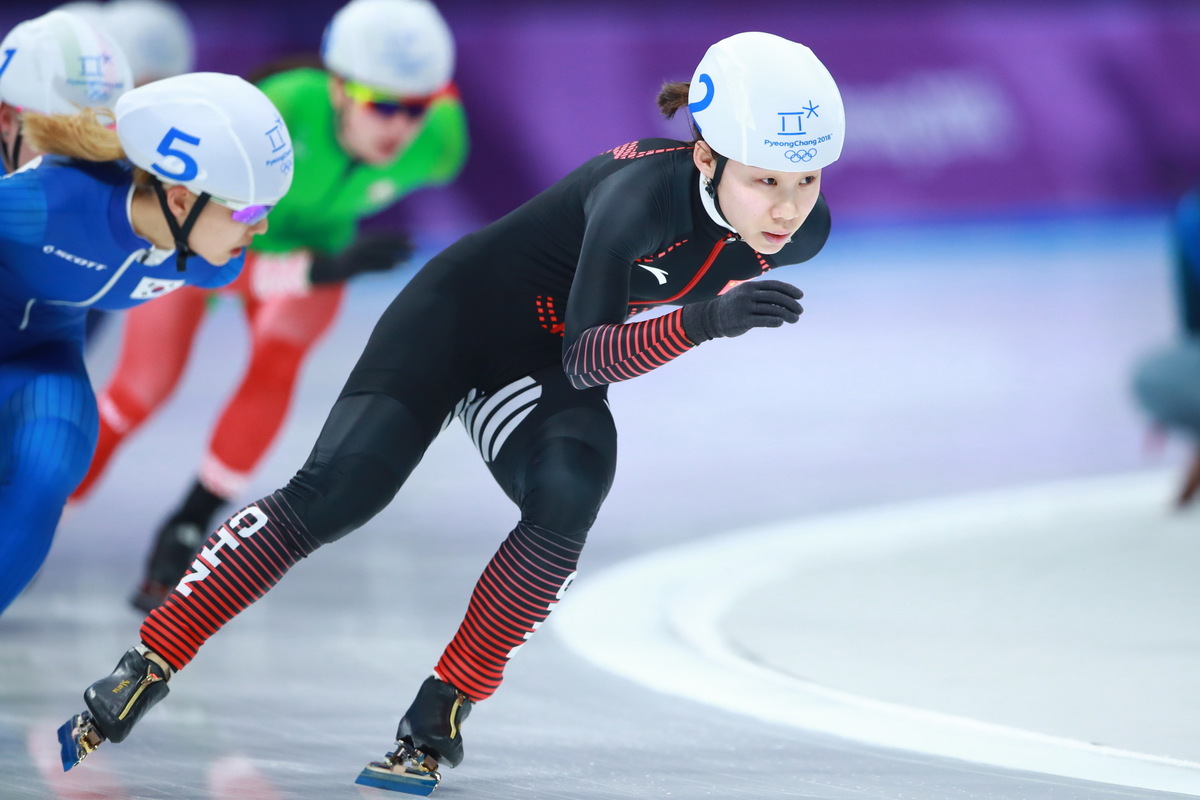 HARBIN-The prospect of competing on home ice at the 2022 Beijing Winter Olympics makes up for all the hardships Guo Dan has endured after making the difficult decision to become a speed skater six years ago.
On Tuesday, the former roller skater finished second in the women's mass start event at the 2020-2021 China Speed Skating Championships in Harbin, Heilongjiang province.
"It is disappointing because this is not my real strength," said Guo, who also won a silver medal at last week's National Speed Skating Championships.
At the end of last year, Guo, from Jiangsu province, conducted systematic training in the Inner Mongolia autonomous region to prepare for the National Winter Games. She felt she was in peak condition at the time.
However, due to the COVID-19 pandemic, the National Winter Games were canceled, so Guo instead took a break during Spring Festival and, as a result, was not sufficiently prepared for the championships.
"The championships started suddenly. I only practiced for two days before the competition," she said.
Guo's regrets don't stop there."I wish I had practiced skating earlier," she admitted.
Before 2015, Guo was one of the top three roller skaters in the world, winning the sport's world championships and World Cup. After sustaining a serious injury at the end of 2014, she decided to switch to speed skating.
"At that time, Beijing won the bid to host the Winter Olympics," she said."I think this is a good opportunity to encourage more roller skaters to try speed skating."
However, Guo has encountered many difficulties after the switch, which meant giving up everything she had previously known and starting from scratch. The psychological adjustments were the biggest challenge.
"On the one hand, even if I won more world championships in roller skating, it would be the same to me. On the other hand, I was 25 years old when I switched to speed skating and I had never been in the sport," she said.
Guo finished 10th overall in the speed skating mass start event at the 2018 Pyeongchang Winter Olympics.
"Being able to stand on the Olympic stage has already realized my dream, and the significance is more important than the result," she said at the time.
Now the prospect of competing on home ice is her main motivation. "After the Pyeongchang Winter Olympics, I want to try my best for the Beijing Games," she said.
Guo's preparations have been hampered by a broken left ankle, sustained while training abroad in December 2019.
"I returned to China after the operation. At that time, I thought it would be great to be back on the ice," she said. Since then Guo has been competing with steel nails and plates in her feet.
"If I had practiced speed skating earlier, maybe my performance would be better now, and it would influence more people," she said.
Guo said that roller skaters are not as valued as other Olympic athletes in China.
"But through my experience, more people can see that roller skaters can also perform on the Olympic stage, which not only promotes the development of roller skating but also produces more talents for ice and snow sports," she said.
In the past six years, Guo has seen that roller skating has received more attention in China, and she is also very proud because she believes her persistence has encouraged some athletes to reconsider retirement.
"I did not retire after being injured, so many athletes see that nothing is impossible. As long as you want to achieve the goal, you can start from the beginning," she said.
"I just hope to be able to perform at the Beijing Winter Olympics. I am in better condition now than I was before the Pyeongchang Games, and I have greater desire."
Xinhua