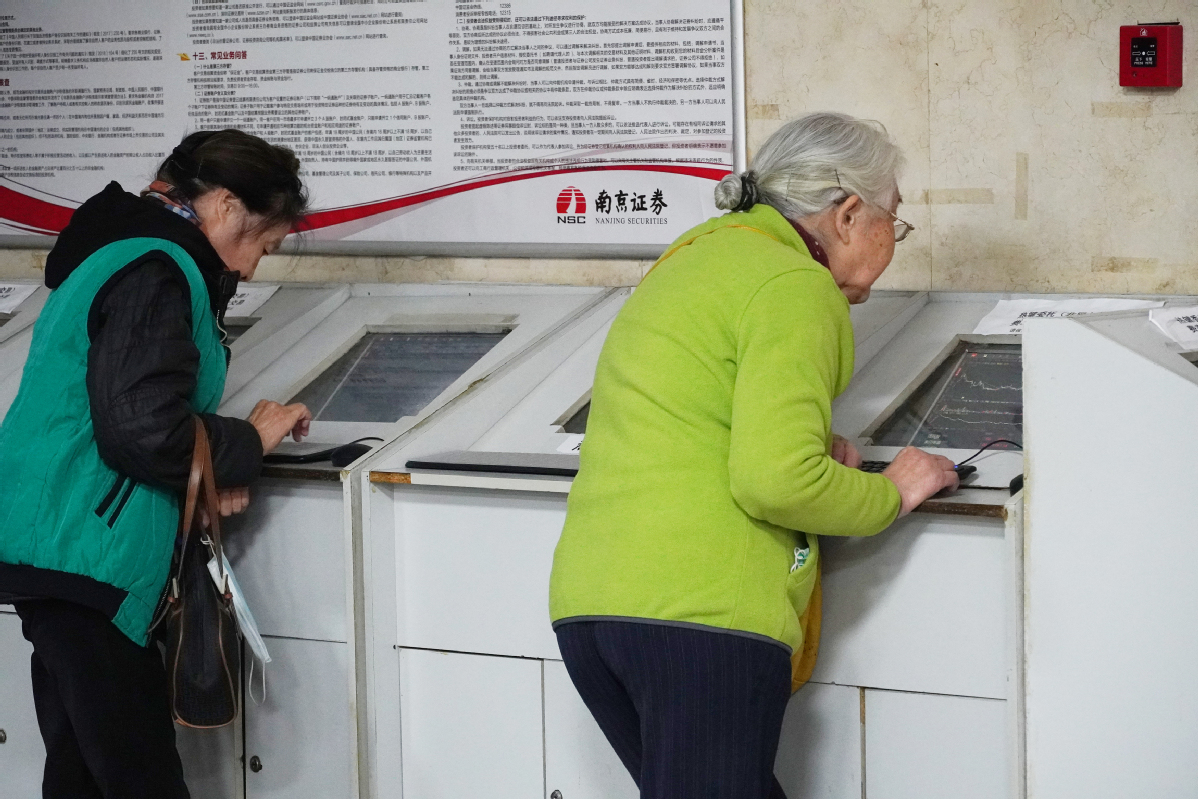 China's A-share market is likely to see a bullish trend in the next 12 months, thanks to steady growth in household assets used for equity investments and higher foreign capital inflows, a new study from UBS Investment Research, a unit of Swiss investment firm UBS, said on Monday.
The CSI 300 index, which tracks the largest companies listed on the Shanghai and Shenzhen bourses, will rise by 13 percent this year, according to UBS. While Chinese households allocated about 17 percent of their assets to equities, funds and insurance in 2020, the rate will gradually increase over the next few years, with the rate expected to touch 21 percent in 2025.
Household assets' increased exposure to stocks will help elevate the A-share indexes, said Wendy Liu, head of China strategy at UBS Global Research.
Liu said regulators' tighter control of property market speculation, stricter rules governing shadow banking products, protection of individual investors and the better quality of listed companies will increase individual investors' interest in the A-share market, thus pushing up the indexes.
The China Securities Regulatory Commission said in an announcement on Dec 22 that one of the six major tasks for the regulator this year is directing more household savings into investments. The China Banking and Insurance Regulatory Commission said at the beginning of last year that household savings should be more efficiently transformed into long-term funding of the capital market.
According to Sun Lijun, co-head of global banking at UBS Securities, the large number of newly issued mutual fund products have provided more access for individuals to invest in the A-share market.
Data from the fund research center of China Galaxy Securities showed that 1,441 mutual fund products were issued last year, with the total financing amount touching 3.2 trillion yuan ($494 billion).The number of newly issued products and the financing amount both have hit levels not seen since 1998.
Equity funds accounted for the majority of new products. Up to 671 equity fund products with a total financing amount of about 1.6 trillion yuan were issued last year, a record.
The mutual fund boom is expected to continue this year, further boosting the A-share market, said Sun. Public information shows that 19 new mutual funds were set up by Saturday. The total financing of newly formed mutual funds crossed 110 billion yuan, while equity funds raised more than 100 billion yuan in the same period.
The continued inflow of foreign capital will be another major driving force for the A-share market. According to UBS estimates, nearly 200 billion yuan of foreign capital will flow into the A-share market this year.
UBS also holds a positive outlook on the materials and telecommunication companies listed in the A-share market this year and said it would increase investment in both sectors, said Liu.
According to CITIC Securities, net northbound capital inflows or the trading flows from overseas investors using the stock connect programs between Shanghai, Shenzhen, Guangdong province, and Hong Kong, stood at 208.9 billion yuan in 2020. Although the amount has contracted from the numbers in 2018 and 2019 due to the diminishing effect of global index inclusion and the COVID-19 pandemic, overseas capital has continued to increase in A-share holdings. The allocation theme has also changed from traditional blue chips to technology and growth enterprises, said CITIC Securities analysts.