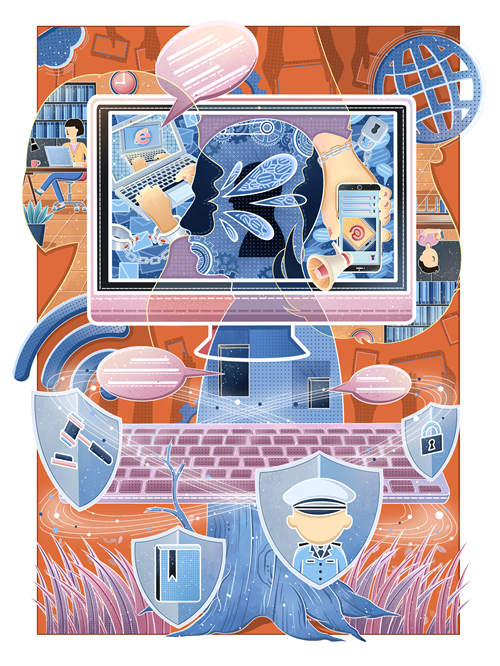 An ongoing 'cyber libel' case further highlights the need for caution in our online lives, not just in terms of personal security but also what we share, Wang Qian reports.
In this era of social media, someone's life can be changed, for better or worse, with just a post or a hashtag-and not always one of their own doing.
For Wu Min (alias) in Hangzhou, Zhejiang province, all it took to ruin her life was a 9-second video of her waiting for delivery of a package and several fabricated screenshots of a fake conversation over WeChat, which saw her branded as a cheating wife, who was engaged in an affair with a deliveryman. What's worse, the unmarried 28-year-old did not even know who was behind the post, which went viral online in August.
According to Wu, it has resulted in her "social death"-she lost her job in August and was diagnosed with depression in September. After an investigation by local police, two men, surnamed Lang and He, were arrested for making up the story on Aug 13. They were detained for nine days.
As an old proverb goes: "A lie can travel halfway around the world while the truth is still putting on its shoes." The damage to Wu's reputation continues to take a toll, with a constant stream of unpleasant messages flooding her social media accounts and friends from both home and abroad asking if the wife in the post is indeed her.
As a result, Wu has brought a private prosecution against Lang and He, which was taken over by the Yuhang District People's Court in Hangzhou on Dec 14. On Dec 25, the local procuratorate suggested that police file the case and said that a public prosecution will be pursued, because it has "seriously disturbed public order online, diminishing public safety" and "further harmed the social order", according to a statement released by the Zhejiang provincial procuratorate.
"I hope that my case will encourage people with similar experiences to say 'no' to internet defamation and offer a glimpse into the dark side of cyberspace," Wu says, adding that she refuses to accept any form of apology from the defendants and their families.
So far, no company has been willing to hire Wu after learning of her experience, because it may have an "unpredictable" effect on a company's image, according to Wu.
The case has hit national headlines, triggering public concerns about cyberbullying. Many netizens showed their support. A Sina Weibo user named Banrenbanhuo says: "You helped me realize the power of courage and resistance. Sometimes, these can make the world a better place."
Just like piracy and hacking, online defamation is illegal, according to Wu's lawyer, Zheng Jingjing. She adds that a person found guilty of libelous posts on the internet can be sentenced to serve up to three years in prison, but in reality, it rarely happens.
"With the popularity of smartphones and the proliferation of social media platforms, anonymous defamation on the internet has been on the rise, and Wu's lawsuit will be a wake-up call for people to protect their legal rights online," Zheng says, adding that due to the anonymity afforded to people online, everyone is at risk of becoming a victim of cyberbullying.
Just a joke
Lang and He learned the hard way to mind what you post online. The 24-year-old He told Qilu Evening News that he regretted uploading post, which was just for fun. Lang's father agreed that "it was just a joke by two young men".
According to He, his friend Lang, 27, took video of Wu waiting for delivery on July 7 and uploaded it into a WeChat group with 275 members. After seeing the video, he proposed that for fun they should try and fool the people in the group.
After opening a secondary account on WeChat pretending to be the woman in the video, He used the account to add Lang, who was pretending to be the deliveryman, to create a chat that told a tale of infidelity.
They uploaded the package of the video and WeChat screenshots to another WeChat group with 104 members and the false story quickly began to circulate widely online. Wu called the police on Aug 7. On Aug 13, police arrested the two men for "cyber libel".
Evidence collected by Wu and some others online showed that, from Aug 8 to 11, an article based on the false story was viewed more than 10,000 times on a WeChat account. Several versions circulated online which, as of Sept 20, had been viewed cumulatively more than 60,000 times and forwarded 217 times. China Daily tried to search for related posts online, but produced no search results.
Topics related to the event have trended several times on Sina Weibo. A hashtag about Wu losing her job has been viewed more than 580 million times.
Due to Wu's understandably fragile mental condition and the impact caused by the post, Wu lost her job as an assistant manager at a local company.
In September, she was diagnosed with depression after having trouble sleeping and consistently feeling anxious.
"It is the darkest period in my life. I didn't do anything wrong, but I cannot bear other people staring at me, no matter whether it is in a good or bad way," Wu says.
During the hottest day in Hangzhou's summer, she had to wear a mask. To avoid meeting people, she preferred to go outside after 10 pm. Staying with her to prevent her from hurting herself, her boyfriend was also fired by his company in August because he refused to travel, according to Wu.
Failing to see funny side of what Lang and He consider to be a joke, Wu cannot accept their explanation and is asking for compensation of about 120,000 yuan ($18,600).
Wu insists: "It is not funny at all and it is a crime, for which the two grown-ups need to take responsibility and accept punishment for what they did."
When receiving the court's acceptance letter of the high-profile case on Dec 14, she felt relieved and couldn't stop crying.
"The case will send a positive message that internet is not a lawless place," Procuratorial Daily quoted criminal law professor Fan Chongyi as saying when commenting on the case.
As of the end of June, China had more than 940 million internet users, compared with 688 million in 2016, according to the latest statistics from the China Internet Network Information Center. There are 523 million monthly active users of micro-blogging platform Sina Weibo, and more than 1 billion monthly active users of WeChat, which allows people to send text, photos, videos and voice messages over mobile phones.
"As more people embrace the internet, especially social media, bringing dramatic change to the realm of communication, it brings challenges to extend the scope of the law," Zheng says.
Legal-system upgrade
The case has triggered hot discussion among legal scholars about how to protect individual rights in cyberspace.
Sun Daocui, a law professor at China University of Political Science and Law, told Procuratorial Daily that the law should adapt and evolve when applied to online situations, which sometimes are more complicated than the traditional scenarios.
The good news is that authorities have been working to curb the pervasiveness of rumors and falsehoods online.
A judicial interpretation released by the Supreme People's Court and the Supreme People's Procuratorate in 2013 defines the criteria for convicting and sentencing offenders who spread rumors online that defame, blackmail or provoke.
Internet users who concoct or edit information that damages an individual's or an organization's reputation and share it, either directly or through others, can be charged with libel, a criminal offense. They will face up to three years in prison if their posts are viewed 5,000 times or forwarded 500 times, under the judicial interpretation.
Internet users whose posts have a significant negative effect on victims or their families, such as mental illness, will be investigated as a "serious case", the interpretation states, as will those who reoffend within two years.
The Civil Code of China, which took effect on Jan 1, has detailed stipulations on protecting personal information, privacy and reputation.
Although the law is catching up, Zheng says that libel-proof plaintiffs are rare in today's age, because it is difficult to collect effective evidence-online posts can be easily removed and tracing the IP address and the person behind said posts can be difficult.
After the case, there has been a surge in the number of people coming to Zheng seeking counsel about their experiences related to cyber libel. She suggests that once they encounter such internet defamation, people should call the police immediately, which is the best way to ensure evidence collection if a libel claim needs to be filed.
A report by the China Federation of Internet Societies published in December shows that nearly 70 percent of users in the sample research have viewed rumors that have been spread online.
For lawyer Zheng, there are two sides to every coin, and it is the same for every post on the internet.
"Everyone should think independently and be responsible before posting or reposting online," Zheng says.