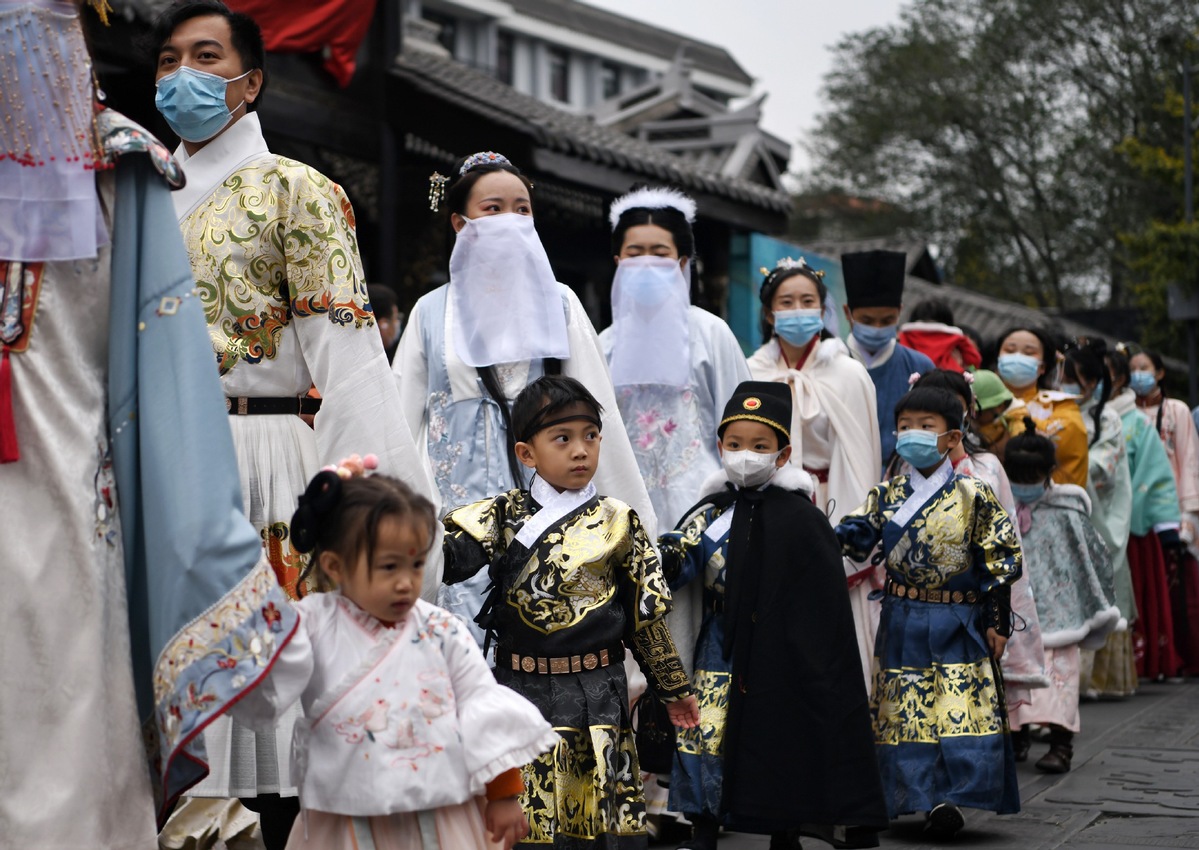 Youth increasingly embracing hanfu garb in large part due to explosive growth of social media, rising sense of national pride
Wearing a flowing robe adorned with beaded embroidery with a finely crafted silk fan in hand, Wang Runjie looked like she was a time traveler from a bygone era, and she turned plenty of heads while strolling through downtown Shanghai.
Wang is an avid fan of hanfu clothing-generally understood as the traditional garb representing the Han ethnic group in China.
"Initially, it can be a bit awkward wearing hanfu and walking in the streets. But as I've found more friends with this interest in common, it becomes fun and makes me proud to realize we are setting trends," said Wang, a 21-year-old university student.
While China has embraced Western fashion in recent years, an apparel renaissance is taking shape, with a growing army of youngsters looking to the past for their sartorial choices.
A number of factors are contributing to the phenomenon-everything from TV dramas that popularize ancient styles to rising patriotic sentiment. But one element is expediting the tide from an individual liking to a collective carnival-social media.
Wang managed to find her like-minded pals via QQ, China's best-known social media tool, where hanfu enthusiasts gather voluntarily via group chats that also offer a degree of anonymity if desired. Internet users discuss everything from the latest hanfu trends and places that make perfect hanfu photography backdrops, to the best accessories to accompany outfits.
It was also through a QQ-organized event that she met Huang Rong, another hanfu mega-fan. Huang has been taking a more academic approach, delving into the history of the apparel, and that can sometimes lead to debates among friends.
"I was attracted by its (hanfu) beauty at first sight. But as I dig deeper into the matter, it's all about the archaeology, history and culture of China," Huang said. "I've never felt more blessed to be Chinese."
In the eyes of Liang Zhu, vice-president of QQ's parent company Tencent Holdings Ltd, social media platforms stand to take the credit for amplifying enduring social trends and fast-tracking them to reach a tipping point.
"We have been closely following the 'China Chic' trend," Liang said. "The connectivity of QQ and the mammoth inputs by its over 600 million monthly active users enable people with vertical interests to discover highly relevant content and establish friendships."
A number of functionalities embedded in QQ-from virtual outfits that users can swap for their profile displays to a QQ Music channel dedicated to traditional Chinese style-have worked in tandem to celebrate the traditional culture vibe.
Both Wang and Huang said social media sites provide a natural gateway for subcultures like hanfu to become more inclusive undertakings for a growing audience who are new to the phenomena.
"Cultural trends need to be discovered, and then to be followed to maintain vibrancy," Wang said.
Hanfu carries hefty weight, not in simply cultural terms but financially as well. Both Wang and Huang admitted owning numerous hanfu outfits, and often can't resist the temptation to buy alternatives. Average spending per piece stands at around 550 yuan ($84), with some bearing prohibitive price tags of up to 15,000 yuan.
According to e-commerce site Tmall, special garments like hanfu led the pack among other popular costumes to generate 1.26 times the sales of conventional blouses during this year's Nov 11 shopping festival, the largest annual consumption gala in the country.
That has in part propelled platforms like QQ to ally with hanfu merchants in the grand game.
"We are also looking to invite merchants specializing in hanfu clothing through the QQ mini program, where they can display and sell their products to target audiences," Liang said.
In a similar vein, QQ forged a partnership with Dunhuang Academy, the research arm of the historical site in Northwest China, to allow QQ users to put on virtual outfits of their display profiles featuring the region's sartorial styles and send out customized wishes in ancient modes.
"It's been our unremitting objective to help youngsters know and pass on the essence of traditional Chinese culture through social engagement via QQ," he added.
In recent years, the technology giant has spared no efforts in protecting and promoting traditional Chinese culture with its comprehensive suite of technologies.
In September, Tencent entered into a pact with the Palace Museum, a historical complex in Beijing built 600 years ago, to help collect high-definition photographic information on its 100,000 relics and operate and upgrade the historical site's cloud-based data base.