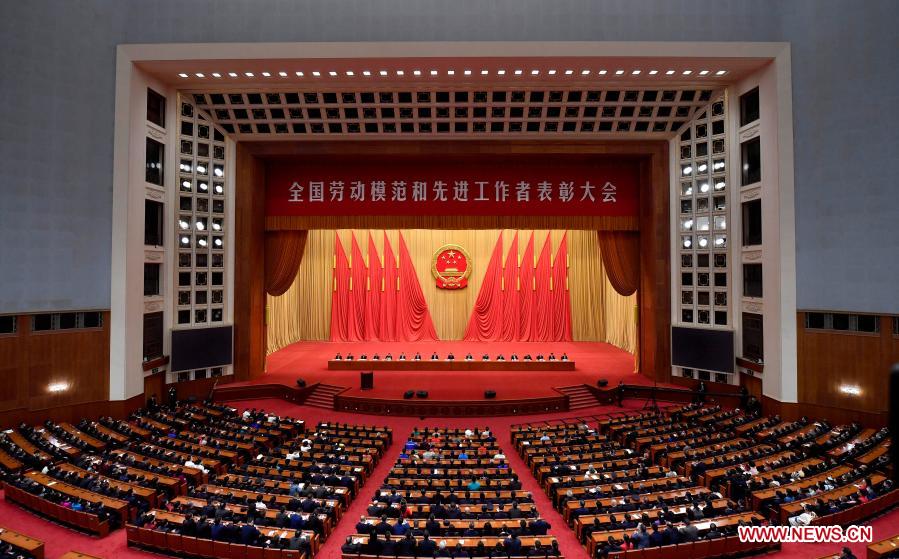 President Xi Jinping has underlined the key role of China's working class and working people in eliminating poverty and building a moderately prosperous society, urging them to make new, historic endeavors for China's modernization.
Xi, who is also general secretary of the Communist Party of China Central Committee and chairman of the Central Military Commission, made the remarks at a gathering at the Great Hall of the People in Beijing to honor model workers and exemplary individuals.
On behalf of the CPC Central Committee and the State Council, Xi congratulated the awarded model workers and individuals, and extended greetings to the country's working class and working people for their outstanding contributions to reform and opening-up as well as socialist modernization.
Socialism was established through action, and the new era will be no different, he said, noting that model workers are elites of the nation, role models for the people and heroes of the People's Republic of China.
The Party and the State have always attached great importance to model workers and exemplary individuals, he said.
As China is fostering a new development paradigm with the domestic market as the mainstay and domestic and international markets reinforcing each other, the country must closely rely on the working class to promote high-quality development, Xi said, calling on working people to closely unite around the CPC Central Committee.
Xi stressed carrying forward the spirit of model workers and that of craftsmen as they provide a powerful source of encouragement to the entire Party and people of all ethnic groups to move forward despite difficulties.
Xi called on Party committees and governments at all levels to respect and care for model workers, and improve their policies concerning them so that there will be more model workers and exemplary individuals in the future.
He urged the working class and working people to always follow the Party and make achievements in the new era.
The working class should enhance its own solidarity, strengthen unity with other working people, proceed with confidence in overcoming difficulties of various kinds and always be the force that the CPC can firmly rely on, he said.
Xi called for building a high-quality workforce to adapt to the needs of the new round of scientific and technological revolution. Efforts should be made to improve the mechanism for cultivating and assessing skilled workers in order to develop more highly skilled personnel and craftsmen, he said.
The president also said that the legitimate rights and interests of working people should be well safeguarded, requiring efforts to provide them with stable employment, increased incomes, and safe and sanitary working conditions. A working mechanism that supports people in difficulties should be established, he added.
China's achievements in reform and development should be built and enjoyed by all workers, Xi said.
The gathering, chaired by Premier Li Keqiang, honored a total of 1,689 people as national role model workers and 804 as exemplary individuals.