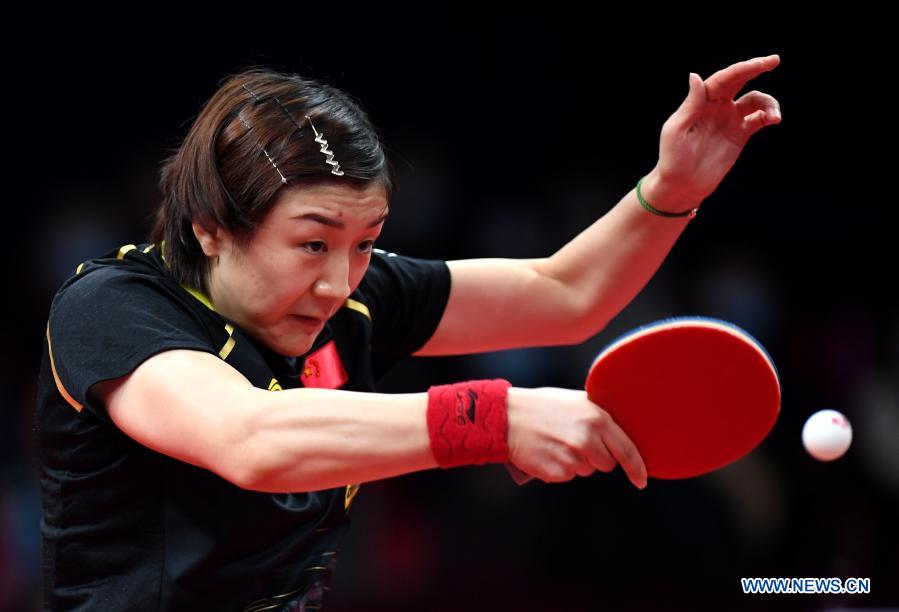 ZHENGZHOU -- Chinese paddler Chen Meng became the first player ever to win four ITTF Finals titles in a row after beating compatriot Wang Manyu in the women's singles final here on Sunday.
Just as she did one year ago, Chen secured her record-breaking title in five games. The current world No 1 tied the record set by Zhang Yining for the most Finals titles overall.
The latest title was an excellent reflection of Chen's peak form in recent days following her first major singles championship at the World Cup in East China's Weihai.
"So far it was a perfect result for me in these two events. Hopefully I can do it again in upcoming matches," said Chen.
Possessing a 10-5 advantage in the opening game, Chen saw four game points slip away but held firm to take it 11-9.
It was Wang that had the upper hand early in the second game, but Chen made timely adjustment to turn around a 3-7 deficit with six points in a row. Going neck and neck at the crucial moment, Wang managed a 13-11 victory to level the score at one game apiece.
The flow of the third game was quite similar, as Chen came out from a 12-12 tie by scoring two straight points.
"The first three games were very important. Leading 2-1 boosted my confidence," Chen noted.
The pendulum began to swing to Chen from there. The defending champion showed her cutting edge in long rallies, pushing Wang to the brink of a defeat with 11-8 in the fourth game.
Chen was unstoppable in the fifth game, storming to a 5-0 lead before having the last laugh at 11-5.
"The third game was crucial. After losing it, I could not fit into the rhythm of this match," admitted Wang.