Star spiker hopes years of dedication can yield more glory for Team China at next year's Tokyo Olympics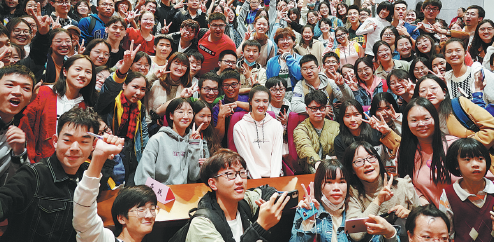 Zhang Changning stood behind the baseline, spinning a ball in her right hand before unleashing a rocket-like serve-a trademark technique over 15 years in the making.
"I always think about the direction and target point of my serve while spinning the ball," Zhang explained during a recent interview with Xinhua in Nanjing.
The 25-year-old has displayed a similar methodical approach to her career, setting one goal after another to level up step by step.
Zhang was born into a volleyball-playing family in 1995. Her father and elder brother were both national team players, affording her access to the elite level of the game at a young age.
In 2014, she was offered a trial with the women's national team by legendary head coach Lang Ping. Her excitement at the development, however, soon gave way to the humbling realization that there was a "huge gap" between her and the senior players.
"At that time, I learned what my weaknesses were and then clearly set a new goal, which was to keep on going and stand firm," she said.
Zhang initially failed to nail down a place in the squad, but after impressing with China's B team at the Asian Games in South Korea, earned her first official call-up to the senior ranks. "This was the start of my dream," she said.
In 2015, Hui Ruoqi retired due to illness, and Zhang was promoted to a leading role in the team. That same year, she helped China win the World Cup after a 12-year wait, and became the first under-20 spiker to win a world championship.
More glory followed with gold at the 2016 Rio Olympic Games, which Zhang credits as one of the most formative experiences of her career to date.
"In fact, everyone played badly in that final game, but I think it was a valuable experience that taught us how to cope in adversity and play to our strengths, to which nothing can compare," she said.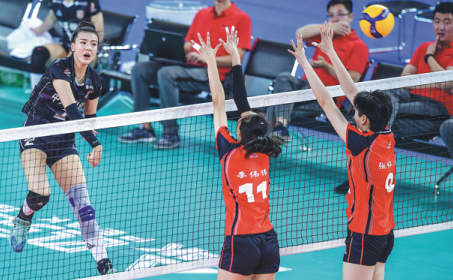 Zhang also tasted the bitterness of losing in volleyball's "big three "events, namely the World Cup, world championship and Olympic Games. Although the Chinese team ended up finishing third at the 2018 world championship, Zhang was disappointed in her performances throughout the tournament.
"The 2018 worlds were a serious blow for me, but it made me face up to myself and understand what I really needed to improve," she said.
National team boss Lang continues to be Zhang's guiding light on that road to betterment.
"Coach Lang is very meticulous, she stands right beside us in training and draws on all her experience to teach us how to serve better," Zhang said of the 1984 Olympic champion.
"Being around such a good spiker, you feel like there is a solid wall behind you and get a great sense of security."
Now Team China is preparing for next summer's postponed Tokyo Olympics.
Zhang said that although the squad may not be the strongest, she believes they are "the toughest".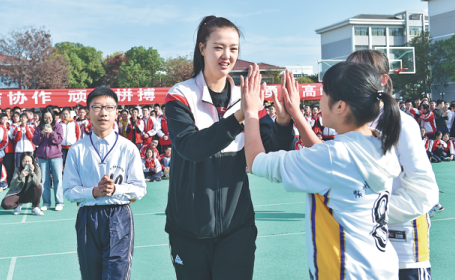 With international competitions canceled due to the pandemic, the new season of the Chinese Women's Volleyball Super League has, therefore, become an important tuneup competition for Tokyo.
The league started earlier this month behind closed doors in Jiangmen, Guangdong province, and Zhang, who plays for Jiangsu, is relishing the opportunity to return to competitive action.
"Everyone cherishes being on court, because many problems can only be found and solved in matches. We hope to do our best and get a good result," she said.
In 2018, Zhang was elected as a deputy to the 13th National People's Congress, China's national legislature. This year, she submitted a proposal on strengthening college sports, figuring, as an elite performer, it is her responsibility to give back to her sport.
"I may be on top of the so-called pyramid, but a lot of athletes at the bottom are often neglected. They face plenty of difficulties," she said. "I need to raise public awareness and help them with their efforts."
Xinhua