Industry overwhelmingly female-driven in China; dogs more popular than cats
As the clock struck midnight on Nov 11, Beijing-based Liu Yang, owner of two cats and a dog, rushed to snag discounts on Taobao and filled her virtual shopping cart within minutes.
"I was given extra discounts for an order of cat litter because the transaction was made within the first two hours of Nov 11 (Singles Day). I could also enjoy free samples of dog snacks if my order of dog food was among the first 5,000 orders. Days ago I searched for coupons and tips for getting the best prices. It was complicated but worth it considering the money I saved," Liu said.
Liu began to prepare a shopping checklist well in advance, which included six bags of 5.4-kilogram Orijen's Six Fish, a cat food product featuring a protein-rich diet that costs around 550 yuan ($83) for each bag after discount, 20 cans of canned cat food costing some 200 yuan in total plus nutrition bars, hairball remedy products, toys, pest repellent products and several categories of dog products. Liu said the list set her back about 7,000 yuan, which represents a month's salary for her.
"I bought a half-year supply of food and products for my dog and cats, and I waited until June 18(another online shopping gala known for great discounts) for another half-year supply. Keeping pets costs a lot, but it's totally worth it for me. Living about 400 kilometers from my parents and working alone in such a big city makes me feel sad sometimes. Companionship from the cats and dog is a great comfort. I don't see them as my pets. They are my furry family members," she said.
A growing number of pet owners like Liu are an important driving force for Singles Day sales of pet products.
In just the first 30 minutes of Nov 11, sales growth of both pet foods and daily pet necessities surpassed 100 percent year-on-year on Tmall. Sales growth of smart pet products such as automatic feeding machines reached about 1,000 percent year-on-year, according to a report on ixiupet.com.
On another e-commerce giant-JD-transaction value of pet products increased by 110 percent year-on-year from Nov 1 to Nov 11, according to the company. During the first five hours of Nov 11, transaction value increased seven, nine, 35 and 15 times year-on-year for imported pet foods, pest repellents, canned pet foods and hygiene products, respectively. Brands that made it into the top three in terms of product sales included Orijen, Go! and Royal Canin.
Such explosive growth of consumer spending on pet products also happened during last year's Singles Day sales, when transactions of pet products increased nearly 130 percent year-on-year on Tmall. Among the total, sales of cat snacks rocketed by nearly 700 percent year-on-year, while sales of dog snacks surged over 1,400 percent year-on-year. Sales of pet healthcare products rose 165 percent year-on-year.
"In today's fast-paced society, companionship from animals like cats and dogs is increasingly important to some people, especially young adults who work and live alone in big cities. People today are willing to spend more to provide their furry families a better life. In the future the market might see more diversified products to meet pet owners' various needs," said Kong Jing, a consultant with the Chinese Pet Products Association.
According to a report released by Pet Fair Asia and goumin.com-a website for pet owners-the total number of pet dogs and cats in urban areas across China reached 99.15 million, and the pet consumption market surpassed 200 billion yuan in 2019.
The multibillion dollar market is continuing to boom, according to a report from global consultancy PwC in October. Over the next five years, the market will expand even more rapidly and reach 320 billion yuan, spurred by growing pet ownership and consumption upgrades, according to the report's estimates.
Even during the COVID-19 pandemic when some consumers cut their expenditures, spending on pet food remained stable. Consumers also showed increasing interest in high-end brands, according to the report.
Highly educated young adults who live alone, especially females, are the driving force behind this booming market. The report said about 88 percent of pet owners are female, around half of pet owners are born in the 1990s or are millennials and roughly 50 percent of pet owners are single. Some 57 percent are college graduates or have higher education backgrounds (fewer than 10 percent of the total population in China are college graduates or have higher education backgrounds).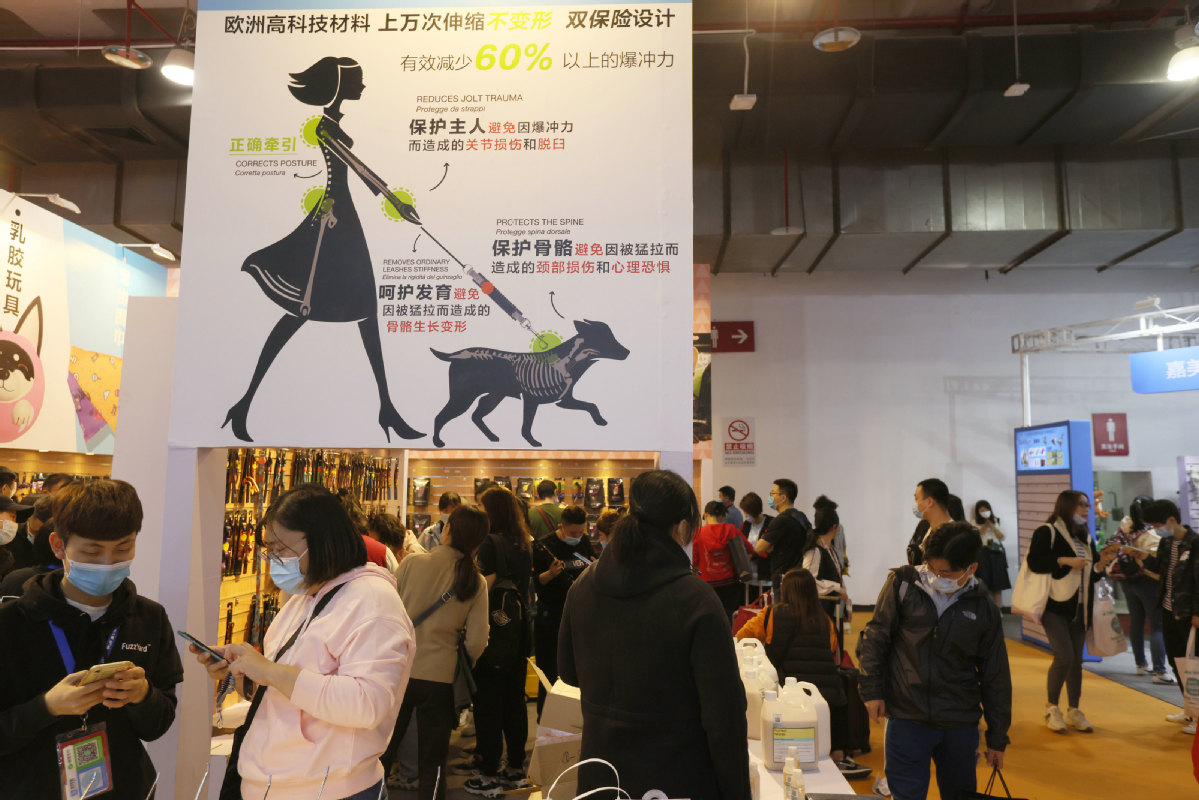 Among various pet categories, dogs are the most popular pet. About 60 percent of families that keep pets have a dog, according to a report by consultancy Frost & Sullivan China. Cats ranked second. About 41 percent of families that keep pets have a cat. However, the report pointed out the number of cat lovers is increasing in recent years. Aquarium-borne animals ranked third.
The huge market has certainly attracted investor attention. In recent years, internet companies have started business sectors in the pet industry. JD's self-owned online business store has covered pet product categories including food, toys, medicines and bathing products. JD also signed strategic partnership agreements with many renowned pet brands such as Mars Inc.
Meituan, an on-demand service provider, has pet product delivery services and an online healthcare section to tap into the fast-growing pet industry. Zeng Wei, a director at the company, said sales of pet products surged 350 percent year-on-year in the first six months on Meituan's Fast Buy platform-an online grocery store that said to deliver products door-to-door within 30 minutes.
"Internet giants are becoming more dominant in the pet market as they can leverage strengths from capital and channels for much lower product prices for the same brands and a larger number of consumers, which is challenging for traditional pet product retailers," Kong said.
"But there are also sections in the pet industry where internet companies find it difficult to step in, which are personalized services such as bathing, grooming, beauty care and medical care. For pet business operators, such services have a stronger effectiveness in enhancing customer stickiness compared with products because products under same brands can be easily found from other retailers who might offer lower prices. Providing better customized services for targeted consumers might be an opportunity for traditional pet business operators," Kong said.
Lu Kun, general manager for e-commerce at wecarepet.com, an online healthcare service provider for pets, said developing self-innovative products, especially in the food sector, is also an area of potential for local pet business owners. Currently the market is still dominated by overseas brands, but local brands have emerged to challenge their positions.
"There are still many opportunities for small and medium-sized companies in the pet industry, and the government also offers them supportive policies. The key is to find niche markets that allows them to fully utilize their strengths," Kong said.
A report by Taobao last year said there is a surge in sales of pet beds, traditional Chinese clothing for cats and ancient Chinese style quilts, indicating a growing demand from pet owners to make their furry friends' lives fancier.
There are also a growing number of pet product businesses on Taobao selling body care products for pets such as ear-cleaning solutions, pedicure products and paw creams.
"It's really nothing new to pet parents like me. Whenever I get a bonus from work I buy pet cakes and new clothes for my dog and cats, take photos and post them on WeChat moments (a sharing platform for users)," Beijing-based Liu Yang said.
"The increasing number of pet owners who have good education backgrounds, decent incomes and are single are willing to spend more on pets, which has spurred growing demand for high-end and more diversified pet products," said Neil Wang, president of consultancy Frost& Sullivan China.
"In addition, there is an increasing number of pet owners who keep aquatic animals, birds and reptiles, which will drive business owners to develop products suitable for those pets," Wang said.