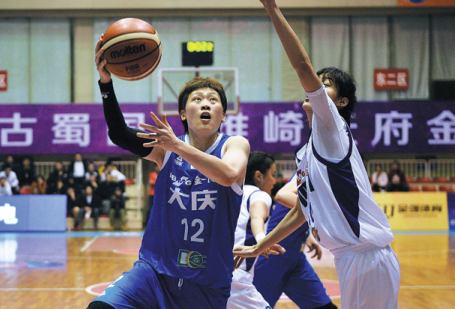 Twenty-seven years since taking up basketball, Ji Yanyan is acutely aware of the huge influence the sport has had on her life.
"Basketball has meant the world to me for a long time, and now it's the same," the all-time leading scorer of the Women's Chinese Basketball Association (WCBA) league told Xinhua in an exclusive interview.
"As I grow old, I know there are other things I need to pay attention to in life. Basketball is a sport and undertaking that I love, and I have put everything into it."
Now 35 and serving as a player-coach for WCBA side Daqing, Ji's passion for the game was much in evidence following a 43-point haul that helped her team to its first win of the current campaign on Friday.
Many young players burst into tears after the final buzzer, and Ji couldn't help but well up too.
"I didn't intend to cry. But these players were quite emotional, as they hadn't won a game through overtime before. After seeing them, I could not help but cry myself," Ji said.
"We are in a difficult situation and have been at a low ebb. We trained 20 days before the season tipped off, and many young players didn't join me. They said they were afraid of this."
Ji revealed she didn't prepare any tactics for Friday's game but merely told the players to go out fighting.
"They carried out my instructions quite well," said an exhausted Ji. "Everything has paid off. The win was not just about me, but my girls' persistence and unswerving will."
A tough taskmaster, Ji said that she often calls training sessions to a halt if she reckons players aren't giving their all.
"We can say'it doesn't matter' after losing a game, but we cannot really take the defeat as nothing, as they can develop a habit of that. Even someday they might have an opportunity to win but they might not show enough guts to win."
Ji is in her fourth season in a dual role since being hired by Heilongjiang in the 2017-18 season.
"I didn't expect to take charge of the team at such an early stage. It arrived all of a sudden," she recalled. "But the team was in a critical moment, so I took it on."
Heilongjiang advanced to the playoffs in Ji's first season at the helm, much to her own surprise.
"I was not aware of how I fitted into the new position," she explained.
"It was only two months away from the start of the league. I had to train myself, and lay out tactics for players at the same time.
"I could not just rest on the plane as my players did, but instead had to analyze opponents' tactics. I was so tired then."
Following the departure of several key players, Heilongjiang's results took a dive over the ensuing two seasons and Ji ultimately left for a fresh challenge.
"It was normal as I played fewer minutes. I needed to give chances to young players and let them deal with the game," Ji said.
"As a player, I just need to work on my own. But being a coach requires a more comprehensive vision of the team. It's a challenge for me, but also a great test."
Sad news
During her heyday as a player, Ji was dubbed "the female Kobe "because of the likeness of her shooting posture and scoring ability to the late American legend Kobe Bryant, who was killed in a helicopter crash in January.
"Hearing the sad news, I burst into tears. Kobe had a huge influence on me. His grit and dedication pushed me to fight until the end out of love for basketball," Ji said.
As for her future plans, Ji admits she is nearing the end of her legendary playing career. "Maybe this is my last season as a player. I need to give other players the chance, and I hope to become a full-time coach as soon as possible," she said.
"Daqing is a young team. I will become a full-time coach sooner or later, so it's better this moment arrives at an earlier stage, and I can therefore gain experience through the process."