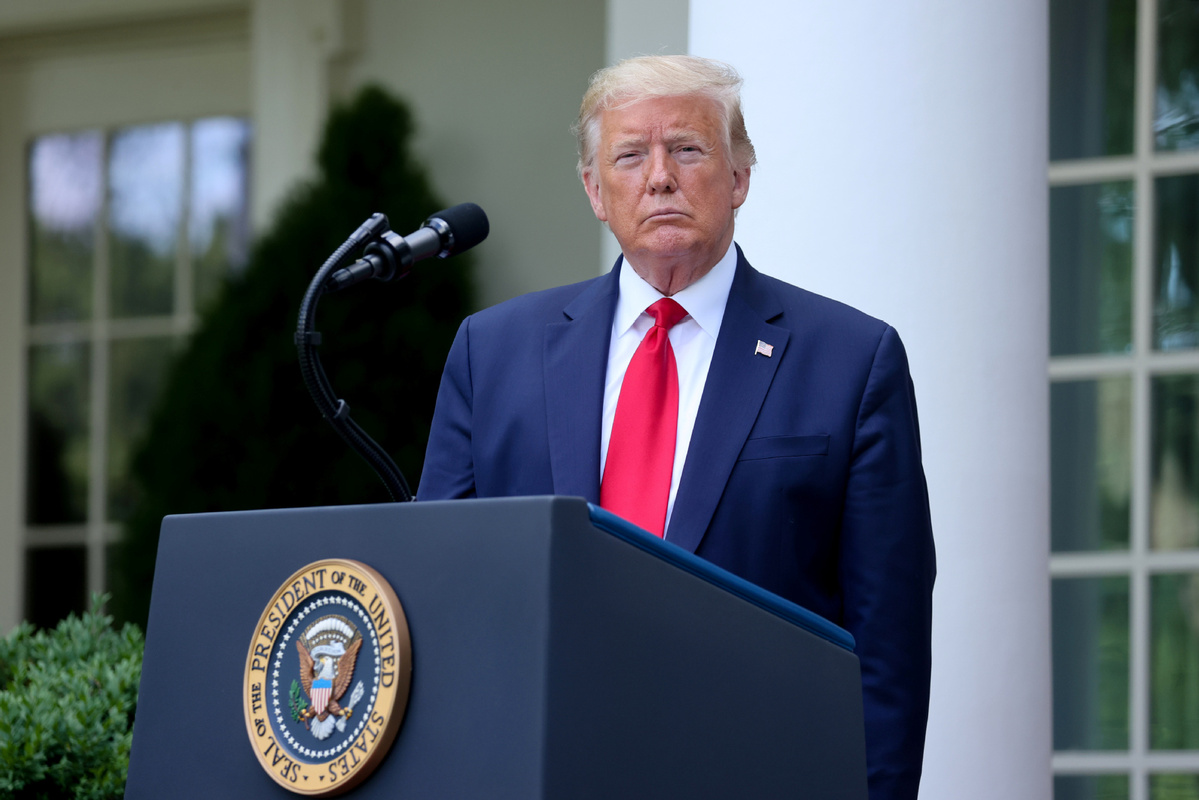 The US will honor the late Supreme Court Justice Ruth Bader Ginsburg this week with an unusual outdoor viewing at the building where she served for 27 years, and President Donald Trump said he would "probably" name a nominee to replace her on Saturday after the services.
Ginsburg, who died Friday at age of 87 of metastatic pancreatic cancer, will lie in repose in a rare outdoor viewing at the Supreme Court building on Wednesday and Thursday until 10 pm, so the public can pay their respects. She will then lie in state Friday in the US Capitol. She will be interred in a private ceremony next week at Arlington National Cemetery in Virginia, where her husband, Martin Ginsburg, is also buried.
Trump said that Senate confirmation of a replacement for Ginsburg should happen swiftly. "We won the election, and elections have consequences," he said Monday morning on Fox News. "We have plenty of time."
He also questioned what National Public Radio had reported as Ginsburg's dying wish to her granddaughter — that she not be replaced until the next president is chosen. Trump said it sounded like "it came out of the wind" and suggested that one of his Democratic opponents could have made it up.
"I don't know that she said that or was that written out by Adam Schiff and Schumer and Pelosi?" he said, referring to three leading Democrats: Representative Adam Schiff of California, House Speaker Nancy Pelosi of California and Senator Chuck Schumer of New York.
"I would be more inclined to the second, OK, you know? That came out of the wind. It sounds so beautiful, but that sounds like a Schumer deal, or maybe a Pelosi or Shifty Schiff," he said, employing one of his favorite nicknames.
Trump said he is looking at five potential nominees. He said all are "young" and that one is 38 years old and could be on the court for 50 years. It has been reported that Allison Jones Rushing, who is on the 4th US Circuit Court of Appeals, is being considered. She is 38.
He also praised US Circuit Court Judge Barbara Lagoa, who is from Florida, a key election swing state. "She's excellent. She's Hispanic. She's a terrific woman from everything I know. I don't know her. Florida, we love Florida. So, she's got a lot of things, very smart."
In remarks on the Senate floor Monday, Senate Majority Leader Mitch McConnell of Kentucky praised Ginsburg but then defended his decision to press ahead with the confirmation process before the Nov 3 presidential election.
Democrats have accused McConnell of "brazen hypocrisy" because he previously blocked President Barack Obama's nominee eight months before the 2016 election, when the Republican leader insisted voters should first have their say. Republicans now argue that the circumstances were different as a Democrat was in the White House, and the Republicans controlled the Senate.
Schumer implored Senate Republicans to wait for the results of the election and warned of consequences if they pressed ahead. Some Democrats have said that if they win the Senate on Nov 3 they would consider adding additional seats to the nation's highest court.
Former vice-president Joe Biden, the Democratic presidential nominee, on Sunday denounced Trump's decision to move ahead with a pick.
Senate Democrats can't block a Supreme Court confirmation on their own and are seeking to sway two additional Republicans to be able to do so. Republican senators Lisa Murkowski of Alaska and Susan Collins of Maine have already publicly objected to a vote before Election Day.
Trump said Collins was "very badly hurt by her statement yesterday", and he said Murkowski's comments "will follow her". Collins faces reelection in November. Murkowski is up for reelection in two years.
Democrats are looking at support from Republican senators Mitt Romney of Utah, Cory Gardner of Colorado and Charles Grassley of Iowa. Those three have not yet announced their intentions.
Romney was the only Republican to break with his party and vote to convict and remove Trump at his impeachment trial. Gardner is in a tough reelection race in Colorado. Grassley has previously held to Republicans' 2016 position that a Supreme Court vacancy should not be filled in an election year.