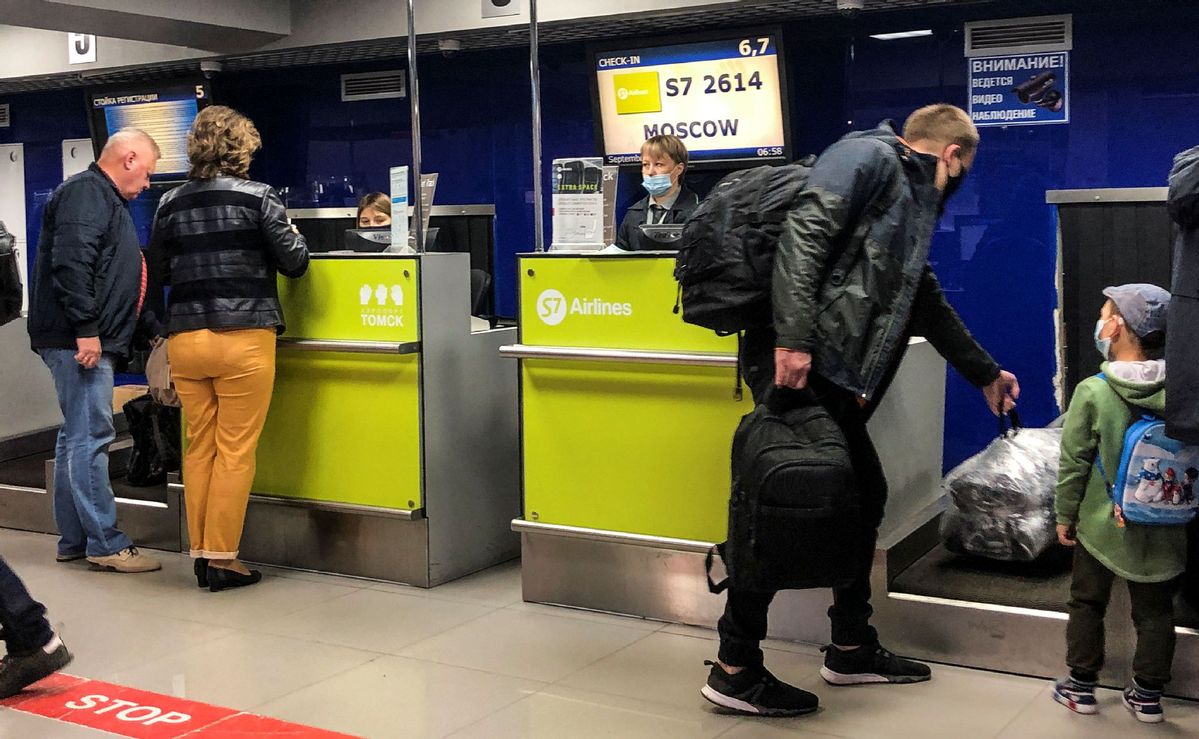 Russia was resuming passenger flights with Belarus, Kazakhstan and Kyrgyzstan on Monday, despite troubling signs on the spread of the coronavirus.
Under a further easing in restrictions for Russia's skies, flights to South Korea are also scheduled to resume, on Sunday.
According to the Russian government's press office, Russia is lifting an entry ban on citizens of the countries involved, on a reciprocal basis.
"Citizens of these states and holders of residence permits can enter Russia via airport checkpoints. Russians, in turn, can fly to any of these states unimpeded," the government said, adding the flights to these countries will be limited to one a week.
The press office said the go-ahead for resumed flights between Russia and the four countries followed a meeting of Russia's anti-coronavirus crisis center on Friday.
Russia grounded most international flights in late March to slow the spread of COVID-19. At the time, it allowed some flights to bring back Russians from abroad.
In August, Russia began gradually lifting travel restrictions to Britain, Turkey, Switzerland and Tanzania.
Early this month, air connections with Egypt and the United Arab Emirates were added. The Maldives has also been added to the list of countries approved for flights, under a decree signed by Prime Minister Mikhail Mishustin.
Russian airline Aeroflot requires all foreigners, including transit passengers, to provide a negative COVID-19 PCR-test result in order to board flights to Russia.
Russian Health Minister Mikhail Murashko said the coronavirus situation in Russia is stable, after the earlier opening of borders with a number of countries.
"We have established rules for opening borders and abidance with these rules is a way to protect the country's population," Murashko said.
On Sunday, Russia's coronavirus spread rate grew to 1.08 and in Moscow it climbed to 1.14-the highest levels for both since May 8.
Removal of restrictions
The coronavirus spread rate indicates the number of people one person can infect before being isolated. Along with other criteria, it was used to define the regions' readiness for a step-by-step removal of restrictions introduced this spring to combat the epidemic. Now this rate is being used to guide decisions on further easings in international flights.
In accordance with recommendations from the Federal Service for Surveillance on Consumer Rights Protection and Human Wellbeing, Russia's borders with a country may be opened if its coronavirus spread rate does not exceed 1 for a week.
As of Monday, the anti-coronavirus crisis center reported 6,196 new COVID-19 cases, bringing the country's total tally to more than 1.1 million.
On the medical front, Russia began Phase 3 trials of Sputnik V on 40,000 volunteers in Moscow earlier this month. First results are expected either next month or in November, said the Russian Direct Investment Fund, Russia's sovereign fund, which is bankrolling the project.
About 100 million doses of the vaccine will be sold to India once final trials and regulatory steps are completed, while Brazil, Mexico and Kazakhstan have also signed supply deals with Russia, the fund said.