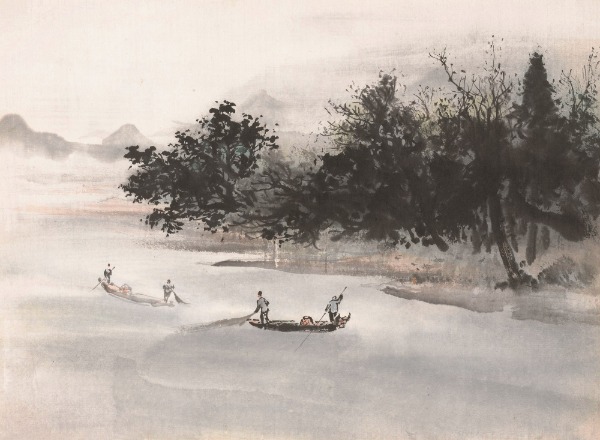 Learning from and copying the style of the masters has always been a normal and legitimate undertaking by art students as they try to see the bigger picture, literally, and hone their style and construction. But this approach does have its drawbacks, not least because it may see students trap themselves in a style they are not comfortable with at a cost to their own originality.
Technique, of course, is important but so is the message a student's art should portray. One artist who understood the pitfalls of this approach, but was determined to evolve, was Li Xiongcai (1910-2001). At the tender age of 16, Li joined the studio of Gao Jianfu, the founder of the Lingnan (Canton) School of Painting, in Guangzhou, Guangdong province, to improve his classic ink art.
It is said that every day, Li was asked by Gao to climb up into an attic where he would copy ancient Chinese paintings for hours. Gao would then remove the ladder to the attic so that Li could focus entirely on his work. Under Gao's instruction, Li copied hundreds of famous paintings produced over the centuries.
But Gao knew that technical mastery was only part of the process Li needed to go through to become a true artist. Gao also wanted his talented student to open his eyes and mind to new ideas.
Gao often took Li to the outskirts of Guangzhou and other parts of Guangdong province to make sketches, to work free from academic restraints. And he also provided financial support to Li to further his studies in Japan where decades earlier, Gao himself had also lived and broadened his vision.

Gao hoped these arrangements could boost Li's career to carry on the rejuvenation of Chinese artistic traditions.
Years later, Li did fulfill his mentor's wish to become a second-generation leader of the Lingnan school of painting, which emerged and prevailed in Guangdong in the 20th century.
His accomplishments in reviving the classic ink paintings, especially in the way he observed, sketched and learned from nature, are being revisited at Restudy the Nature, an exhibition at the Art Museum of Beijing Fine Art Academy through to Feb 23.
The exhibition highlights Li's versatility in handling different subjects, including landscapes, figures and the flower-and-bird genre.
At its heart, it navigates through Li's career of utilizing sketches to revise the genre of ink painting and to express social concerns.
Li, who taught at the Guangzhou Academy of Fine Arts for decades, is best known for a body of work in the 1950s and '60s which depicted panoramic views of industrial projects against a backdrop of magnificent natural scenery. He journeyed to the construction sites of shipyards, flood-control dams and reservoirs in Hubei and Henan provinces, and produced ink and color paintings back home.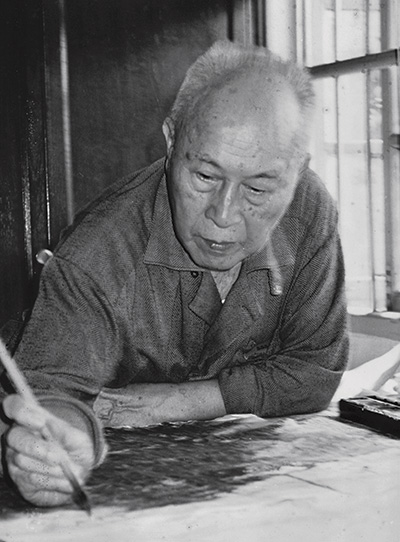 The exhibition will place the spotlight on the sketches Li made at the places he visited, showing his techniques and shrewd observations.
Two of Li's most famous paintings are A Picture of Flood Prevention Works in Wuhan, a copy of which is on show, and Construction of Sanmenxia Dam, which is also on display.
Viewers can picture how Li recreated the bustling scenes of two major projects of New China in his studio by referring to the many preliminary drawings he made. These, too, are also on show.
In these ink sketches Li portrays workers carrying heavy loads, trucks busily transporting materials and villagers reinforcing breakwaters. With technical refinement, he celebrated the will, wisdom and energy of ordinary people confronting natural barriers.
"Li's brushwork shows a desire to keep pace with the times," says An Yuanyuan, deputy director of the National Art Museum of China, where A Picture of Flood Prevention Works in Wuhan is housed.
"More importantly, he portrayed those working people with great compassion," she adds.
The exhibition traces Li's accumulated sketching skills and keen sense of observation to his three years at the Tokyo Fine Arts School (which later became the Tokyo University of the Arts) in the 1930s.
Xue Liang, the exhibition's curator, says the years in Japan widened Li's vision, and he was introduced to the technical precision of Western oil painting and developed an interest in natural history.
He says dozens of the sketches on show depict a variety of insects Li painted with delicate brushwork reflect these influences, and also embody Li's understanding of the idea of "drawing the spirit and atmosphere" central to classic Chinese painting.
Before Li was able to complete epic works of a grand historic narrative such as A Picture of Flood Prevention Works in Wuhan, he traveled extensively across the country from the 1940s to the '50s to sketch.
He took several trips between 1940 and 1948 in Sichuan and Gansu provinces, as well as the Xinjiang Uygur and Inner Mongolia autonomous regions. He produced hundreds of drawings of the distinctive scenery and folk customs of West China, a selection of which are on show.
Xue says being embraced by nature motivated Li to produce more powerful, diverse strokes to render an intensity to his works, which also laid a foundation for artistic maturity he achieved a decade later.
In the 1950s and '60s, Li often traveled to the provinces of Central and South China, during which he made a large number of sketches of rural landscapes and farmers toiling in the fields. These works, some of which are also on show, presented his love for changing dawn scenes, veils of mist, night rain and winter snow.
Li Jingkun, chairman of the Guangdong Artists Association, says sketching served not only as a method of practice for Li Xiongcai but also, "an album of his travelogues and the vicissitude of life over the years by which he conveyed a humanistic spirit".
Li Jingkun says sketching allowed Li Xiongcai to evolve to become a painter "who created monumental works and raised the Lingnan school of painting and Chinese painting alike to new heights".