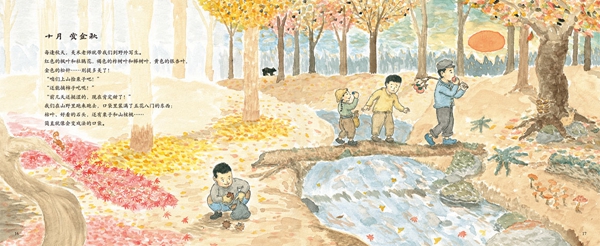 Songs, poems and modern mythology are all part of a growing catalogue of literary cross-border collaborations between writers, illustrators and China's leading publishers, Mei Jia reports.
The Spring in the North-or Kitaguni no Haru in the original Japanese-is probably the most well-known Japanese song in China and around Asia since it first released in 1977.
"It's said that about 1.5 billion people across the world can sing that song," says lyricist Haku Ide, 78, the man who penned the song over 40 years ago.
He recently published a picture book based on the poetic images evoked in his song through a Chinese publisher along with his 39-year-old illustrator son, Shinji Ide.
Haku Ide says he hopes his sense of nostalgia will resonate with readers when they thumb through the pages of the book of the same name as his biggest hit, especially people like himself who abandoned their rural upbringing for the hustle and bustle of life in the big city.
He has written the lyrics for more than 400 songs, yet this is the first time he has had his work published as a picture book. Based on his own childhood experiences, the book captures and documents typical scenes from daily life in northern Japan some 60 years ago. From flying kites, feeding silkworm and harvesting paddy fields, to playing ice-hockey on homemade skates-the expectations of each coming season unfold with every turn of the page.
Haku Ide says his father died when he was in first grade in school, and his mother was forced to support the family on her own.
"I don't remember ever seeing her sleep, because she always had endless work to do," he says.
Even in winter months when farmers had less field work, he describes the young child's reluctance to rub his mother's back and shoulders to ease her sore muscles after long hours of household chores.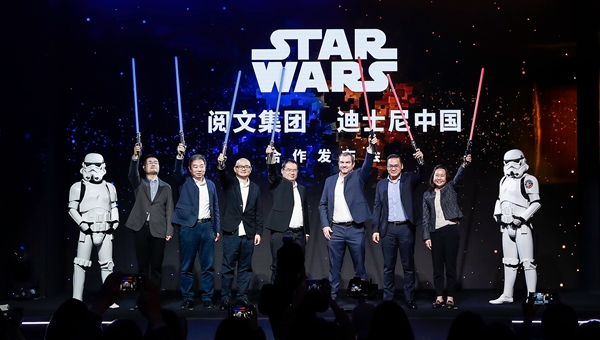 "I only understood how hard these years were for her when I grew up, moved to Tokyo and graduated from Waseda University," he adds.
In those hard days, nature was the child's faithful playmate. It provided the venue, tools, and also occasions for joy, and somehow transformed their bitter lives into the beautiful "good old days".
For his son, the illustrator, who was born in Tokyo, these memories meant little as there was no family album to help retrieve them. For this work, he had to return to his father's hometown on several occasions to search through the local archives to discover facts and find inspiration.
"His poetic stories tell me that besides games and TV, nature is also a form of entertainment, which I think is especially valuable to young people living in the 'concrete jungle'," Shinji Ide says.
"Besides, winter is not always as cold as you expect and there is a strong festive mood in those dark months (in big cities like Tokyo). But I never really understood my father's longing for spring back then," he adds.
As the chairman of the Japanese Society for Rights of Authors, Composers and Publishers, the father has visited China many times since 1983, and has written two songs on Chinese themes.
The original Japanese song on which the book is based has several versions in different Chinese dialects.
According to a 2014 article by Lyu Yuan, the translator behind the first Chinese version, the song was so familiar among Chinese audiences that people believed it was an original Chinese work.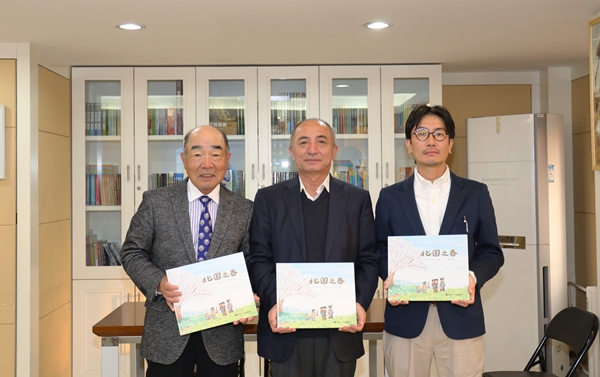 "The song's popularity in China has endured more than in Japan, and people still sing it to this day because of the social situations it describes-the homesickness of migrant workers, and the trend toward urbanization," Lyu says.
For the book's publisher Bai Bing, 63, editor-in-chief of the Jieli Publishing House, the song is a karaoke favorite among his generation.
"In my childhood days, as Haku Ide depicts, I stayed close to nature and I remember how I worried most about my goldfish if I went away for a few days," Bai says.
"The sense of prevailing loneliness some of us feel nowadays is mainly caused by our separation from nature," Bai adds. "Ide's book just brings back that connection."
The publishing house was persuaded to take on the project by translator and picture book expert Tang Yaming, who immediately recognized the popularity of the song and the book's potential and the value of being the first publishers of the book.
"The book has an original Chinese title, although written and illustrated by Japanese creators. We also hope to sell its copyright to more international markets, including Japan," Tang Ling, director of Jieli's Infant Books Branch, says.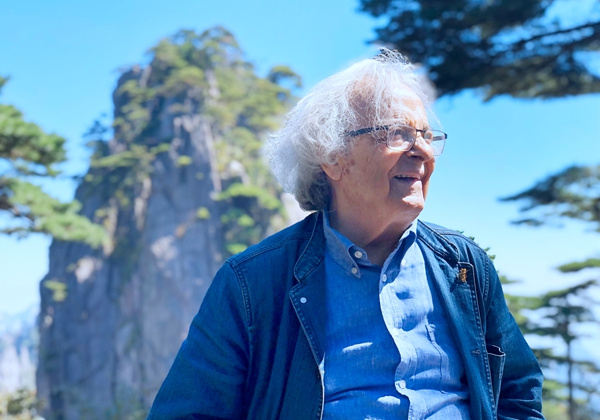 Jieli and other Chinese publishers have long embraced international cooperation, in numerous ways, including planning books written by Chinese writers and illustrated by internationally acclaimed foreign illustrators.
The Spring in the North might be the first to open up a new phase for publishing to global audience.
"China has a large and promising market for children's books, and it's becoming increasingly influential worldwide. Around 99 percent of our children's titles will usually be reprinted because of high demand. It's not difficult here for a single book to reach sales of more than 100,000 copies," Bai says.
"Additionally, our original titles are drawing worldwide attention for their quality and wonderful stories," he says.
Bai says those features have attracted not only foreign publishers, but also authors and illustrators.
One French and one American children's writer have contacted Jieli, respectively, showing an interest in publishing their upcoming stories in China first, instead of in their home market, Bai says.
"It's time for us to look worldwide for contributors and inspiration, in order for Chinese publishers to be better placed in the world market, and to boost our influence and production quality," he says.
In mid-October, China Literature Group joined forces with Disney China to create the first Chinese web novel series based on the Star Wars franchise, written by web fiction writer "His Majesty" (Guowang Bixia).
The stories featuring The Force and Jedi, the fundamental elements in Star Wars, will have a Chinese-style twist and will leverage the instantaneous reward and review system that the literary format of the online web novel-very popular in China-allows, including engagement between writer and reader.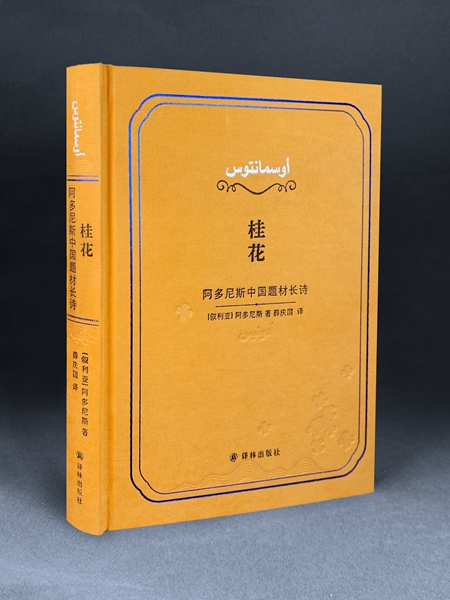 James Waugh, vice-president of franchise content and strategy at Lucasfilm, oversees the Lucasfilm Story Group, which he describes as "a team that helps steward the galaxy's fiction as it traverses franchise platforms", at the announcement of the new web novel series in Shanghai. Waugh says he is excited "by the potential of this initiative and for sharing the aspirational adventure and exploration that is the Star Wars galaxy with so many Chinese readers".
"It's important to Lucasfilm to meet Chinese consumers where they are and include this thriving and unique market in the global excitement around the franchise," Waugh says. "The first Chinese Star Wars web fiction gives us an opportunity to tell an original Star Wars story and showcase new characters for the Chinese market written by an exceptional Chinese author."
Those new ways of cooperation also include Qingdao Publishing Group's announced acquisition of the Museum for Junichi Watanabe Literature in Hokkaido.
The four-story building was designed by Watanabe's friend and architect, Tadao Ando, and built in 1998. The writer's work, awards, sketches and manuscripts are on show there.
The Japanese writer is known for his best-selling novel on fatal extramarital affairs, A Lost Paradise, with the latest Chinese version published in China by Qingdao Publishing Group.
The group continues to open the Watanabe museum to visitors for free, and with greater promotion targeting literature lovers in both countries, it hopes to enhance the people-to-people ties, and boost more cooperation with his copyright holders in the planning of further TV and film adaptations.
This month, 89-year-old Syrian poet Ali Ahmad Said Esber-better known by his pen name, Adunis-is on a book tour of China, which ends in late November, to introduce his latest work, an epic poem with 50 chapters entitled Osmanthus.
A frequent visitor to China, Adunis got the inspiration for his poem from his 2018 tour of the country, when he visited Huangshan Mountain in Anhui province, and planted a sweet osmanthus tree in a Guangzhou suburb in Guangdong province.
The poem, published in China by Yilin Press, is about China, and combines Adunis' personal experiences in China with Arabic philosophy.
"It's a significant moment in the history of foreign literature exchanges with China, when a heavyweight writer like Adunis expresses his thoughts and love of contemporary China in this scale," Xue Qingguo, his translator and professor with Beijing Foreign Studies University, says.