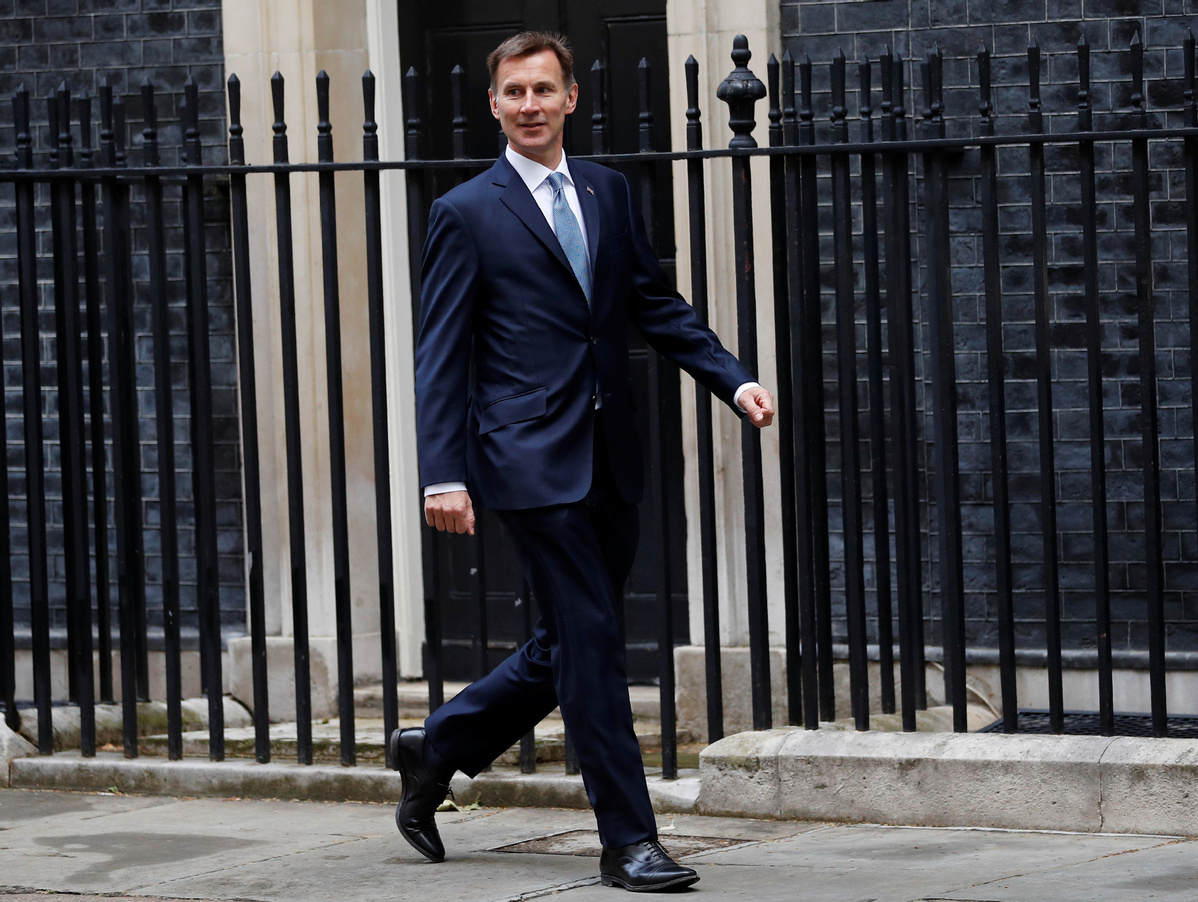 British Foreign Secretary Jeremy Hunt has emerged as a surprise leading contender in the race to replace Theresa May as leader of the Conservative Party and British prime minister.
Monday was the cutoff date for submissions to enter the contest to succeed May, who stepped down as party leader on Friday after three years failing to make progress on Brexit.
She will continue as prime minister until the process to pick her successor from a field of ten candidates is completed toward the end of next month.
Hunt describes himself as a "born again" Brexit supporter, having initially backed the campaign to remain in the European Union.
In his campaign launch speech, Hunt has said he is the "serious leader the UK needs", which is widely seen as being a put-down of rival candidate, former foreign secretary Boris Johnson, who has spent many years cultivating a somewhat comical public persona.
He also said he believed he could get a Brexit deal with the EU, while warning of the dangers of that not happening.
"Without a deal, any prime minister who promised to leave by a certain date would have to call a general election to change the parliamentary arithmetic. That is an election we would lose badly. If (the Conservatives) fight an election before delivering Brexit, we will be annihilated," Hunt said.
Several of the front-runners launched their campaigns on Monday. Johnson, long viewed as the hot favorite, has kept a comparatively low profile lately, apart from proposing his main policy promise of a tax cut for three million higher earners.
If Hunt were to be successful, it would be intriguing to see how it affected links between Britain and China. His wife Lucia Guo is from Xi'an, where the couple had a traditional Chinese wedding.
Hunt also speaks Japanese, having worked in the country for two years as an English teacher, but this led to an embarrassing incident during a dinner with Chinese Foreign Minister Wang Yi last year, when having been talking to the minister in Japanese, Hunt then said in English that his wife was Japanese, before quickly correcting himself.
Meanwhile, Environment Secretary Michael Gove is keeping up strong campaigning despite his admission in a newspaper at the weekend that he had previously taken cocaine.
His launch speech spoke of looking after "overlooked families and undervalued communities" as well as another dig at Johnson.
"If I get through, which I'm sure I will actually to the final two against Mr Johnson this is what I will say to him: 'Mr Johnson, whatever you do, don't pull out'," a deliberate reference to Johnson's withdrawal from the post-referendum leadership race three years ago.