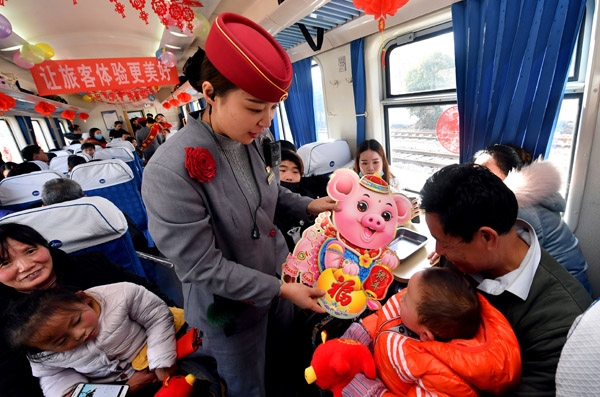 When I saw Wang Le take his time, looking at his mobile phone and drinking coffee at a waiting area of the Beijing West Railway Station in early February, my mind couldn't help but slip back to roughly a decade ago.
Wang has been my friend since childhood and we both settled in Beijing after graduation.
That long-ago meeting was in the same setting as this one. We agreed to meet at the same train station and travel back together to our hometown of Wuyishan, East China's Fujian province, for the Spring Festival holiday.
The perimeter of the train station was filled with anxious migrants who were desperately edging toward the station's entrance in a long line that looked easily 100 meters long. There was nothing I could do but inch along with the crowd, cheek by jowl.
It took me roughly 20 minutes to get in. When the time came for check-in, I called Wang, but he didn't pick up.
After waiting for another 10 minutes, he still didn't show up.
Time was running out, and I had to make a move myself. By the time I struggled to the carriage, it was already packed.
Those who failed to land a seat ticket created a thick human wall, which I had to elbow my way through to reach my window seat.
I sat myself down after quickly stuffing my luggage under my seat (there was already no room at the luggage rack overhead), and began to worry about Wang, who still wasn't answering my call.
Just when I was sure he would miss the train, a faint voice wafted in - right before the door was closed.
"I'm here," Wang said, before being immersed into the supple human wall that separated us.
When his face emerged from the crowd, I saw him puffing and panting, with sweat all over his forehead. His face was dark red.
After he managed to catch his breath, Wang began to regale me with tales of his trials and tribulations - and how he overcame them - with a seeming sense of pride.
He recounted how he had overslept and had to run for all he was worth to catch the train.
Apparently, his adrenaline had helped him cut corners and jump over fences - along with his heavy luggage - to cut through the slow-moving line of passengers like a frustrated parkour athlete.
By the time we had finally relaxed, we noticed the aisle of the carriage was blocked with passengers sitting on the floor. It would be nothing short of an odyssey for anyone to answer the call of nature.
For the remainder of the journey, we were both very frugal with our water intake to reduce the risk of needing the bathroom. Just like that, we endured 20 hours on the train.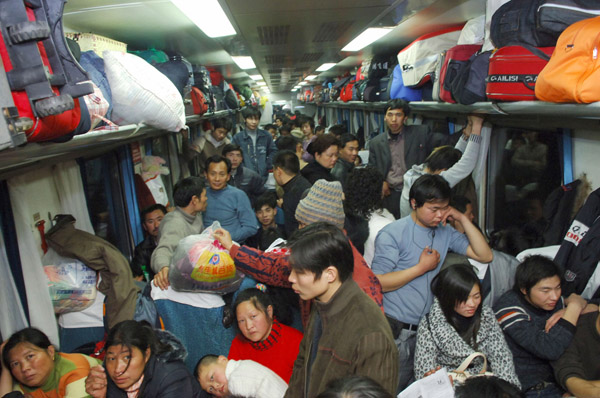 All of it seems just like a dream and far from today's reality. Neither of us have to worry about facing that same struggle again. The subway has seamlessly connected the Beijing West Railway Station to the rest of the capital.
Although the army of train passengers during Spring Festival has consistently grown over the years, it doesn't seem to create the crowded scenes of before, thanks to the greatly increased rail speed and shortened commute time, which, in turn, has obviously increased rail transport capacity.
China's railways are expected to carry 2.99 billion passengers during the Spring Festival travel rush this year, up 0.6 percent year-on-year, according to the National Development and Reform Commission.
It now takes only a few minutes to get to the waiting hall, and we don't have to rush for the train or plan excessively to allow for now unimaginable delays.
Every passenger aboard has a guaranteed seat, so the carriage is a much more spacious and comfortable environment than before, and it now only takes around seven hours to reach our hometown, which is good news for us - I don't have to spend the night wide-awake, arriving ragged and exhausted anymore.
Personally, I prefer rail travel over flights during major holidays.
The train is much less likely to suffer schedule changes and it is much cheaper. Also, software and apps for purchasing tickets have consigned to the dustbin of history the myth that one had to spend the night sleeping near the ticket window to snatch the last few available seats.
Perhaps, more importantly, we don't have to worry about cutting back on snacking or drinking to avoid the use of the toilets.
"Yang, come here," Wang spotted me in the crowd, shaking me from my reverie and beckoning me over.
We stand and chat for a few minutes in the cafe, before casually making our way to the train.
yangfeiyue@chinadaily.com.cn