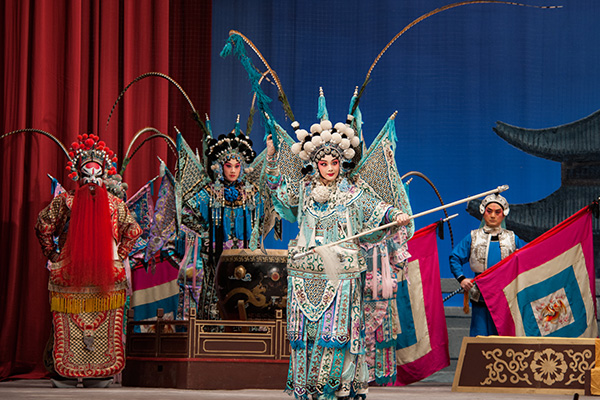 Peking Opera artists will celebrate the old art form with shows abroad in February, Chen Nan reports.
The China National Peking Opera Company will perform shows in different countries to celebrate the 200-year-old art form on the first day of the Lunar New Year, which falls on Feb 5.
More than 70 Peking Opera artists and band members will join the tour abroad from Feb 1 to 25. They'll visit the United States, Australia and Europe.
Turandot, a coproduction of the China National Peking Opera Company and Emilia Romagna Theater Foundation, will be staged in Italy from Feb 1 to 10.
Its premiere was held in Bolzano, Italy, on Jan 10.
With actors of China's Peking Opera company playing the lead roles, including Xu Mengke and Zhang Jiachun, the theatrical production, based on a three-act opera of the same title by Giacomo Puccini, will be directed by Italian director Marco Plini. It'll be joined by Chinese dramatists Wu Jiang and Wu Yuejia, as well as musical ensembles from China and Italy.
According to Giuliano Barbolini, president of the Emilia Romagna Theater Foundation, which manages seven Italian national theaters, Turandot is the second collaboration between the China National Peking Opera Company and the foundation, which gives the traditional Chinese art form a Western theatrical twist.
The experimental Peking Opera production Faust, which is an adaptation of the Western masterpiece written by Johann Wolfgang Goethe, made its debut in 2015 and toured Europe. China's Peking Opera company also gave two performances of the classic show, The Legend of the White Snake, at the Alessandro Bonci Theatre in Cesena, Italy, on Jan 5 and 6.
Female Generals of the Yang Family, another Peking Opera classic, will be staged with three performances in Portugal from Feb 8 to 11.
Peking Opera actress Guo Xiao will play the lead role of Mu Guiying, a legendary female warrior.
"Female Generals of the Yang Family is a great display of Peking Opera, which combines a variety of techniques to portray loyal and brave Chinese female roles," says Guo, who has been performing with the China National Peking Opera Company since 2010.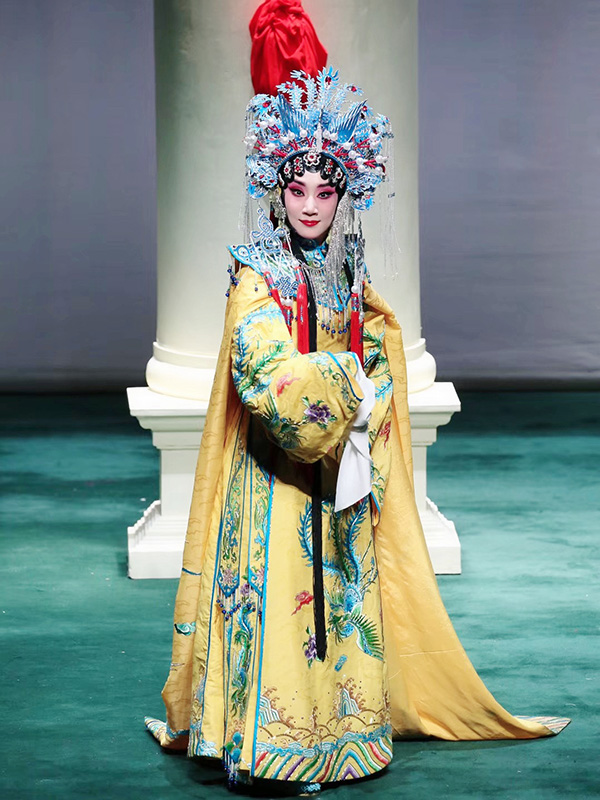 The 30-year-old's mother worked as a Peking Opera actress. So, Guo has learned the art form since a young age and decided to make it a lifelong career by the time she was 11 years old. A year later, when Guo came to Beijing from her hometown, Jiangsu province's Xuzhou, she enrolled in the middle school affiliated with the National Academy of Chinese Theater Arts.
Guo earned her master's degree at the National Academy of Chinese Theater Arts later.
"I played the role of Mu Guiying when I was in school. As I grew up, I had a different understanding of the role. The character is more than brave and strong. As a mother and a daughter, she is also soft and sweet," Guo says, adding that it will be her first time to leave her family and perform abroad during Spring Festival.
"Of all my experiences of performing the role, this time in Portugal will be special to me."
The troupe will showcase extracts from Peking Opera pieces, such as At the Cross Roads and Farewell My Concubine, during the company's visit to Portugal in February.
Yi Ling from the China National Peking Opera Company's foreign affairs office says that giving performances of Peking Opera-which was declared a form of intangible culture of humanity by UNESCO in 2010-at home and abroad during Spring Festival has become a tradition.
Peking Opera performers from veterans to young artists will participate this year in the Happy Chinese New Year project, which is supported by the Ministry of Culture and Tourism.
Veteran Peking Opera artists, including Li Shengsu and Yu Kuizhi, will perform in the US, Australia and New Zealand.
Yi says the programs aim to help Western audiences get a more comprehensive understanding of Peking Opera-not just the captivating martial arts but also the elaborate makeup and costumes.
"The ancient art form shows traditional Chinese values, such as loyalty, modesty and honesty," Yi adds.
Contact the writer at chennan@chinadaily.com.cn