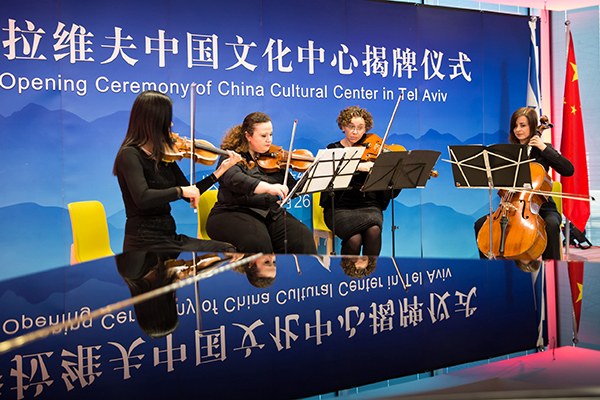 Sino-Israeli cultural and trade-promotion activities were launched at the China Cultural Center in Tel Aviv, attracting many Israelis, on Tuesday.
The three-day event included a Sino-Israeli cultural-innovation roadshow, a cultural-and creative-product exhibition entitled China Style and a photography exhibition, titled This Moment in Pudong, to commemorate the 40th anniversary of China's reform and opening-up.
China Style showcases the development of the country's cultural and creative industries in high-tech sectors, innovation capacity and market prospects.
Shao Peiran, a 12-year-old boy, displayed his oil painting, A Dream Within a Dream, which portrays goodness in a child's eyes.
This Moment in Pudong presents 30 pictures that demonstrate achievements in Shanghai.
It features business, culture, society and life in the city's Pudong New Area and the Shanghai Pilot Free Trade Zone. The Jewish Refugees and Shanghai exhibition and a Yue Opera class were also held.
The activities will enhance the two countries' practical cooperation in culture and promote the development of cultural and tourism industries, says Ren Yibiao, president of the National Base for International Cultural Trade (Shanghai).
These activities "are very good because Israeli people are not very familiar with Chinese culture", the Israel-China Friendship Society's vice-chairman Gal Furer says.
Cultural exchanges are increasing as relations grow stronger, Furer says, adding that he's happy to see more Israelis gaining exposure to Chinese cultural products. The event featured China's national intangible cultural heritage, pottery, silk, embroidery and tea ceremonies.