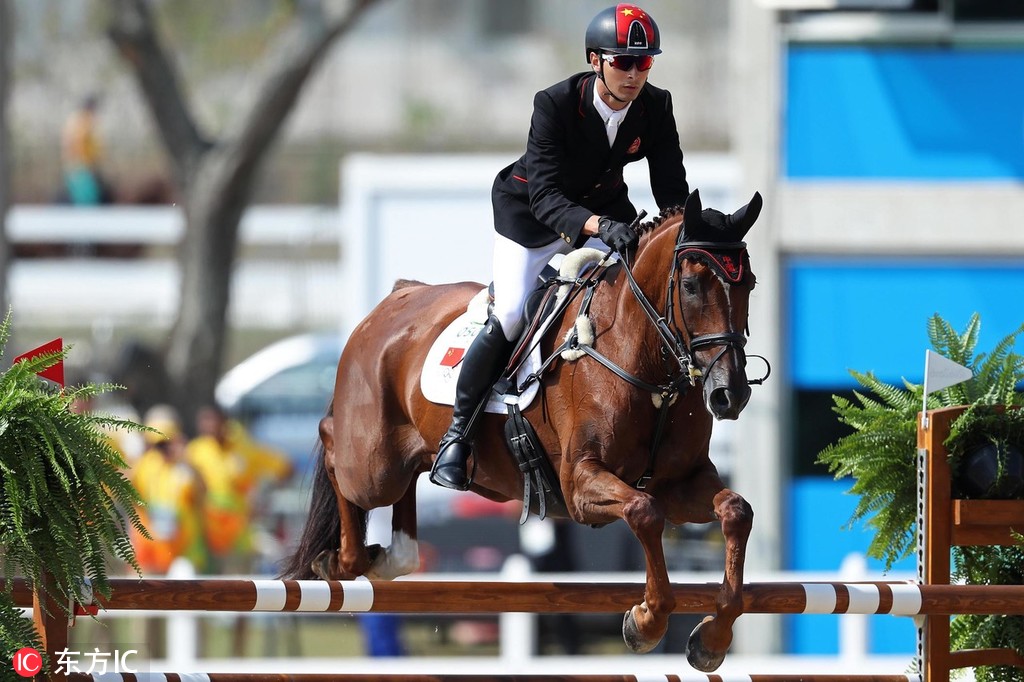 LONDON-Alex Hua Tian's objective for 2019 is clear-qualifying China for the 2020 Tokyo Olympic Games.
The London-born Chinese is kicking off his fourth Olympic cycle after making his debut in Beijing 2008, then narrowly missing London 2012 before finishing eighth in Rio two years ago.
For the first time ever, though, Hua is not alone-because now China is ready to form a three-day eventing team.
"This is a golden opportunity for us," Hua told Xinhua in an interview. "We have some riders that are preparing for it. I have had quite a lot of experience already.
"The key is using my experience to try and help the other riders to understand the process and hopefully try to compete for a successful team qualification. For me, it is the No 1 goal for 2019."
Hua has laid the foundations to achieve that target thanks to a productive 2018.
On board an inexperienced 9-year-old horse called Spike, he won bronze at the Asian Games in Indonesia to add to the silver he won in Incheon, South Korea, four years ago.
"The Asian Games was wonderful," he said. "I took a young horse, a horse that actually is very new to me. I've only competed with him a few times. And I was really worried about the flight-it is the longest flight I have ever taken with a horse."
The outcome, though, made the 10,000-km journey from England worthwhile.
"We have a very new relationship. I was really happy with him because he couldn't have done any better," said the 29-year-old. "You always hope to do better but I was beaten by two horses that were not more talented but more experienced. So, I think the future is very exciting."
In September, Hua finished 45th out of an 84-strong field at the World Equestrian Games in North Carolina, riding another 9-year-old, called Boris.
"With him I knew that we would not be very competitive at that level. But he fought his way back (after finishing last in the dressage section) and he is a horse I am very proud of," he said.
As an 18-year-old, Hua became the youngest eventer in Olympic history at the 2008 Beijing Games. Before that, few people in China had even heard about eventing, which is comprised of dressage, show-jumping and cross-country competitions.
Since then, however, he has become a household name and an ambassador for equestrianism here. To further promote the sport, he and his friend, Philip Wong, founded a charity named The Horsemanship Movement, which last year improved the lives of over 200 migrant kids by helping them learn key skills through interaction with horses.
In November, the charity won a Solidarity Award from equestrianism's world governing body the FEI. It will be officially launched in Shanghai on Jan 9.
"So far, it is very small," said Hua. "Over the last few years we've been working on the program, how it works, the implementation, the operation. The ambition is nationwide in the future. The charity is trying to help the industry raise its standards and expectations."
As for his own expectations for making Tokyo 2020, Hua is "cautiously confident".
"It's never easy," he said. "I have never been in a strong position. The horses are fragile. Even though I have four very good horses, injuries can happen, and I would not be surprised-I would be devastated but not be surprised-if for some reason it didn't happen.
"But all you can do is be well prepared, try your hardest and see what happens.
"For me, the new year is exiting. I wish everyone in China a happy new year."
XINHUA