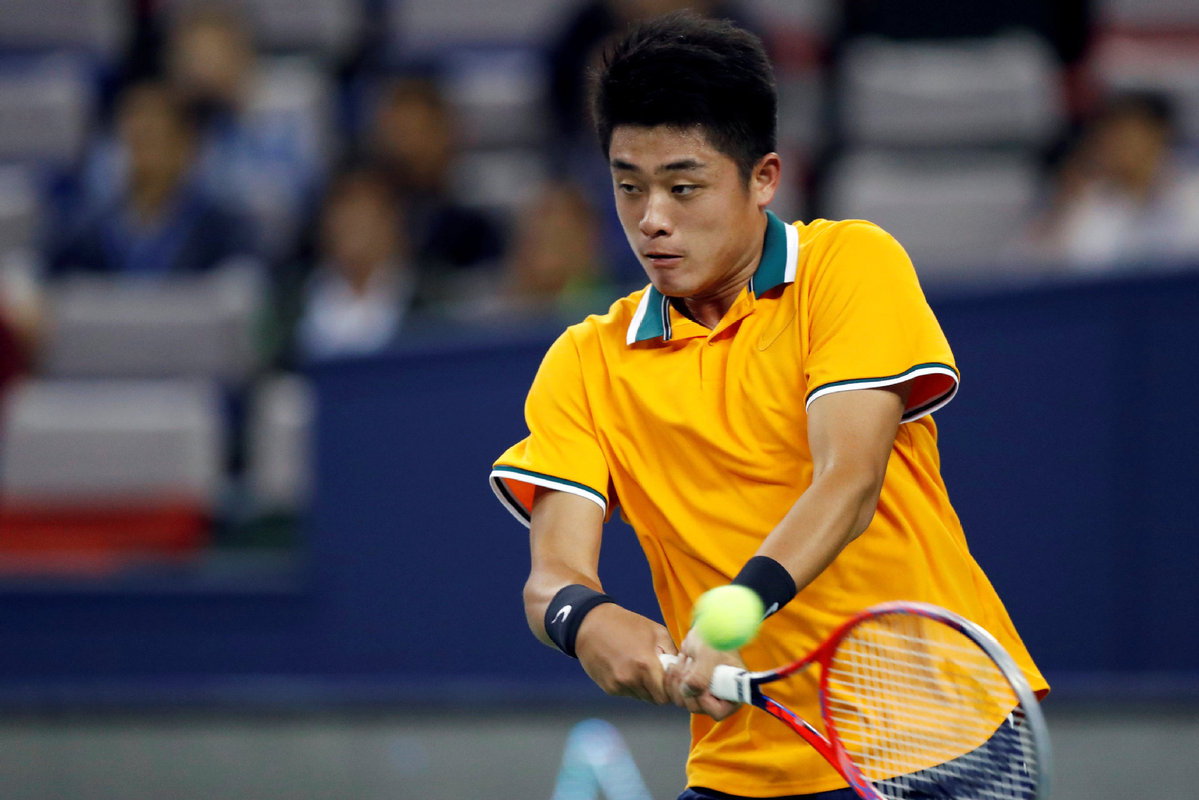 Patience the name of the game for China's rising young stars
The long-awaited rise of Chinese men's tennis is gaining momentum at home events, but challenges remain for local stars to shine on the highly competitive pro stage.
Homegrown players won support from fans and praise from international stars as they served notice of improvement at the ongoing Rolex Shanghai Masters.
As the youngest homegrown challenger, teenager Wu Yibing, boys' champion at the 2017 US Open, proved he has what it takes to become a future star by pushing world No 12 Kei Nishikori to the limit in their second-round match, which saw the Japanese star pull out a 3-6, 6-0, 6-3 victory at the Qizhong Tennis Center on Wednesday.
"I was surprised how well he played in the opening set," Nishikori, Asia's highest-ranked man, said of Wu.
"He was playing very solid, hitting good serves, very good forehands and backhands. In the first set he was playing maybe top-30 tennis," said the 2014 US Open finalist.
Wu, who earned his first ATP World Tour win over fellow Chinese wild card Li Zhe on Monday, attributed his impressive run in Shanghai to his preparation for wild card entries at previous Tour-level tournaments.
"The three matches before Shanghai gave me high-quality tests where I improved match by match technically and gained confidence," said Wu, who celebrates his 19th birthday on Sunday, the final day of the Shanghai Masters.
"Playing at home is an advantage for up-and-coming players like us, with the support from the home crowd and the chance to gauge ourselves against the world's best. Nowhere else can offer that."
The ATP World Tour has four stops in China, from the 250 level to the 1000 Masters. Wu entered the main draws in Chengdu, Beijing and Shanghai through wild cards.
Citing more professional exposure, better coaching and conditioning, Zhang Ze, China's current top ace, envisions a smoother ride for the new generation to establish a presence on the brutally competitive men's tour.
"I think they are in a better situation in terms of what it takes to become good professionals than we had in the past," said Zhang, who in 2012 became the first Chinese male to reach the quarterfinals at an ATP 500 event in Beijing.
Zhang, currently ranked No 216 in the world, made his presence felt in Shanghai on Tuesday after narrowly losing to No 22 Danill Medvedev of Russia in a three-set fight in the first round, losing the chance to face Swiss great Roger Federer on Wednesday.
Disappointed by missing out on the chance to play Federer, his doubles partner at the Shanghai tournament in 2013, Zhang said he could still leave with his head held high.
"The gap on the court between us and the world's top 50 is actually not as big as the rankings show," said the 28-year-old Jiangsu native.
"I feel like if we keep pushing on the entry-level ATP events injury-free, we'll eventually crack the top 100. We just need patience."
Medvedev, winner of the Japan Open before Shanghai, said Zhang is a much better player than his ranking, adding: "He was serving so good and making winners. At the net he was unbelievable."
Unlike the old generation fostered in the traditional State-run training system, youngsters like Wu represent the new breed of talent from a melded Chinese-Western program.
They've forged their careers with financial backing from their provincial sports governing bodies and their families, sponsors and marketing agencies, which allows them to hire foreign coaches and compete on a more flexible schedule.
In June, Wu signed an agreement with US-based International Management Group to have his career managed by Max Eisenbud, a veteran agent who has represented Li Na and Russian favorite Maria Sharapova for a decade, on and off the court.
Federer, who is defending his title in Shanghai, said the rise of Chinese men's tennis will take time-but it's heading in the right direction.
"It's all about learning how to play point for points, making the right decisions at the right time," the 20-time major winner said after watching some of Wu's action.
"I think you're pretty safe for the next years to come. Wu's doing great. I don't want to put too much pressure on him, but it seems he has a good attitude, as well. I'm sure you'll have a lot of fun watching him in the future."