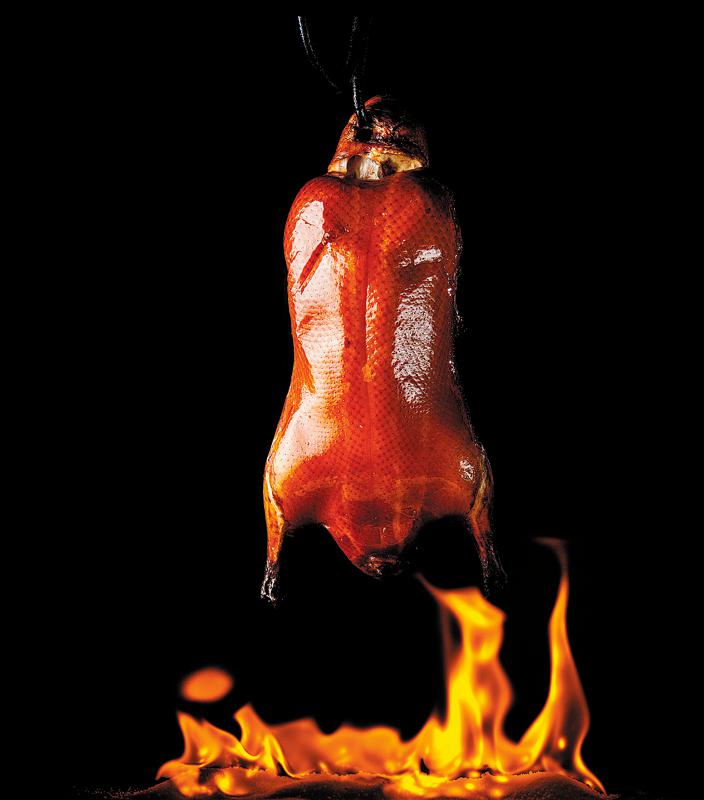 Peking duck is an icon of Beijing cuisine and enjoying the treat is one of the must-dos in the capital. Among the fast-changing trends of international cuisine, the dish is a rare, enduring classic, receiving worldwide recognition for its tempting sheen, crispy skin and tender, juicy meat.
When serving the dish, chef and duck appear before diners. The chef deftly slices off delectable parts of skin first, with the meat then pared together into succulent slivers, enough to serve a full meal for four or five.
The morsels are delicately paired with a sweet bean paste, rested on a bed of shredded cucumber, spring onions or radishes and wrapped in a bite-sized, wafer-thin crepe. Rolled into little envelopes, these duck pancakes are a taste and tactile experience that most characterizes the sophisticated palate and pragmatism of the city.
Local diners like to dip the fatty duck skin in sugar to emphasize the crunch.
Sometimes, any extra meat is stripped from the bones, shredded and stir-fried with garlic, chives or asparagus.
Taste is not the only reason for Peking duck's unique status, though. The Chinese believe that other poultry is hot in nature and therefore brings excessive heat to the body. Duck, however, is considered moderate, even slightly cold, because it comes from water and it is believed to be good for the lungs and other parts of the respiratory system.
The stories about the origins of roast duck vary, but it is said that the Peking roast duck can be traced back to the Ming Dynasty (1368-1644). In the 1420s, Emperor Zhu Di, also known as the Yongle Emperor, moved the country's capital from Nanjing to Beijing. Chefs working for the royal family also moved to Beijing, where they came up with new methods to cook duck.
Founded in 1416, Bianyifang is the oldest Peking roast duck restaurant in Beijing, which cooks ducks in a menlu(an enclosed oven), making the birds' skin crispy and juicy. In 1864, the Quanjude restaurant was established in the city, which has gained worldwide recognition for its gualu(hanging-oven) style of cooking the ducks. In such a culinary technique, ducks are roasted inside an open oven with non-smoky fruitwood fuel, such as Chinese date or pear trees, to create a fruity fragrance.
The success of any dish depends primarily on its taste and more competitors are constantly experimenting to improve the flavor. The Michelin Guide Beijing released in 2020 highlighted a Peking duck selection for readers to discern the most outstanding contenders.
Among them, Country Kitchen, Da Dong (Dongsi 10th Alley), Jing Yaa Tang, Poetry-Wine, Sheng Yong Xing (Chaoyang) and Da Dong (Gongti East Road) each have one Michelin star with their unique specialties.
In Country Kitchen, attention may be drawn to the gastronomic spectacle in the open kitchen, with rows of chestnut-fed ducks being roasted in a display oven. Sheng Yong Xing's signature roast duck is exactly 30 days old, roasted in a stone oven over jujube wood for 70 minutes, and can be served with caviar.
For the more adventurous diner, restaurants often have dishes prepared with duck giblets, such as quick-fried duck heart with coriander and salty poached duck liver, as well as duck feet with mustard.
The bones can also be made into a milky white, nourishing soup.