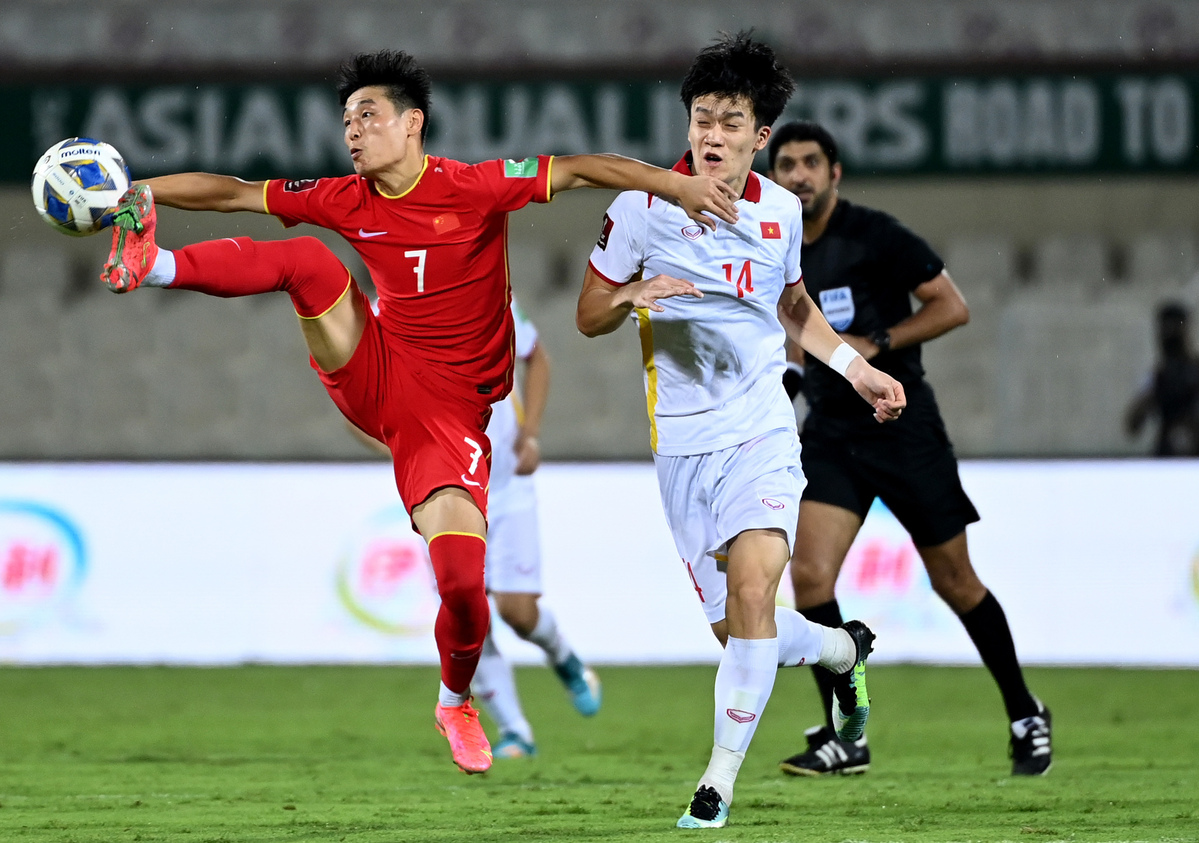 Team's frailties exposed again as lowly Vietnam serves up major scare
Despite ultimately earning the three points, Team China head coach Li Tie has come under a barrage of criticism following a shambolic victory over lower-ranked Vietnam in the United Arab Emirates on Thursday night.
Leading 2-0 with 10 minutes of regulation time remaining, China allowed Vietnam to stage a stunning late comeback before a lucky injury-time strike from Wu Lei, who admitted he "did not even feel contact with the ball", earned a 3-2 triumph.
After two opening defeats, the victory was China's first in the final phase of Asian zone qualifying for the 2022 World Cup, and at least kept alive its slim hopes of reaching the finals in Qatar.
Wu's last-gasp winner became a trending topic on Chinese social media, with related news viewed over 110 million times on Weibo within 12 hours. However, fans found it hard to forgive what they had witnessed before Wu's heroics, stressing concerns over the overall performance and the tactics of the head coach.
"I don't even know what to say about Team China's victory. It's really uncomfortable for many fans to see the opponent score two goals like that. But that probably shows the reality of the current status of Chinese soccer," said Tencent Sports reporter Zhao Yu.
"We may be able to still win against teams like Vietnam, but we failed to control the game. I want to talk more about the use of naturalized players like Ai Kesen or A Lan, and the selection of other players, such as Li Ang. I think it's time for the head coach himself to conduct a thorough review of the match."
After opening losses to Australia and Japan, Thursday's victory leaves Team China fifth in Group B, with the top two finishers earning direct World Cup qualification. China's only realistic chance of reaching the finals in Qatar would appear to be via a third-place finish, which would book a spot in an intercontinental playoff. China next takes on Saudi Arabia on Wednesday before facing Oman and Australia in November.
In a defiant riposte to his detractors, Li Tie insisted he is experienced enough to cope with the mounting pressure on his shoulders.
"I am grateful for everything that soccer has brought me. I'll keep smiling to face all the successes, failures, encouragement, support, flowers, applause, condemnation, criticism and even personal attacks. All these experiences only make me stronger," Li Tie wrote on his personal social media account.
"From 2001 until 2021, two decades have passed. We beat Oman to reach the World Cup finals two decades ago, and now we have embraced the first victory of this qualifying journey. Both games were on Oct 7, a date I will never forget," added the former Everton midfielder, who played in China's sole appearance at a World Cup, in 2002.
"For the past two decades, I have weighed the same and kept the same hairstyle. And my love toward soccer and the national team also remains the same."
Fans were particularly baffled by Li Tie's player selection. In defense, many questioned his trust in Beijing Guo'an defender Yu Dabao, who replaced the injured Wang Gang in the 61st minute on Thursday before being at fault for Vietnam's goals.
Up front, Li Tie continues to appear reluctant to use all his naturalized strikers, with only Ai Kesen (aka Elkeson) named in the starting XI. Fellow Brazil-born attackers Alan and Luo Guofu (aka Aloisio) were only used as subs.
"Many fans questioned the choice of players, which was possibly a major reason why we faced so much pressure in the final 10 minutes. After the goalless first half, we switched three players to the attacking line. That showed our determination to win the match," said former Chinese international Li Yi on social media.
"And we scored, so the head coach was totally focused on attack. So I felt we needed someone to advise the coach at this time. Should we calm down a little bit? Using all our substitutions so early leaves us at risk if anyone is injured later.
"Then defender Wang Gang is injured, and we used our last substitution. It's clear that other defenders and midfielders were also tired such as Zhang Xizhe. But we could not do anything, and we lost control of midfield."
Li Tie, though, was keen to focus on the positives and praised the spirit of his players.
"The first 80 minutes of the match proved that we can have a good performance. And even after 2-2, none of our players gave up. That was really admirable. The victory is very important to us, and is a great motivation," he said.
Wonderful Wu
Just like so many times in the past, Espanyol striker Wu was the key to Team China's victory on Thursday. Wu netted eight times for Team China in the previous stage of Asian zone qualifying before scoring twice on Thursday.
"I feel it's been very tough for us. Training and playing in the bio-secure bubble for so long brings added pressure for everyone. And there are no spectators in the stands. It's not easy but we still had a good result today," said Wu.
"We need to take one game at a time. We still have a chance. So I hope when we can play at home in November, there will be more fans cheering for us, which will be a great motivation."
Spain-based Wu is currently the only China international playing in a major European league, with Chinanews.com pointing to the 29-year-old's latest performance as evidence of why more Chinese players should be encouraged to ply their trade abroad.
"Wu played a part in all three goals on Friday, contributing two goals and an assist. He has developed so much after playing in Europe," said Li Yi.
"Right now we only have one Wu Lei. If we could have three or four players like him, the national team would be at the next level. Our players don't all need to go to first-tier teams in Europe. The second-tier leagues are also competitive enough, with a faster pace than our domestic league."