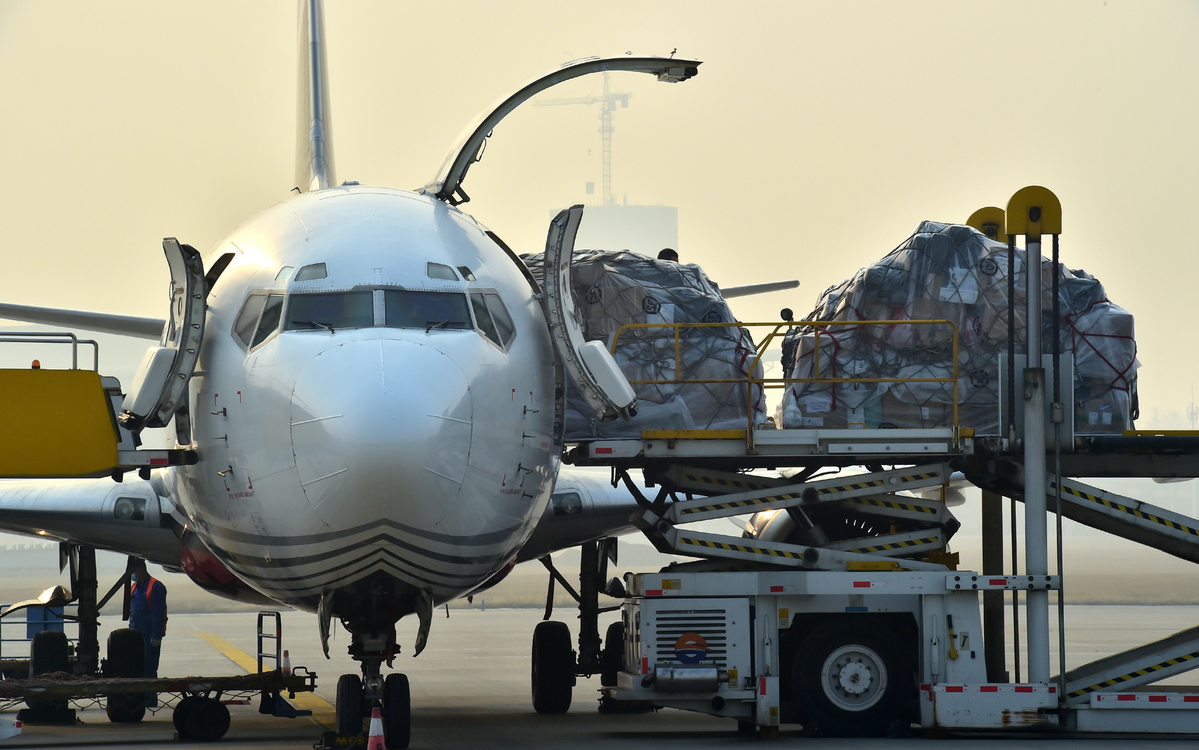 When 'nothing is normal' due to COVID-19, the civil aviation industry finds revenue lifeline, growth impetus in airfreight
Last year, when the COVID-19 pandemic made travel curbs a norm, curtailed commercial flights, inflicted the biggest decline since the 1950s on the civil aviation industry globally, and created net losses of $126.4 billion, airlines were caught unawares and struggled to stay afloat.
The industry, however, discovered the dark cloud has a silver lining after all: rapid growth of airfreight on the back of huge demand to keep goods, especially medical supplies and essential commodities, moving, no matter what.
The focus on freight since the start of COVID-19 has had a huge impact not only on the airline industry, but the world's supply chains, in the process helping transform related systems, technologies, investment patterns and future outlook.
The first half of this year offered the first glimmer of hope. Air cargo posted the strongest first-half growth since 2017, according to data from the International Air Transport Association.
IATA data further showed that demand for airfreight was mainly for the transportation of vaccines, personal protective equipment and vital medical supplies. At the end of 2020, industrywide cargo ton-kilometers had returned close to pre-crisis values. (Ton-km is a unit of measurement for freight turnover. For example, 2 tons of cargo transported for 2 km would equal 4 ton-km.)
Last year, the top five airlines ranked by scheduled cargo ton-km flown were Federal Express, United Parcel Service, Qatar Airways, Emirates and Cathay Pacific Airways.
Willie Walsh, IATA's director-general, said: "Air cargo is doing brisk business as the global economy continues its recovery from the COVID-19 crisis. With first-half demand growing 8 percent above pre-crisis levels, air cargo is a revenue lifeline for many airlines as they struggle with border closures that continue to devastate the international passenger business. Importantly, the strong first-half performance looks set to continue."
In China, air cargo and mail transportation volumes reached 3.74 million metric tons in the first half, up 24.6 percent year-on-year. That included air transportation volumes of exclusive cargo planes, which reached 1.52 million tons, up 44.2 percent over the same period of 2019, according to the Civil Aviation Administration of China.
In August, airfreight rates on the trans-Pacific and Asia-to-Europe trade lanes increased by 20 percent to 40 percent and are expected to grow further, following new measures aimed at curbing the new COVID-19 cases that occurred at Pudong International Airport in Shanghai in mid-August, according to a report in Air Cargo World.
Earlier this month, the airfreight sector entered its busy season. The demand peak usually lasts until the year-end. Prices will fluctuate at a high level, industry experts observed.
With reduced capacity at the Pudong airport, freight forwarding agents are seeing longer than normal transit times as cargo awaits outbound flights.
Flexport, a San Francisco-based global logistics platform company, said it expects airfreight prices in and out of China will remain at the current high levels, if not higher, as capacity continues to be reduced in the China market.
Henry Ko, managing director of Flexport Asia, said: "This is obviously compounded by the normal peak season volume pressure. Normally, prices would start to reduce at the end of the year into January, but we have learnt that nothing is normal in these times, so predictions are difficult. We will consistently review and balance our demand and supply to optimize output and keep our customers' valuable cargo moving."
Qi Qi, an independent aviation industry analyst, said Pudong International Airport in Shanghai serves as the largest international air cargo port in China, but when COVID-19 cases emerged from the international freight area of the airport, it had a negative impact on the freight handling efficiency, and suppressed the freight distribution facility.
"In the short term, as the supply falls short of demand, it will lead to higher freight rates. In the mid- to long-term time frame, the freight rates are unlikely to remain high. The airfreight capacity at Pudong International Airport is expected to return to normal after the pandemic is brought under better control," Qi said.
Wang Jiangmin, a civil aviation commentator from China Southern Airlines, said: "The prices of airfreight transportation went up as a result of reduced number of flights due to the pandemic. The strict pandemic prevention measures and the backlog of cargoes have intensified the situation."
Also, rising freight rates in the shipping sector that is relatively slower, inflated demand for airfreight in the already tight situation.
On Sept 10, the Shanghai Export Containerized Freight Index, a measure of actual sea freight rates from the main Chinese ports, hit a record high 4568.18 points.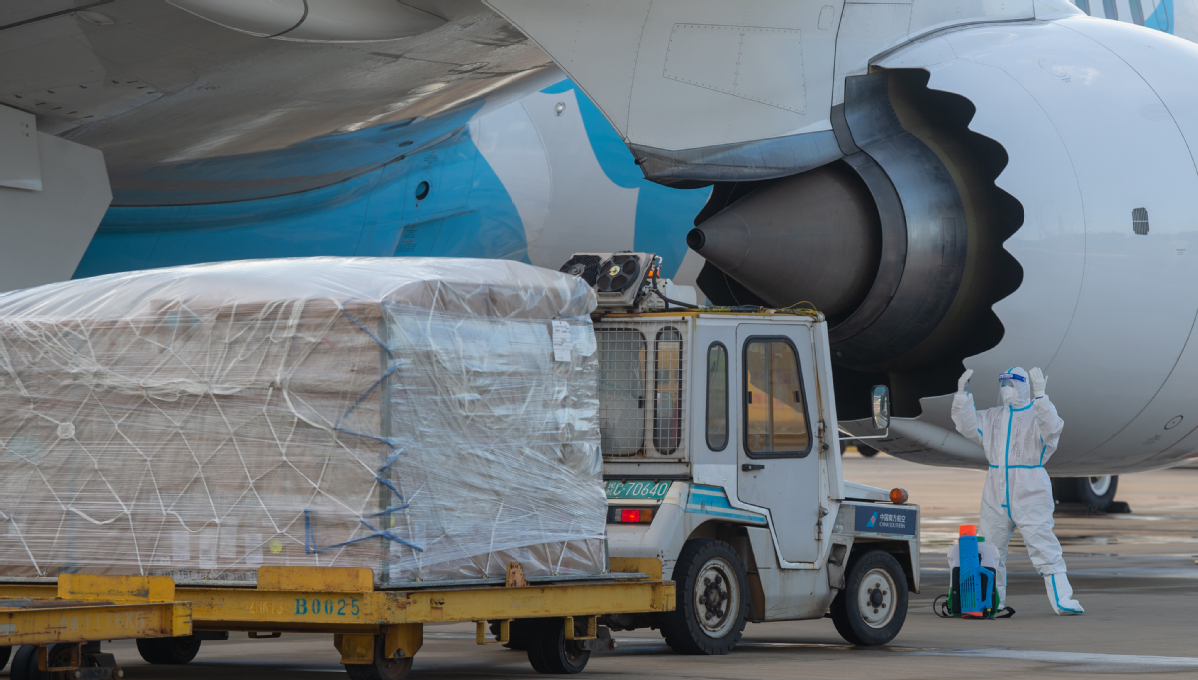 Liu Zihe, general manager of Qingdao Dakai Freight Forwarding Co, said the company suggested that business operators should arrange shipment plans and reserve warehouses in advance, to avoid potential shortage of available spots for shipment.
"Airlines should also speed up their process of converting some passenger aircraft into freighters and further increase freight capacity, and thus get fully prepared for the upcoming peak period of airfreight transportation in the latter half of the year," Liu said.
Meanwhile, China is further ramping up efforts to strengthen its airfreight handling capacity to meet increasing demand. Hangzhou Xiaoshan International Airport, located in Hangzhou, Zhejiang province, in East China, is leveraging the favorable policy of the China (Zhejiang) Pilot Free Trade Zone to build the first domestic intelligent multilayer structured freight station at the airport.
The station, located in the free trade zone, utilizes a large number of automated and information-based container cargo handling systems and bulk cargo handling systems. It aims to handle 600,000 tons of goods annually by 2035, according to the local FTZ commission of Hangzhou.
In the first half of this year, the Xiaoshan airport handled cargo and mail throughput of 461,600 tons, up 28 percent year-on-year. In the same period, international and regional cargo and mail throughput reached 92,400 tons, surging 98 percent year-on-year.
"Hangzhou is a city known for e-commerce, and it has China's first pilot zone that deals with cross-border e-commerce business," said Wu Changhong, director of cross-border e-commerce business of the FTZ commission of Hangzhou.
"Now, mail, deliveries and cross-border e-commerce goods account for about 50 percent of the total goods transported between Hangzhou and overseas cities. This trend is different from the airport's cargo operation in Shanghai, where general trade makes up the main portion of cargo services," Wu said.
To meet increasing transport demand from the cross-border e-commerce business, more cargo routes that connect Hangzhou and foreign cities have been launched. Last year, the Xiaoshan airport added eight international cargo routes, including destinations like Kuala Lumpur, Singapore and Los Angeles.
In addition, a cargo flight route linking Hefei, capital of East China's Anhui province, and London was launched earlier this month. The airfreight route, coordinated by JD Logistics Inc, the delivery arm of e-commerce giant JD, is expected to fill the cargo flight gap between Anhui and Europe, and meet the demand in Hefei and its surrounding areas for air logistics to Europe.
This year, the Xiaoshan airport launched new cargo routes that connect Hangzhou with Seoul and Osaka. With this, the number of international and regional regular freight routes connected to Hangzhou and other cities has exceeded 20.
China's domestic air travel market is gradually picking up after being ravaged for months by the COVID-19 pandemic last year. In the second quarter of this year, the volume of air passengers transported reached 89 percent of the same period of 2019 when there was no pandemic, according to the CAAC.
In the first half of this year, State-owned China Southern Airlines achieved sales revenue of 50.12 billion yuan ($7.75 billion), up 32 percent year-on-year. During the period, it incurred a net loss of 4.69 billion yuan, significantly narrower than the loss recorded in the same period of last year, according to its latest half-year earnings report.
In 2020, the top five airlines globally ranked by total scheduled passenger kilometers flown were American Airlines, China Southern Airlines, Delta Air Lines, United Airlines and China Eastern Airlines, the IATA found.