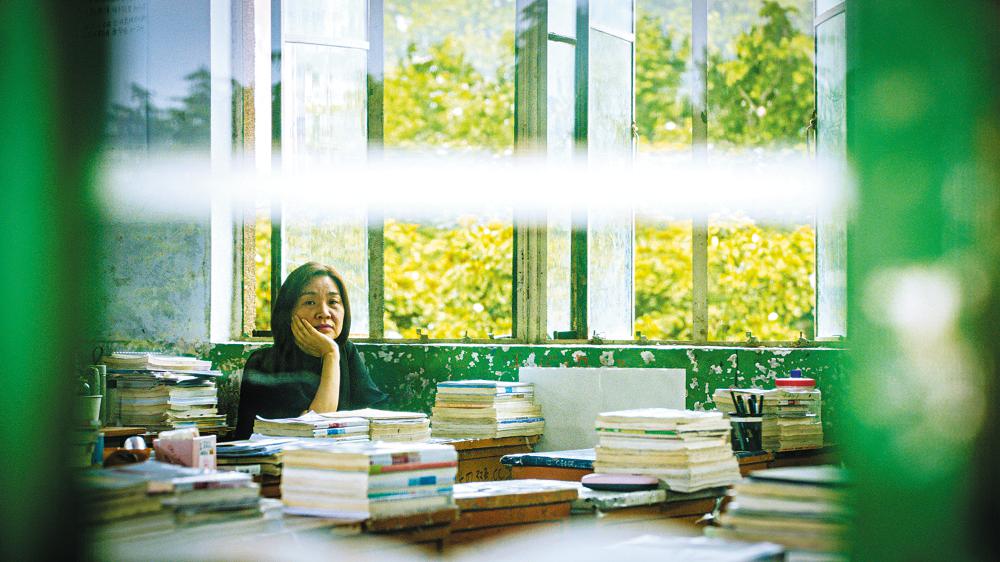 After a long day of interviews and meetings, director Jia Zhangke, whose film Still Life won the Golden Lion at the Venice International Film Festival in 2006, looks exhausted sitting by a bookshelf in his Beijing studio in a downtown hutong (alley).
His latest directorial effort, Swimming Out Till the Sea Turns Blue, a 110-minute documentary, was released on Sunday across domestic theaters.
When recalling his initiative about shooting the documentary, Jia perks up quickly with a sparkle in his eyes.
"I had the idea in mind for a long time. After I shot the documentaries about painter Liu Xiaodong and fashion designer Ma Ke, consecutively in 2006 and 2007, I developed an interest in producing a trilogy about artists," Jia says.
His original plan was to follow the life of an architect, but the work didn't go smoothly.
After reacquainting himself with the stories of a renowned novelist who had lived and written for many years in Jia's hometown, Jiajiazhuang, in North China's Shanxi province, Jia shifted his interest to the literary circle. He started to spend summers in his village and discovered "its close connections with contemporary Chinese literature".
The late writer Ma Feng, a representative figure of modern Shanxi literature, took the village as his inspiration, penning some of his most influential works, such as the 1959 film script of Womencun De Nianqingren (The Young People in Our Village) and the short tale Siyangyuan Zhao Dashu (Uncle Zhao, the Breeder), which was used in textbooks in primary schools in the 1980s.
The new documentary features a recounting of Ma Feng's life by his daughter, Duan Huifang. Made up of 18 chapters, the film also features interviews with Jia Pingwa, Yu Hua and Liang Hong, three of the country's most prestigious writers respectively representing the intellectual generations of the 1950s, '60s and '70s.
The shooting started in May 2019, when the inaugural Lyuliang Literature Season was held in Jiajiazhuang, the first major literary event in a village that gathered nearly 40 authors, including Mo Yan, China's first winner of the Nobel Prize in literature.
"Artists employ distinctive perspectives to observe China's societal changes with their creative work. I wanted to share their observations through cinema, a more popular medium to reach a wider viewership at home and abroad," Jia Zhangke says.
The shooting went even better than the director expected. In addition to Jiajiazhuang, the crew also traveled to the provinces of Shaanxi and Zhejiang to talk to novelists Jia Pingwa and Yu in their respective hometowns, in an attempt to capture their mood.
"I used to think that writers are shy in front of the camera as most prefer to tell their stories with their pen," Jia Zhangke says, adding that his subjects soon felt comfortable and recalled their personal moments.
Born in Shaanxi in 1952, Jia Pingwa has written novels that reflect the changes in rural China, receiving international recognition with some of his works translated into multiple languages, including English, French and German.
In the documentary, Jia Pingwa recalls an incident. Struggling with the shortage of books in the 1960s, he "stole" two volumes of the Qing Dynasty (1644-1911) classic The Dream of the Red Chamber from a relative's residence, only to be scolded on returning them.
Forming an interesting contrast, novelist Yu's part in the documentary has joyful moments, with humorous storytelling.
Once a "depressed" dentist in Haiyan, a small town in Zhejiang, whose real passion was literature, Yu encountered a turning point in the early 1980s.
He received a telephone call from a prestigious magazine in Beijing, the first such invitation in his life, asking him to travel to the capital to revise his novel's dark ending. Before that, almost all of his manuscripts had been rejected.
After staying in Beijing for a month and visiting many tourist attractions, Yu earned approximately 80 yuan ($12), much higher than an average monthly income of about 30 yuan back then in China.
During the train trip back home, he purchased roast chicken at a stop in Shandong province as a gift for his father, teasingly defining that as "the first time he felt he was rich".
As the first writer from China to win the James Joyce Foundation Award in Ireland in 2002, Yu is among the country's most internationally known writers and has received awards in Italy, France and the United States.
Despite seeing his works translated into over 40 languages, Yu says in the documentary that the month in Beijing in the 1980s was his most glorious moment.
The third author in the documentary, Liang Hong, a professor of Chinese literature at Renmin University of China, is known for two nonfiction books-China in One Village (2010) and Leaving Liang Village (2013)-which examine "left-behind" children and elderly people, as well as migrant workers in the title village in Henan province, as a sample to analyze the unprecedented changes in rural China.
"Jia Zhangke is one of my favorite directors. I have watched most of his movies multiple times," says Liang, adding that she used Jia Zhangke's directorial debut, Xiao Wu (1998), also known as Pickpocket, as a text material for screen for her undergraduate students, helping them to form "a poetic imagination".
As many villages have transformed with rapid urbanization in China, Liang says the documentary highlights the distinctive role villages have played in development. She says villages still have social principles of an agricultural society that have been followed since ancient times.
Earlier last year, the documentary had its global premiere at the 70th Berlin International Film Festival, and was limitedly released in the US.
Jia Zhangke says the film will also be released in more than 10 countries, including France, but the number of overseas distributors has reduced due to the COVID-19 pandemic.
"Before the COVID-19 outbreak, the number could reach 35 or more," he says.
Jia Zhangke used to travel overseas a lot earlier. "In the past two years, I have been in China. I often think, 'Can we go back in time?' The answer is still uncertain and complicated."