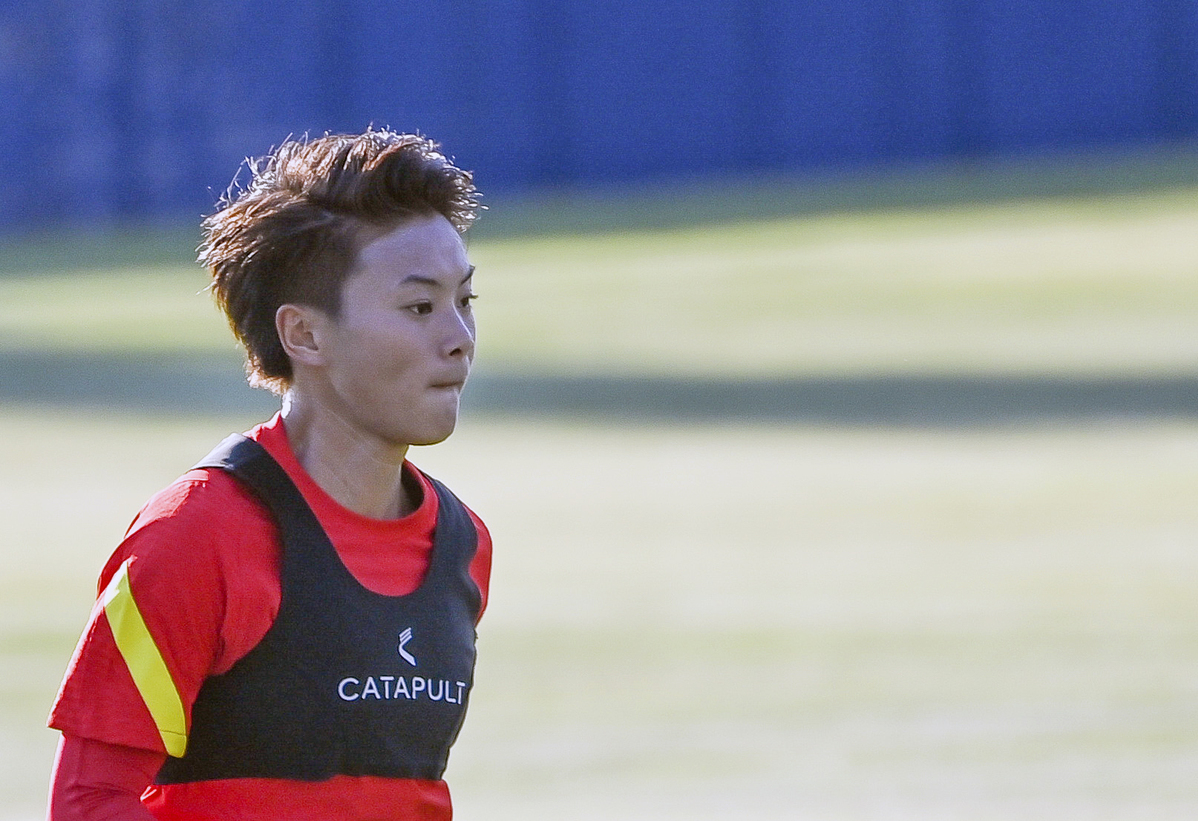 Dutch demolition condemns women's team to humiliating exit in Tokyo as inquest begins into squad's sharp decline
Team China's humiliating elimination from the Olympic women's soccer tournament on Tuesday proved the squad's reliance on its old-school hard-work ethic is nowhere near enough to cut it at the highest level anymore.
A shocking 8-2 thrashing at the hands of the Netherlands sent the 'Steel Roses' crashing out of Tokyo 2020, and underlined just how far Chinese women's soccer has fallen behind the game's elite nations.
Fans reacted to the team's capitulation with dismay online, with the hashtag "Feel sad for Wang Shuang "trending on social media, referring to China's star playmaker.
A powerhouse on the pitch not so long ago, China could only manage a point from its three group games, and conceded a whopping 17 goals. China lost its opener to Brazil 5-0, and then drew 4-4 with Zambia, before Tuesday's blowout loss to the Dutch.
Head coach Jia Xiuquan has come in for heavy criticism, and he admitted the performances have fallen well below his team's standards.
"We didn't meet our expectations or achieve our goals. It has nothing to do with the players, and I take full responsibility. We will review this experience. The players have given their all on the pitch," said Jia.
"They tried very hard and I just want to thank them. The mistakes we made were connected to the players' mentality. As the head coach, I'm responsible for every mistake that a player makes. I cannot pass the buck to anyone. But I still want the players to be brave in the future."
Xinhua reported that, before Tuesday's game, Jia held a team meeting during which the usually good-tempered 58-year-old didn't hold back.
"Come on, girls! This is the Olympics, once every four years, it's not easy for everyone. If you want to play in the Olympics again, it will take a huge effort to even earn a ticket through Asian qualification," Jia was quoted by Xinhua.
"Now we have qualified and we are on the stage. So how will you respond? You need to have a perfect performance. You need to have quicker passes and play in a more open way… The veterans and the new players can all make mistakes, so now you need to think how you can relieve the pressure and fight the best you can!"
Before arriving in Japan, Jia had already faced criticism for his squad selection. Several key players who helped Team China qualify for the Games were not included in the Olympic roster, such as Ma Jun and Lou Jiahui. He has also been blamed for the team's weak defense and tactics, which some fans have ridiculed as "outdated".
Some observers, however, believe that Jia alone should not shoulder the blame. They cite deficiencies in the development of the domestic women's game over the years as reasons why Team China is unable to live up to past glories, including runner-up finishes at the 1996 Olympics and 1999 World Cup.
Now, reaching a major final is almost unthinkable for the Steel Roses, who have dropped to 15th in the world rankings and will surely slip further after their Olympic flop.
"Many people are blaming the head coach for his choice of players and many other reasons. But we have to be fair. There is a very limited choice of players for Jia Xiuquan, so how can he produce a great result?" read a commentary by Sina Sports.
"Three months ago, the Steel Roses had a tough win against South Korea to earn a ticket to the Olympics. At that time the whole nation was cheering. And during the qualifiers, we saw signs of the old Steel Roses and their unbending will in the current generation of players.
"It's mixed feelings for everyone. On the one hand, the current crop still has the team's tradition. But on the other hand, 20 years ago we were discussing if the Steel Roses can win the Olympic gold medal. Right now, the national team is celebrated just for a successful qualification campaign."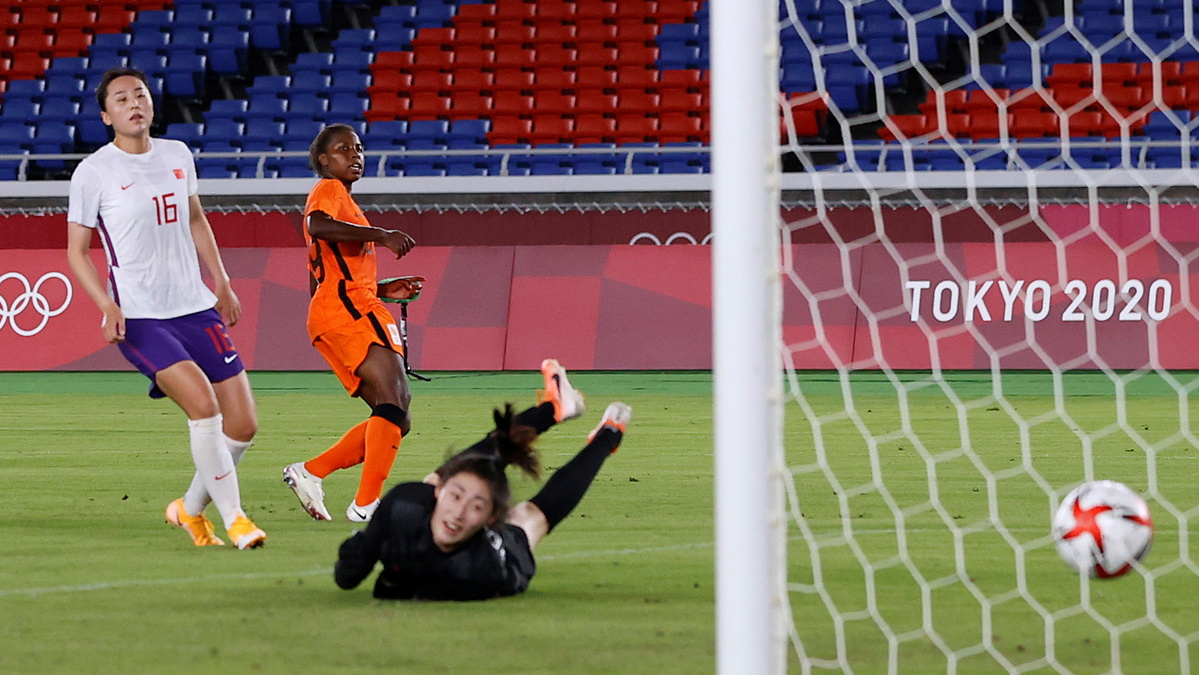 Next-gen thinking
Some contend that ensuring more Chinese players ply their trade abroad is key to reviving the team's fortunes.
Team China star Wang Shuang, once dubbed 'Lady Messi', made global headlines in 2018 when she transferred to French giant Paris Saint-Germain.
Wang showed she belonged at the highest level by becoming the first Chinese to score in the UEFA Women's Champions League.
However, after a year-long stint in Europe, she returned to the Chinese Women's Super League with Wuhan Chedu Jiangda, whom she helped to the domestic title last year.
She remains Team China's standout performer, as illustrated by the 26-year-old's four-goal haul in the draw with Zambia last weekend.
"During the match with Zambia, Wang Shuang only needed 17 minutes to deliver a hat-trick, and she alone scored all four goals," read a Beijing Youth Daily commentary.
"In such a tough match for Team China, Wang Shuang's individual performance was hugely superior to the rest of the team. And in that draw, Wang appeared to be so lonely."
Chinese Football Association (CFA) president Chen Xuyuan last month outlined plans to encourage more homegrown stars to play in foreign leagues. Last week, Shanghai Women's Football Club announced China international Tang Jiali will join English giant Tottenham Hotspur.
The 26-year-old Tang missed the chance to play at the Tokyo Olympics due to a knee injury. She played a vital role in China's Olympic playoff triumph over South Korea, and was sorely missed in Tokyo.
"I'm very honored and proud to join Tottenham Hotspur. Playing with a European club has always been my dream. I hope I can fit into the new club as soon as possible, and show my potential there," said Tang, who was among the 10 nominees for the Asian Football Confederation's Best Women's Player award in 2020.
Looking to the longer term, a fresh approach to the country's youth training system would also appear to be necessary.
"The priority is to select future talent for Chinese women's soccer. And we need to level up our efficiency in youth training work, so that we will live up to the kids' efforts and expectations," said legendary Team China player Sun Wen, currently the CFA's vice-president.
"If you take a look at the Brazil team this year, you would notice that the team's average age is also almost 30 years old, which shows that their youth training work is not that good. We still have many chances, and our main rivals in the future will also come from Europe.
"The key is to level up the skills of our young players. If kids don't receive quality coaching at an early age, it's hard for them in the future to make up for what they failed to learn as youngsters.
"Also there's a gap between our grassroots coaches and those of the elite nations. There are also problems related to schools and academic studies. We need to keep moving forward."