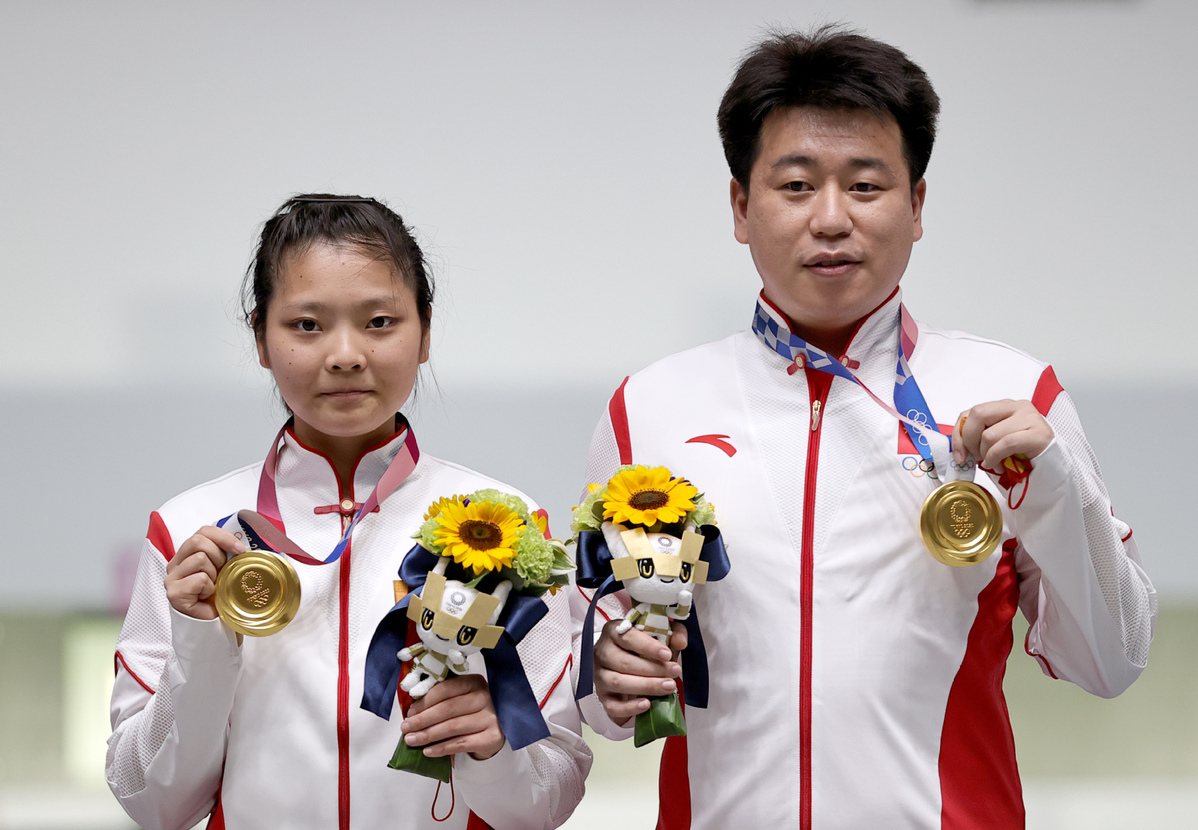 Veteran shooter Pang Wei added another gold medal to his Olympic haul on Tuesday, and the 35-year-old is not ruling out taking aim at more glory at the 2024 Paris Games.
Victory alongside 21-year-old Jiang Ranxin in the 10-meter air pistol mixed team competition gave Pang his second medal of the Games, following his bronze in Saturday's individual event.
That took his total Olympic medal count to four, having pocketed gold at Beijing 2008 and bronze at Rio 2016. The thrill of competition and the satisfaction of victory do not appear to be waning for the four-time Olympian, as evidenced by the tears he shed on the podium as the national anthem played at Asaka Shooting Range.
Afterward, Pang admitted he may not be ready to hang up his pistol just yet.
"Just let me enjoy this moment a little bit and then I will see where my career can go," Pang said.
"It's so different compared to the first gold I won in 2008, when I was pressure-free and victory came almost as a surprise.
"This gold medal means significantly more for my career. Being able to stand on top of the podium again after experiencing ups and downs for so long speaks a lot for my improvement technically and mentally."
Facing a tough combo of Vitalina Batsarashkina and Artem Cernousov, of the Russian Olympic Committee, the Chinese pair's blend of experience and youth proved sharper in the final, where they held their nerve to score 16 points to the ROC duo's 14 with their last shots.
Ukraine won the bronze-medal match after Olena Kostevych and Oleh Omelchuk beat Serbia's Zorana Arunovic and Damir Mikec 16-12.
As one of only four athletes on Team China competing at their fourth Olympics in the Japanese capital, Pang hinted after Saturday's individual event that Tokyo 2020 could be his farewell Games.
Yet, in a sport in which experience and composure often trump youth and physical fitness, Pang could continue to compete at the highest level into his late 30s, and possibly beyond.
'Quality and tenacity'
Pang's former coach Wang Yifu, for example, won his second Olympic gold medal in 10m air pistol at his sixth and final Games in 2004, at the age of 44.
Wang, who was at the venue to witness Pang's mixed team triumph, led the tributes to his ex-student.
"It's quite impressive that they could fight back after taking the lead and being chased down to 14 points apiece before the final shot," said Wang, 60, who serves as a vice-president of the Chinese Shooting Association and the International Shooting Sport Federation.
"I was overjoyed for him. This really speaks volumes for his quality and tenacity over the years."
Joining Wang to watch the nerve-jangling action was Pang's wife, Du Li, a former Olympic champion rifle shooter whose marriage to Pang in 2009 made them the best-known and most decorated sports couple in China.
Four-time Olympic medalist Du coaches China's women's shooting team and enjoyed a double celebration on Tuesday when Yang Qian won her second gold of the Games, along with Yang Haoran in the 10m air rifle mixed team event. On Saturday, Yang Qian claimed the first gold of the Games in the women's individual event.
Du won China's opening gold at the 2004 Athens Games in women's 10m air rifle, followed by a second gold in 50m three-position at the home Games in 2008, before retiring after bringing home a silver (10m) and a bronze (50m three-position) at Rio 2016.
As part of the International Olympic Committee's efforts to promote gender equality, the mixed team event was added to the Olympic program in Tokyo.
Pang said winning in the event's Games debut made his triumph even more memorable.
"I am very happy. We made history," said Pang. "We are great partners, we have confidence in each other."
Pang and Jiang shook hands and hugged as they celebrated in front of a small, cheering crowd at the range. During the presentation ceremony, they hung their medals on each other.
"It was his idea," Jiang said. "We think we needed team spirit in a mixed team event, so we wanted to show that with our actions."