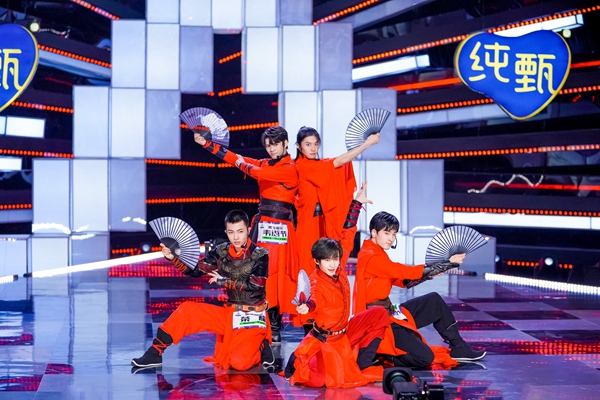 New talent show brings in competitors from other countries, as well as a harvest of friendship and cooperations, Xing Wen reports.
Talent shows are nothing new. The format seems familiar. A group of young hopefuls vie for a chance to make it big. Since 2018, the country's major streaming media platforms, such as iQiyi and Tencent Video, have been selecting participants from domestic entertainment agencies and producing the kind of programs that offer winners a stairway to stardom.
Viewer fatigue was always going to be a problem. It's difficult to keep the format fresh when, as a tried and tested formula, it's now approaching staleness. That's why the reality and talent show, Chuang 2021, produced by Tencent Video, has come up with a plan to bring in international candidates.
"The core of the show is based around cultural exchange and integration," says producer Duo Xiaomeng. "We want to present whatever creative sparks that may arise from the process of young people from different cultures chasing the same goal."
A total of 90 participants from countries, including Japan, Russia, Thailand and the United States, have been gathered together to live in the same dormitory building for several months.
They undergo intensive song and dance training together and collaborate with one another to stage performances. The top 11 trainees are drawn from the program's final tally of votes and will go on to form an international boy group.
During his debut on the show, Japanese participant Santa Uno, 23, who has won many world street dance championships, impressed the audience with his energetic freestyle routine, which displayed not just outstanding body control and balance, but also a strong sense of rhythm and innate physical grace.
Later, Chinese trainee Liu Yu, 21, dressed in traditional hanfu, performed a fascinating Chinese-style dance rich in grace and emotional expression.
The two dancers were then called out to freestyle together to the same background music. They carried off the task with aplomb.
The video clip of their dance went viral on social media as viewers marveled at the harmony between the pair, lauding it as an example of cultural integration.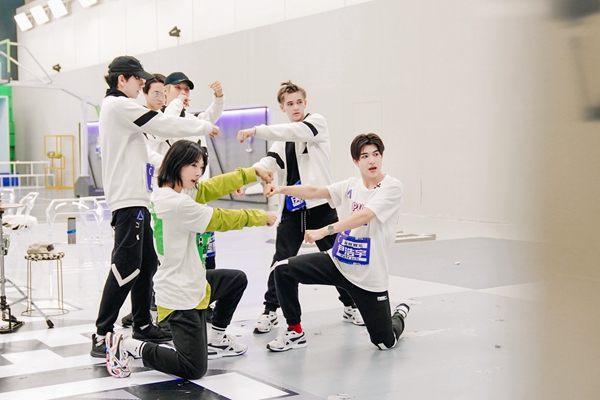 Hailing traditional charm
For Liu, the prospect of forming an international boy band attracted him to join in the show.
He started to learn basic dance skills at the age of 4. In 2012, he entered the Anhui Professional College of Art, where he learned traditional folk and classical dance.
Three years ago, he combined Chinese-style dance performances with pop music and other modern elements, and then posted video clips of his performances online. They have gained him more than 18 million followers on the short-video sharing platform, Douyin.
Although it's not common to see a Chinese-style dance performer join a pop idol group, his determination to display the charms of traditional dance on a bigger stage motivates him.
"Many people don't know much about our traditional dances and clothes," says Liu. "I hope that my appearance in the show will promote the traditional culture among audiences."
Liu appreciates the opportunity to cooperate with trainees from different countries on the show. "Many show an interest in my dancing style, while I am also curious about theirs," he adds.
The show features a round in which groups of trainees are required to adapt the show's theme song into different styles.
After brainstorming, Liu's group decided to create a version of the theme song that incorporated a mixture of electronic music, the sounds of a bamboo flute, a guzheng (Chinese zither), drums and humai (Mongolian throat singing).
Chinese-style choreography was also used to interpret the song during their performance.
It is indicative of the sort of music Liu wants to create, if he is able to win a place in the final boy band.
"I will try to integrate China's cultural elements into our work," he says.
"Most importantly, the pieces will also be accepted and understood by audiences from different countries."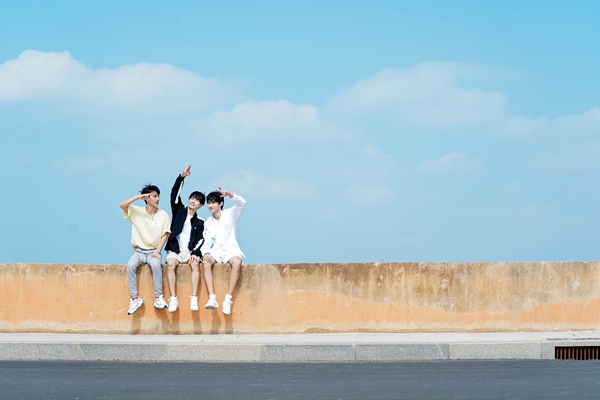 More opportunities
For Caelan Moriarty, 20, who was born to a Japanese mother and an Irish American father and now a resident in Tokyo, one of the most important things for an international boy band member to learn is how to "appreciate and embrace each other's cultures".
For the past six years, Moriarty has been making a foray into the Japanese music scene with the Tokyo-based, mixed-race boy band, Intersection.
The COVID-19 pandemic heavily affected the band's schedule last year. "Everything kind of just came to a pause," recalls Moriarty.
He says that what he really loves about the program is that it shows not only onstage performances, but also what happens behind the scenes.
"People would just assume that I was always an energetic kid as I was the youngest member of Intersection. I think nobody really knew who I was behind the image," says Moriarty. "Here, I can show my real self and my serious side as well."
Budding actor Ichika Uehara, 29, another Japanese contestant, also believes that the show gives him an opportunity to demonstrate to people who he is.
"I was once a fat boy who longed for other people's attention and affection. I wanted to be an idol who can perform onstage just like a shining star," the Waseda University graduate says.
Uehara has a younger brother who has successfully forged a path as a pop idol after joining a similar talent show in Japan. He is adamant, however, that he doesn't want to live in the shadow of his sibling and just "be known by people as someone's brother". Instead, he is hoping to create a name for himself.
Uehara confesses that he was surprised to be invited to join the show as his age is widely regarded in Japan as "too old" for a "beginner" in the idol industry.
Nevertheless, he holds that, as it is an emerging sector of the entertainment business in China, it seems to be more inclusive and more willing to embrace diversity.
As a multilingual speaker who is fluent in Japanese, English, Chinese, Korean and Filipino, he volunteers to be a translator for other trainees in order to ensure that nobody on the show feels marginalized because of language barriers.
For 18-year-old Nattawat Finkler, a Thai contestant with the stage name Patrick, this is his first visit to China, and he has been working hard to learn Chinese over the past few months.
Last year, his compatriot Pornnappan Pornpenpipat, a Thai singer-dancer with the stage name Nene, successfully broke into China's entertainment industry as the only foreign member in girl group BonBon Girls. That has inspired Finkler to test the waters himself.
"One thing that I really have to prepare myself for is being alone in a new country without knowing much about the culture," he says.
Finkler tries to talk in Chinese on a daily basis, writing down new vocabulary in a notebook to improve his language skills.
"I think learning ancient Chinese poems helps a lot. It will not just help me to learn the language, but also get me closer to the culture and history," Finkler says.
In the training camp where the contestants are not allowed to use mobile phones, despite their diverse cultural backgrounds and language barriers, a strong cohesion has developed.
Finkler and his Chinese compatriot, Zhang Xingte, encourage each other during the exhausting training sessions.
Zeng Hanjiang, a Chinese rapper, uses simple English words to communicate with his foreign peers and has become one of the best friends of Hawaii-born hopeful, Mika Hashizume.
Another trainee Yu Yang is Uno's roommate. Although he can't speak Japanese, he still often seems to understand Uno.
Young people meet each other and then click; such storylines are ubiquitous in the camp and provide a welcome display of acceptance, understanding and compromise.