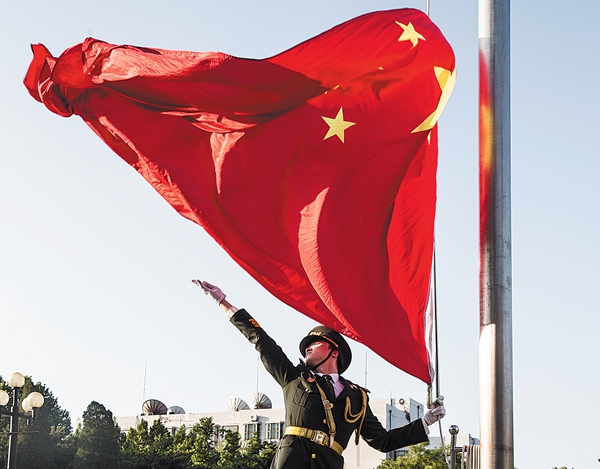 HK native wants to contribute to Chinese mainland schools through his multicultural background, Li Yingxue reports.
Having lived and worked in several countries and regions across three continents, 30-year-old Enoch Wong Yi-lok is considered a global citizen by many of his friends. However, despite his many years abroad, Wong believes one must know where he or she comes from-the Hong Kong native has always been proud to be a Chinese citizen.
A co-founder of three educational startups, Wong is keen to contribute to the advancement of online education in his country. He hopes to expand the worldview of young people so that they might have better opportunities.
Wong is also senior development manager at the Office of Lifelong Education Administration at Tsinghua University.
Last year, Wong hosted more than 100 hours of global webinars and online meetings with education experts and practitioners, including the opening session of the Global MOOC Conference on Dec 11, which attracted more than 10 million live attendees online. MOOC refers to massive open online courses which are made available over the internet, without charge, to a very large number of people.
Be it studying, working, or starting his own business, education is always one thing Wong is very passionate about.
Though Wong's parents are both blue-collar workers and never had the chance to go to college, they are aware of the importance of education. When Wong was 10 years old, they sent him to study at a boarding school in the United Kingdom.
It didn't take long for him to acclimatize to living alone in a foreign country. "I didn't get why my classmates were crying all the time," says Wong, who had already learned to be independent before going to the UK.
"My mom had three jobs, and my dad had two jobs, so they worked constantly. Since I was quite young, I sort of learned to take care of myself and be independent," he says.
When he was studying in Hong Kong, Wong was not a good student by any standard. However, he did his schoolwork so well in the UK that he skipped two grades.
"I was the same student as I was in Hong Kong, but in the UK, I studied so well and that was the first time I found my interest in education," he recalls. Wong later went to the University of Warwick to study mathematics on a full scholarship.
All the overseas volunteer projects Wong participated in during his college days strengthened his resolve to devote himself to the field of education.
During his sophomore year, Wong had a chance to volunteer on the outskirts of Karachi after Pakistan was hit by one of the most devastating floods in its history. Wong helped to distribute food and water as a volunteer.
After graduation, Wong got a job at consulting firm McKinsey, joining its newly formed business unit in South Africa. However, the pull toward education eventually saw him to quit the job, but not Africa.
He and several friends spent three years in Africa working with nongovernmental organizations, the United Nations and local universities on projects helping to develop leadership skills.
A year later, Wong moved back to Hong Kong and started his first company coding programs with several friends. After working with local schools, their team expanded the business in Southeast Asia and the United States.
"We know education on the Chinese mainland is a huge market, but we didn't know much about it then," Wong says.
He then moved to Guangzhou and started his second entrepreneurial project-providing cultural training to foreign trade companies.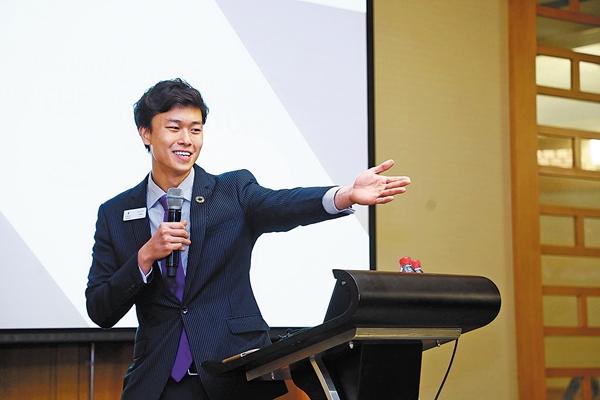 In 2016, Wong moved to Beijing and started a company which provides career training to both university students and corporate employees.
After eight years of working, Wong decided it was time to go back to school himself. In 2018, he became a Schwarzman Scholar at Tsinghua University, as he wanted to not only learn about the field of education, but also to get to know his motherland better.
There are about 200 scholars chosen each year for this program. "We live and study in the same building. This allows us, as students from over 30 countries, to enjoy closer interactions with one another," he says.
To better understand his homeland, Wong applied to become a member of the university's honor guard. He became the first member from Hong Kong, Macao or Taiwan since the team was founded in 1994.
As he had no prior military training, Wong had to learn how to march and the technique of throwing the flag into the air with confidence and style.
The team trained through the night and over the weekend. For an official flag-raising ceremony, they would gather at 4 am.
"I can really feel the respect I have for my motherland and the responsibility of being Chinese," he says.
In December 2019, Wong became a member of the delegation sent to Macao in celebration of the 20th anniversary of Macao's return to China, and the team held a joint flag-raising ceremony with its counterparts from the University of Macao.
He hopes to one day do the same on an anniversary of Hong Kong's return.
As a member of the honor guard, he also had the opportunity to visit the Xinjiang Uygur autonomous region. The team hosted a winter camp at a primary school in Kashgar and Wong taught some art classes.
"The students in Xinjiang are really adorable and full of imagination. I feel that there is no difference between us, and that we are all Chinese," Wong says.
During his studies at Tsinghua, he found his focus-online education, which he believes is the trend of the future.
He also had the chance to do some volunteer work for the university's lifelong education administration office, and he became part of the team after graduation last year.
Wang Xiaoxiao, deputy director of the office, says the work focuses on online education, and Wong is helping to prepare and run the Global MOOC Alliance and Global MOOC Conference.
One of Wong's tasks is to invite university chancellors to join the MOOC conference. Through this task, Wang thinks Wong is a person who pays a lot of attention to details and is open to opinions and suggestions.
"When Wong wrote emails to the principals of the universities, he would first do hours of research on the recipients, finding comments, opinions or research they were involved with pertaining to online education, and discuss it with them in the emails," she says.
Apart from connecting with universities worldwide, Wong also hosted many online sharing sessions.
"Because he was born in Hong Kong and studied in the UK for 10 years, the combination of Eastern and Western cultures gives him the ability to tell our stories to Westerners in a way they can better understand," she says.
Wang believes innovation is a key element in online education. "In this field, all new things will soon be shared by the world, and the more people using this, the more value it has, so we hope to do something cutting-edge in online education," she says. She adds that Wong always brings new ideas to the team.
In the future, Wong plans to study for a PhD in education at Harvard University. Wang supports his plan as she thinks that each platform supports a person for a certain period of time. Once they have better abilities and views, they move on to places more suitable for them.
Wong says he hopes to teach at a college in China if he finishes his doctoral degree. "I want to do research and teach in the education field and make my own contributions to China's education system," he says.