Bodybuilding pensioners defying age and expectations at self-built neighborhood gym
A group of Beijing pensioners are showing that age need not be a barrier when it comes to pumping iron.
With an average age of over 70 years old, retiree Xu Wei and his seasoned fitness-loving friends would put most young people to shame with their daily routine of lighting weights, bench-pressing and generally getting their sweat on in their local DIY gym.
"We have nothing to do apart from doing chores at home or picking up our grandchildren after school. So as long as we have time, we will be here exercising. We keep exercising for fun and healthier bodies," the 63-year-old Xu told Beijing Daily.
Instead of buying memberships for a gleaming, modern-day gym, Xu and his friends prefer to train at their own rather less-luxurious establishment-"2-7 Fitness Club", a refurbished bicycle shed in the historic western Beijing neighborhood February 7 Locomotive Industry.
Most regulars at the club, which was established over 40 years ago, are retired workers of the nearby locomotive factory. The youngest members are over 60 years old, while the oldest is an 83-year-old grandfather.
The set up at the club is certainly old-fashioned. Most of the equipment is rusty and there is no air-conditioning. There are no dazzling lights or dynamic music-the only entertainment in the room is an old radio. However, the aging members appear to be more motivated than your average young office worker.
"True, our fitness club looks a little bit shabby, but we have all the equipment we need," said Xu, a regular at the gym for the past 20 years. "Every day, I first warm up my body and then do bench presses. I normally start with 55 kilograms and then gradually work my way to 100kg. Then I do other exercises. I work on a different part of my body each day."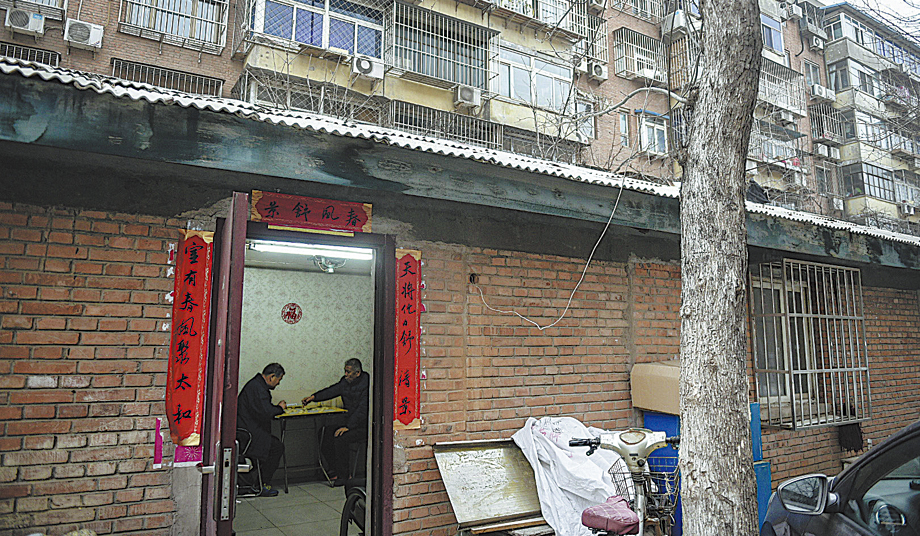 Eighty-three-year-old Yang Hongzeng is also a regular visitor to the fitness club, and believes exercise is the key to a healthy body and mind.
"I had heart issues before, and it was hard for me to even walk down stairs myself," Yang told Beijing Review. "After exercising here, I have lower cholesterol and more stable blood pressure. I also walk much faster. And my neighbors said I now have the spirit of a young person. Exercising is a lifestyle for me. I had surgery on my left leg a short while ago. After I recovered from it, I've exercised here at least an hour a day."
According to Xu, the fitness club was the brainchild of Zhang Wei, a PE teacher at the locomotive industry's technical school. Zhang, also a keen long-distance runner, established the club after retiring in 1987 in the hope of attracting more people to keep fit.
The club was free at the beginning and most of its equipment at that time was all self-made by the workers of the locomotive factory.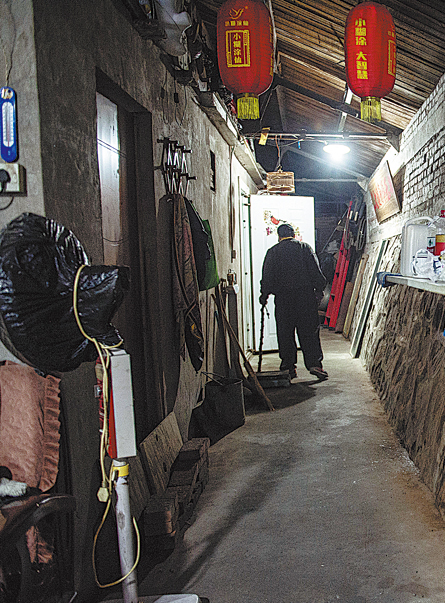 Over the years, many of the workers and local residents were encouraged by Zhang to become fitness lovers, and some of them even became contenders in national-level bodybuilding competitions. According to Xu, gym members here have won three national championships and eight municipal-level championships in Beijing.
Xu assumed management of the club after Zhang passed away. Each member now only needs to pay 100 to 300 yuan ($15-$45) per year to contribute to the upkeep of the club.
"Some shelves in the room are already 40 years old, and that barbell is over 30 years old. We made most of the equipment ourselves," Xu said.
"The closets here are old ones from nearby supermarkets. The massage chair is from one of our members. The decorative picture is from our old factory... We bought the integrated training machine for just several thousand yuan, and have been using it every day for the last seven to eight years.
"Many of us are old friends for the past 30 to 40 years. I'm just a manager here. And I'm not here to make money."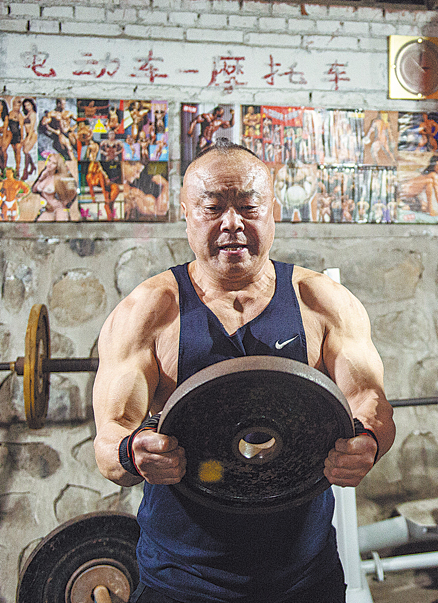 The club is vigilant about the risks of elderly people pushing themselves to their physical limits. Gao Changyou, a retired doctor, plays the role of the gym's medical advisor, and happily advises other members on how to exercise safely and scientifically.
"For example, old people should avoid doing handstands. Many old people have arteriosclerosis and high blood pressure. Doing handstand is very dangerous for us and it could easily result in a stroke," Gao told Beijing Daily.
"But doing exercise scientifically is really beneficial to us. I, for example, had high blood sugar and cholesterol two years ago. After two years exercising here, it's a lot better now."