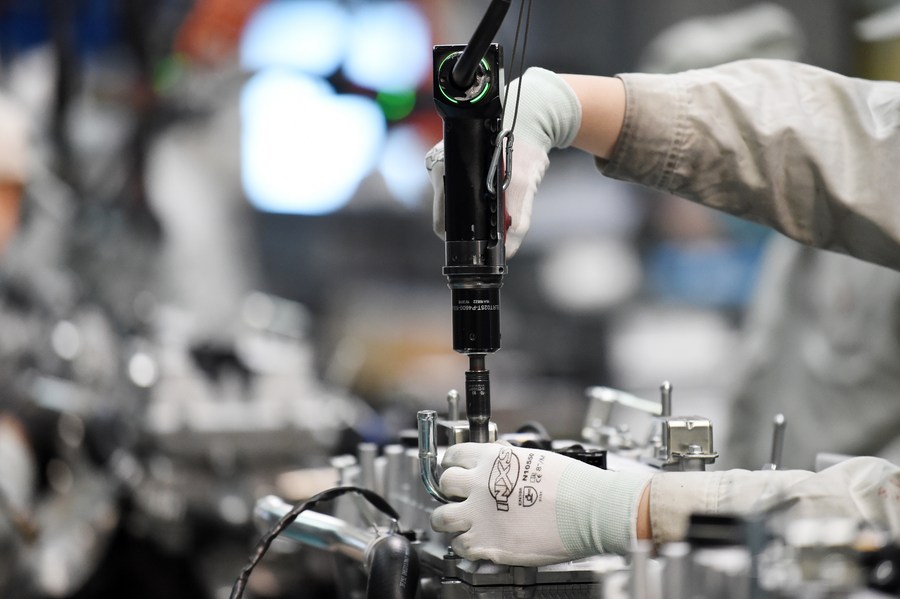 Executives from some of China's major carmakers are proposing to the country's top legislature to foster a domestic chip industry, as chip shortages from international suppliers are forcing the global automotive industry to cut production.
Zhu Huarong, chairman of Changan Auto and a National People's Congress deputy, made public his proposals on Monday, ahead of the Two Sessions which starts on Thursday.
"The authorities should draft policies to facilitate production of automotive chips to ensure the safety of the supply chain," Zhu said.
He said currently at least 90 percent of China's automotive-grade chip market is dominated by US, European and Japanese companies, while Chinese chipmakers make up an almost negligible share.
Zhu said he is proposing that the authorities should promulgate favorable policies for chip designers and manufacturers, and Chinese carmakers should be encouraged to adopt chips from Chinese companies.
Chen Hong, chairman of China's largest carmaker SAIC Motor and an NPC deputy, is calling for attention on the issue as well.
In his proposals made public on Monday, he said that the authorities should give an extra boost to automotive-grade chip makers on the basis of the support for chips used on consumer electronics.
Chen said Chinese carmakers and suppliers should help local chipmakers to initially produce less complicated chips so that they can grow the capacity to produce advanced ones.
He also proposed that the authorities should help finance chip research and development.
SAIC Motor's joint venture with Volkswagen started to suffer from chip shortages from late December, and it was forced to cut production of some models.
According to Volkswagen Group China, its production in 2020 was cut by around 15,000 vehicles because of chip shortages. It said the issue will continue through the first quarter.
Chen Shihua, a deputy secretary general of the China Association of Automobile Manufacturers, said the shortage may continue to affect car manufacturers in the second quarter of this year, based on a poll of carmakers in the country.
The problem is not limited to China. Volkswagen warned late last year that it must adapt production at North American and European locations as well.
General Motors, Honda, Daimler, Ford and many others have idled production lines and furloughed employees.
The production of more than 280,000 vehicles has been put on ice, according to data provider AutoForecast Solutions. IHS Markit forecasts that as many as 500,000 vehicles could ultimately be affected.
The shortage could lead to more than $14 billion in lost revenue in the first quarter of 2021 and some $61 billion for the year, advisory firm AlixPartners predicts.
Analysts said the chip issue will become more acute as the car industry will be more reliant on chips as vehicles become electric, smart and autonomous.
Although electric vehicles only make up around 3 percent of global car sales, the value of the semiconductors in them is roughly three times more than that of a gasoline car, according to IHS Markit.
This would be an even more disturbing problem for China, which is the largest market for both gasoline and new energy vehicles.
"This episode of chip shortages has once again shown how urgent and necessary it is to have autonomous and controllable supply chains," said Chen of the CAAM.