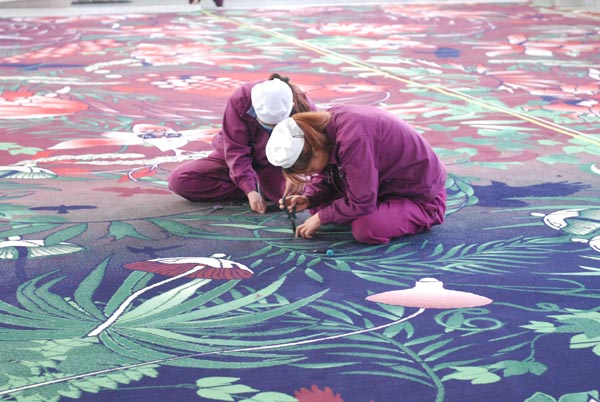 Tibetan-style carpet maker finds a global market after years of research and innovation, Xu Haoyu reports.
At the beginning of the year, Shengyuan Carpet Group knitted a special product, you could say, by mail order. A China Post stamp of the Chinese zodiac animal, the ox, was itself reproduced onto a hanging carpet, creating a unique cultural and creative product that highlights the Tibetan craft of intricate weaving.
Tibetan carpet-making, which originated from the highlands in western China, is a traditional craft with a long history. It was already a popular method of paying tribute to emperors in the Ming (1368-1644) and Qing (1644-1911) dynasties.
Shengyuan Carpet Group, also known as SYG Carpet, was established in Xining, the capital of Qinghai province in Northwest China. It has witnessed and participated in the development of the Chinese carpet industry, like a piece of tile on the Great Wall.
"Our business is driven by four values-professionalism, excellence, innovation and being 'green'," says Xue Ting, 37, the founder of the company.
In 2007, an industrial park was built in Qinghai, and policy encouraging the development of local characteristic industries and Tibetan carpet industry, including preferential terms of tax and loans, was released.
Xue, who graduated from Shanghai University of Finance and Economics that year, noticed the business opportunity and founded a company as a manufacturer of woven carpets and hand-knotted rugs for both residential and commercial use in Xining.
"My interest-artistic design and cultural heritage-has led me onto this path," Xue says.
However, Xue soon found that machines that are made in China couldn't support high productivity. Craftsmen were stuck with repeated, automated and tedious work. She recalls that many high-end multinational hotels in China had to ship big and heavy carpets made in other countries to China, because no Chinese company could deliver such work.
In 2008, she went to Belgium to promote the transformation and technical upgrading of the company. She visited the country several times and spent more than four months there, learning the operation of the modern Axminster loom.
Xue recalls that when she had trouble understanding the professional terms or specific instruction of the machine, workers would immediately take her to the workshop and explain them to her carefully. She describes that training process as a beautiful memory, living and eating together with local workers like one junior staff.
Finally, she brought back two of the latest high-speed program-controlled Axminster looms. After the improvement of capacity, the company knocked on the door of a broader world and sold products to hotels, resorts, conference centers, cruise ships and other large public areas.
In 2009, the company received its first export order from Marriott Hotel in Dubai, officially entering the global market.
To better realize her dream, Xue successively claimed a master's degree in management from the University of Durham in the United Kingdom in 2009, and another master's degree in business administration at Tsinghua PBSCF in Beijing last year.
She agrees with the opinion of Wu Xiaoling, who's the former dean of Tsinghua PBSCF. "Wu once said that people who make great achievement always follow the trend. Understanding the general trend of future policies broadens the vision while looking at a business, and it helps to find the right direction," Xue says.
Following the expansion of the company, Xue purchased more Axminster looms from Belgium. In 2012, Shengyuan achieved an annual production capacity of 2.9 million square meters, annual sales revenue of 100 million yuan ($15.5 million), and export earnings of $7 million.
Xue didn't let the machine replace all the manual work. Craftsmen are still able to complete a beautiful carpet by tufting with hand, to add a stronger three-dimensional feeling to the outline of patterns.
The hand-knotted Tibetan rug is still the company's specialty.
Tibetan sheep wool remains the raw material. This is characterized by long fiber length, moderate hardness and strong elasticity. The carpet surface is soft and delicate, and washing does not cause fading.
Later, the company upgraded again.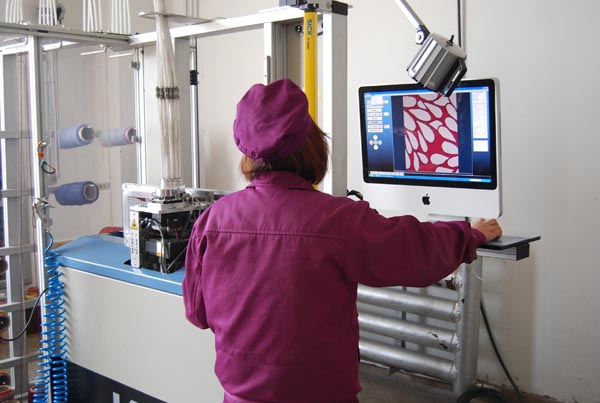 During the 2017 Qinghai Tibetan Carpet Exhibition, staff of Shengyuan took a photo of a German merchant. An hour later, the visitor received a special gift-a carpet with his portrait on it.
"In fact, we implemented a smart manufacturing project, which allows personalized customization, in 2017. It has proved that finishing the production of personalized carpets within an hour is no longer a myth," said the vice-president of the company, Liu Shengmin, earlier in an interview with gmw.cn. The company also won the "outstanding enterprise" award in China Innovation and Entrepreneurship Competition with this project that year.
Xue always dreamed of being an entrepreneur since she was a little girl.
In 1993, when she was 9, her father Xue Yuming established a company, which imported and exported metals and minerals.
With a proud tone, Xue Ting says that many employees worked with her father for more than 20 years, some for 30, out of respect and trust. She saw one's responsibility for family and society from Xue Yuming. She felt fully prepared to become an entrepreneur herself before graduation.
"Since I was a child, my father has been telling me that I should strive to realize my own value," Xue Ting says.
Her success wasn't easy.
"Find a way when there is no way," Xue Ting says. "Sometimes people are forced to succeed."
In the early stage, Xue Ting often faced rejection by potential customers, for various reasons, including that the design was not innovative or the color combination was not harmonious. She didn't give up but spent more time learning from pattern designers and peers.
In 2014, Xue Ting packed her bag and went to New York for design classes, including pattern design, fabric design and even graphic design.
Thanks to Xue's unremitting efforts, the company's products have been sold in more than 40 countries and regions now, including Italy, Germany, France, the United States, Austria and the Middle East. It has received recognition from internationally renowned hotel groups such as Marriott, Hyatt, Shangri-La and Disney.
Xue Ting says she believes that the greater the ability, the greater the responsibility. She shares her wealth with society.
Over the years, Xue Ting organized more than 60 charity activities, involving more than 2,000 participants, and helped out 400 people in need with the donation of 5.7 million yuan. After the pandemic outbreak last year, she donated 102,000 yuan to frontline medical workers on behalf of Shengyuan.
"Give people fish and you feed them for one day, teach them how to fish and you feed them for a lifetime," Xue Ting says, referring to the old Chinese saying.
To carry out targeted poverty alleviation work, Xue Ting set up a training center and two more factories in Haibei and Guoluo Tibetan prefectures in Qinghai in 2018, approached more than 50 Tibetan carpet craftsmen from poverty-stricken areas, taught them mechanized weaving skill and offered them jobs.
This year, the poverty alleviation project has involved more than 30 talented people.
"In the past, herders had to weave rugs by hand, it cost more time and brought little income," Xue Ting says, "I want them to have another choice when it comes to weaving and infinite possibilities when it comes to life."