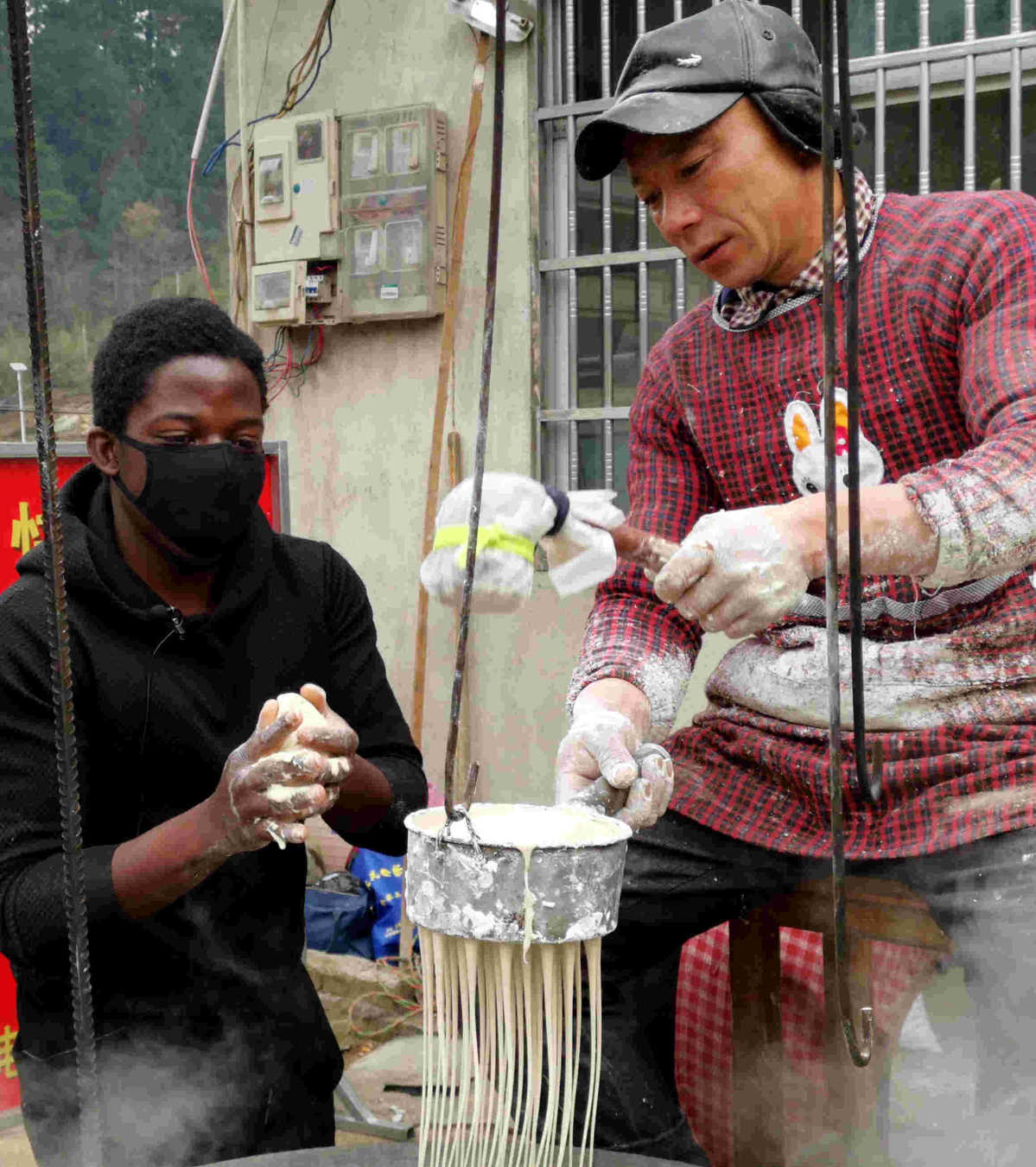 Firsthand experience gained on mission to rural areas
After immersing himself in his studies for several years, Albert Mhangami, 27, a student from Zimbabwe at Tsinghua University in Beijing, last month finally had a chance to interact with the people he had been researching.
Mhangami, who is studying China's poverty alleviation efforts, visited Jinzhai county in Lu'an, a city in Anhui province. Just six years ago, some 130,000 impoverished people were living in this mountainous area.
Recalling his expectations before the trip, Mhangami said, "I anticipated seeing a lot of old people, few young people and not much technology."
However, a series of surprises were in store for him.
In the villages he visited, Mhangami met many young people working in a range of occupations. They included teachers, farmers, grocery store owners, doctors, civil servants and e-commerce entrepreneurs.
One of those who impressed him the most was Zhang Chuanfeng, a farmer who has become an internet celebrity.
Zhang's family was once identified as an impoverished household. After receiving government subsidies and favorable policies such as rent-free accommodation, Zhang launched an e-commerce store in 2017, buying local specialties from impoverished families and selling them online to customers nationwide.
To promote local goods such as dried sweet potatoes and tea, Mhangami collaborated on two videos with Zhang on the Douyin sharing app.
"Zhang really has a massive online presence. I think he had around 50 million views for one of his videos," Mhangami said.
Last year, Zhang's store saw revenue of about 5 million yuan ($772,000) and made a profit of 500,000 yuan.
Mhangami was also highly impressed by the laughter he heard among farmers during his trip, which he said helped inspire him.
In his notebook he wrote that such laughter was not only shared by one particular village, but "by the hundreds of millions of people that have been pulled out of destitution".
On the five-day trip, which was organized by Xinhua News Agency, Mhangami was joined by Michael Chick, a Malaysian media worker, and by South African teacher Shaun Nish and his daughter Rebecca.
The foreigners traveled to the once-impoverished county to experience rural life and to witness the nation's poverty alleviation efforts.
At the end of last year, some 100 million impoverished rural residents living below the poverty line nationwide had shaken off penury. All 832 poor counties, including Jinzhai county, had been lifted out of poverty.
During their visit, the foreigners were surprised by the level of internet development and the booming digital economy in the rural area.
Shaun Nish said he had been amazed by the amount of local infrastructure, adding that he had not been expecting to see such a wide variety. He also thought that roads in the area would be less wide.
He and his daughter, who live in Hefei, capital of Anhui, were also delighted with the easy access to wireless internet in the villages.
Chick, who has traveled to many Southeast Asian countries for TV production work and is now turning his attention to China, said: "It is not just Wi-Fi-it's internet connectivity. That's pretty much how this village we visited is able to market its products outside.
"When you talk about infrastructure, it is always roads, water, sanitation and everything else, but people always forget to mention the internet. The internet infrastructure forms the basis for a whole lot of things. It changes your perspective. It opens up your markets."
Basic needs and beyond
Economic development in Jinzhai county used to be hampered mainly by a lack of transportation infrastructure-a cornerstone for rural industries.
To banish poverty, the county has built new roads and railways, in addition to launching other infrastructure projects. It has also invested in and supported local industries, including tourism, agriculture and e-commerce.
In April last year, it was among the last nine county-level regions in Anhui to be removed from the national list of impoverished counties, ending a burdensome history.
While visiting local homes and tourist sites, Mhangami was greeted by village community cleaner Zhou Duanqiong.
She told him her husband died many years ago and she used to support her family by running a small shop. However, the income from this business was far from sufficient for her to lead a comfortable life.
However, in 2016, life changed for Zhou and her family when a new housing and infrastructure project was launched in her community.
Mhangami learned that this government project involved purchasing homes for high prices, building better-quality residences and selling these new homes back to residents at lower prices and with the aid of additional subsidies.
The authorities also launched a tourism infrastructure project, with the influx of visitors resulting in additional income and more job openings, including the cleaning position in Zhou's community.
Mhangami chatted to a class of primary school students, with topics ranging from new infrastructure in the village to subsidized school meals.
One boy whose arm was in a sling told Mhangami the bills to treat his injury were largely covered by the government.
Mhangami said the authorities clearly placed considerable emphasis on building a solid medical infrastructure.
The subsidies and insurance cover provided are "guardians of the millions of jobs and assets" the government had created for the people, he added.
At a rural clinic, Chick learned that on average, villagers from impoverished households are entitled to a 95 percent reimbursement of their medical costs. Local residents infected with COVID-19 can also have free treatment.
Another memorable moment for Mhangami during the primary school visit came when he asked pupils about their ambitions. One of them raised his hand and said he wanted to study abroad.
"Poverty is ultimately a conversation about options," Mhangami said.
"When a child, who only five years earlier would have seen the provincial capital as his goal, now speaks of the international community as a place for his dreams, poverty has truly been alleviated," he added.
"In every country in the world, there is massive debate over the definition of poverty and the poverty line. I think that what this means to the people really matters."
In addition to a minimum income to meet basic needs, China's poverty line also takes into account a range of other factors, including housing, healthcare and education.
Mhangami said that in view of this, China might actually be setting a higher bar to define poverty.
Shaun Nish said poverty alleviation efforts should not only cover people's basic needs, but also address their desire for a better life, including access to internet services.
"Wi-Fi may not be a need, but it can help you a lot, and I think the Chinese government is very good at doing this," he said.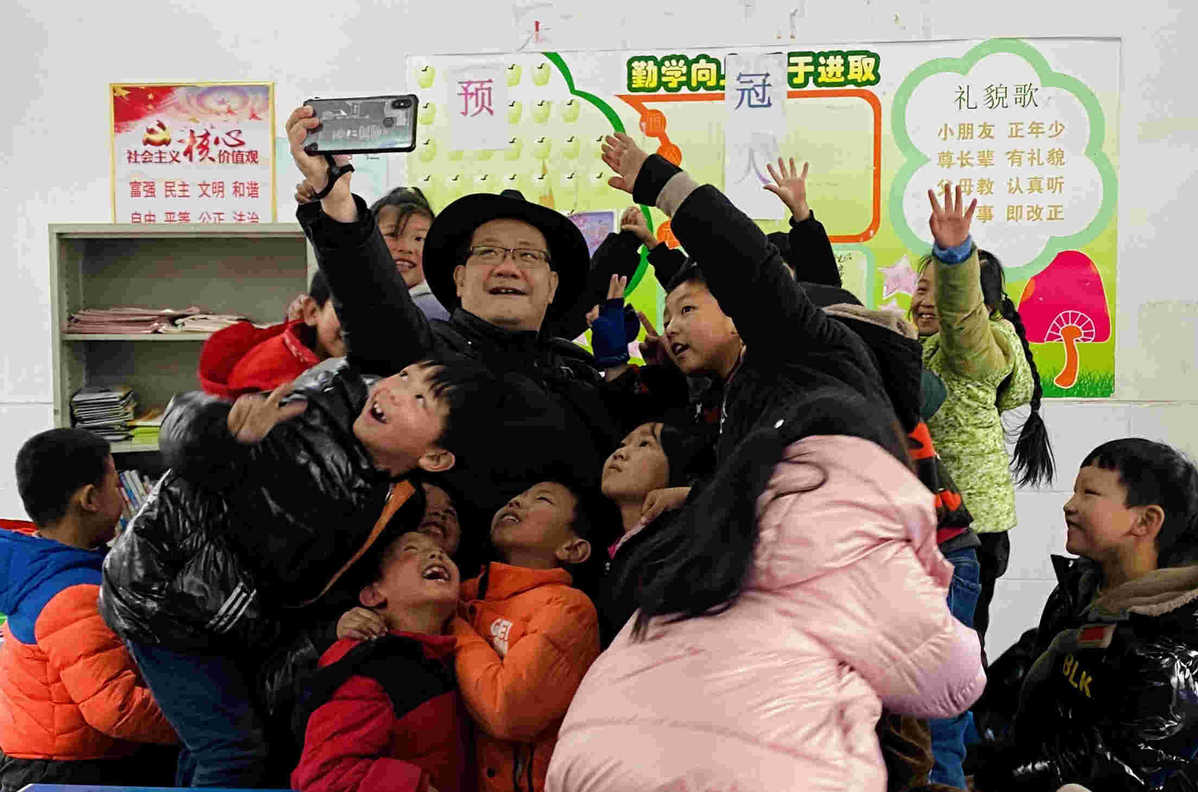 Interactions, joint efforts
During the trip, the foreigners saw how local people were working enthusiastically with the government to improve their lives.
At a hillside bee farm, Chick met the owner, a young entrepreneur who returned to his home village after working in big cities.
With government support, he employs many aged villagers, especially those from impoverished households, as beekeepers.
Chick said, "Beekeeping is excellent for all communities because it does not require intensive labor, which generally suits the elderly. Bees are also good for the environment."
Wang Jian, a young villager who runs a distribution center for express deliveries, shared his entrepreneurial story with Chick.
To launch the center, which opened in 2017, Wang took out a bank loan, borrowed from relatives and received a government grant.
Chick said, "This actually shows how much he wanted to get this business going," adding that he was impressed by the initiative taken by locals to improve their lives.
The owner of the inn where Shaun Nish stayed told him that her family used to be one of the poorest in the village, but about two years ago, she finally managed to start her own business.
The South African said: "The government gave her some money and she put in three times that amount. Now, she's doing quite well."
The central government continues to help local communities and reassess its activities. If something does not work, then it will change it, he added.
Mhangami believes that interactions and joint efforts by the public and the government are crucial to winning the battle against poverty and making such work sustainable.
"If your government has the political will to engage people and makes getting them out of poverty a priority, this is a massive difference," he said, adding that another important issue is to "be a part of the people".
"Make sure you are going there, asking them what is happening, sitting down with them and having these conversations. It immediately changes the dynamic," he said.
"I really like how seriously China takes this. How you sit down with people who have lost relatives, who have lost livelihoods and you say to them, 'I hear what you are saying.' You calculate the numbers and you say, 'This is what we're thinking and what we are going to do.' And then you do it," he said.
For Mhangami, the countless laughs and smiles he witnessed on the visit said a lot about the excellent progress made by China.
He wrote that these reactions also showed confidence in a government that prioritizes the people in the global battle against poverty.
Xinhua China Chat Studio exclusively for China Daily