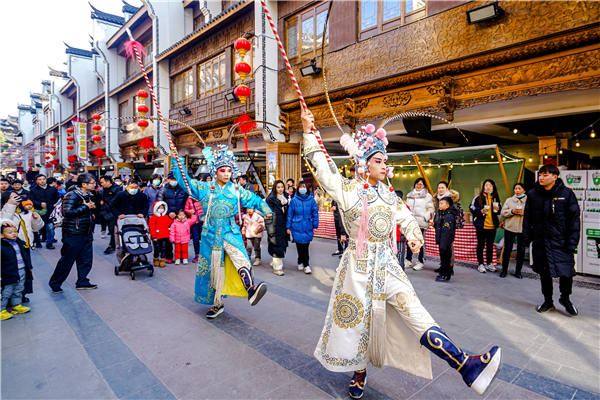 The recent holiday confirmed a healthy travel market amid intensified COVID-19 measures, Yang Feiyue reports.
Increased pandemic prevention and control measures ensured a steady tourism market during the recent New Year holiday.
Although sporadic COVID-19 cases emerged around the period, domestic tourism players and tourists stayed calm and rational, especially amid the country's effective pandemic response.
The State Council's joint prevention-and-control mechanism against COVID-19 has proposed keeping family and private gatherings to fewer than 10 people during Spring Festival (Feb 11-17).
Relevant prevention-and-control plans should be formulated for an event involving more than 50 people.
Right before the New Year holiday (Jan 1-3), the Ministry of Culture and Tourism announced continued precautionary measures, including limiting the number of tourists to 75 percent of a scenic spot's capacity, banning outbound tours organized by travel agencies during the holidays and promoting pre-booking at scenic spots.
"I didn't worry too much," says Chen Jing, who just spent the holiday in South China's Hainan province.
The Nanjing, Jiangsu province, resident arrived in the island province's capital, Haikou, in late December to enjoy the warm weather.
Chen visited the Nanshan scenic area in Hainan's Sanya city, a tropical forest and the West Island.
He was reassured when everyone's health codes and temperatures were checked before entering the scenic spots.
"I wore a facemask when there were strangers around and carried sanitizer to wash my hands, especially before eating," Chen says.
Destinations have come up with diverse products to enhance holiday experiences while ensuring safety.
Beijing hosted over 124 cultural programs online during the holiday, which received 1.2 million views.
The capital city also enacted strict measures at about 100 performance events that attracted 56,000 audience members and generated 9.41 million yuan ($1.46 million) in ticket sales.
A total of 160 major scenic spots in Beijing received about 2 million visits during the three-day holiday, up 5.6 percent over the first three days of the May Day holiday (May 1-5). Tourism revenue reached 157 million yuan, a more than 24 percent increase, according to the Beijing Municipal Bureau of Culture and Tourism.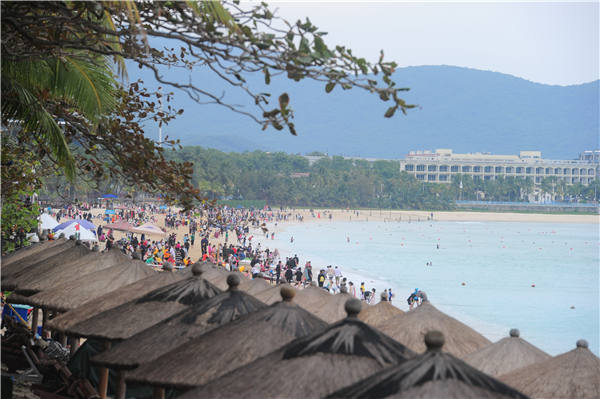 Nationwide, inter-bank transactions via UnionPay cards reached nearly 360 billion yuan on New Year's Day, which was roughly the same as in 2020, according to data released by China UnionPay.
Business-service providers launched various New Year promotions, like in previous years. Catering, shopping and accommodation remained the major sectors of tourism consumption.
The Inner Mongolia autonomous region, and Heilongjiang and Shanxi provinces each enjoyed more than 15 percent growth in catering consumption on the first day, the highest year-on-year increase nationwide, the UnionPay data show.
Jiangsu, Guizhou and Shandong provinces topped the shopping-consumption list. Transport spending in Shaanxi province, the Guangxi Zhuang autonomous region and Shanghai respectively increased by over 50 percent on Jan 1 year-on-year.
Accommodation consumption rose by over 10 percent in Qinghai, Shandong and Zhejiang provinces.
Tour-product bookings via Beijing-based online travel agency Qunar were about 70 percent of the same period of last year, the agency reports.
Due to the tightening of epidemic measures, regional consumption growth was prominent, which is in line with epidemic prevention and control to avoid crowds, experts explain.
People born in the '90s were a major force in the holiday-tourism market, says a New Year travel report by the country's biggest online travel agency, Trip.com Group.
Staycations were also popular among young travelers.
They preferred to book a nice hotel, watch TV and play on their phones, the travel agency says.
Hotels were in short supply in many parts of the country, with prices of places rated three stars or above generally increasing by 17 percent year-on-year during the holiday.
Most travelers opted for either southern destinations to avoid the cold or northern getaways to appreciate ice and snow and enjoy winter sports, the Trip.com Group report says.
Mild temperatures, sunshine and blue skies have enabled Sanya to bring in travelers from all across the country and stand out among its southern counterparts.
Tourism hotels in Sanya recorded a 77 percent occupancy rate on Jan 1, and attractions received 100,000 visits.
The city's duty-free shops received 14,000 visits on Dec 31 and raked in 16 million yuan in sales of duty-free goods, up by nearly a quarter year-on-year.
Seven duty-free shops in Hainan saw sales break 550 million yuan from Dec 31 to Jan 2, up by more than 200 percent year-on-year, according to the provincial department of commerce.
For winter-experience seekers, Hebei province's Zhangjiakou and Heilongjiang province's capital, Harbin, were popular during the holiday.
Occupancies at five-star hotels in Zhangjiakou surged by 1,005 percent year-on-year. The figure was 561 percent for four-star hotels and 1,076 percent for three-star establishments, Trip.com Group reports.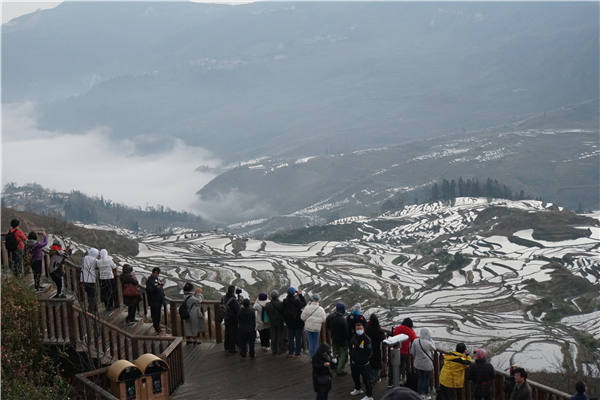 The Harbin Ice and Snow World in Heilongjiang drew more than 10,000 visitors with ice sculptures and winter activities spread over a 600,000-square-meter area.
Reports from Trip.com and the travel-service and social-networking platform Mafengwo show an evident increase in searches for skiing, snow experiences and hot springs.
The approaching 2022 Winter Olympics, which China will host, contributed to the increasing popularity of winter activities, Trip.com says.
Hubei province's capital, Wuhan, which was the city hit hardest by the COVID-19 outbreak in China, received more than 830,000 visits by travelers who spent at least one night in the city during the New Year period and generated 738 million yuan in total tourism revenue.
The immersive light show at the city's Yellow Crane Tower and Happy Valley theme park were particularly popular among holiday travelers.
Hubei province received 8.6 million visits and 3.9 billion yuan in tourism income.
Chen says he's still reminiscing about his holiday in Hainan.
"It felt good to wear short sleeves while my colleagues had to wrap themselves in thick clothes," he says, half-joking.
The local cuisine, beach and duty-free shopping made his stay more enjoyable.
"I'd like to make my Hainan visit an annual thing," Chen says.
"Hopefully, more friends will join me next year."
Hot spots
・ Sanya, Hainan province
・ Changsha, Hunan province
・ Dali, Yunnan province
・ Changbai Mountain, Jilin province
・ Haikou, Hainan province
・ Xishuangbanna, Yunnan province
・ Xuexiang, Heilongjiang province
・ Yangzhou, Jiangsu province
・ Anji, Zhejiang province
・ Moganshan, Zhejiang province
SOURCE: TRIP.COM GROUP