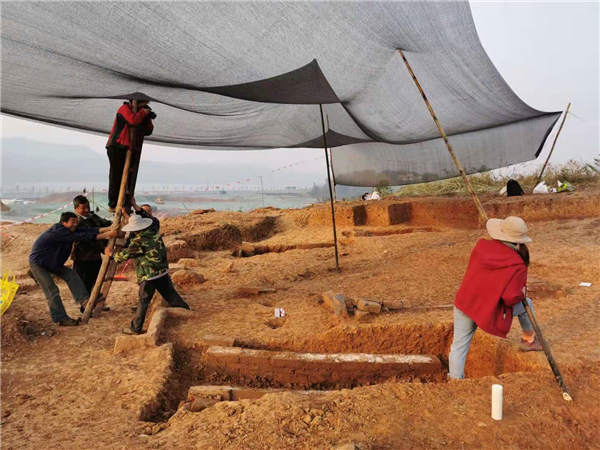 The only all-female team of archaeologists in the west of China is unlocking mysteries of the past, while forging a path into the once male-dominated field for future generations of women to follow, Wang Kaihao reports in Chongqing.
The scorching summer of Chongqing, a municipality in Southwest China which is often nicknamed the "stove" for its high temperature, is definitely not a good time to spend hours working outdoors.
However, for Yan Ni, 40, a female archaeologist from Chongqing Cultural Heritage Research Institute, it is her busiest time of the year.
Many areas of the city are located in the reservoir area of Three Gorges Dam, the water level of which lowers from 175 meters to 145 meters between June and August to accommodate the flood season. For Yan and her teammates, it is the best time to harvest archaeological discoveries in the riparian zone, which is usually hidden underwater, and she needs to make every minute count.
"While working in the wild, sunshine and mosquitoes may be our biggest enemies," Yan, who looks younger than she is, recalls with a smile. "I'll wear long sleeves to keep them off. It makes me even more sweaty. But you see, I protect myself quite well.
"In Chongqing, you have to wear sunscreens, at least SPF 50," she says.
In December, to accept our interview at the office of the research institute in downtown Chongqing, she hastily headed back from a research field on the outskirts of the city.
Perhaps, for her, it is like a precious rest. In the course of a year, she spends over 200 days working outdoors on archaeological sites. Stationed in the countryside, she often cannot go back home for several months.
Nevertheless, she feels luckier than many other archaeologists. Her 11-person squad is composed of archaeologists, restorers of cultural relics, cartographers, and scientific researchers working in the lab, and all of them are women.
This is the only all-female archaeological team in the west of China.
"You know, when women get together, they always have so many shared topics to chat about during their spare time," Yan says, laughing. "And we can take better care of each other."
After earning her master's degree in archaeology from Jilin University in Changchun-one of China's best higher education institutions for the subject-in 2006, Yan chose to go back to her hometown in Chongqing.
She is one of the first female archaeologists to work at the institute, the operation of which was separated from Chongqing Three Gorges Museum that year.
At that time, most female archaeological researchers in Chongqing were regularly stationed in laboratories, because leading excavations in the field was considered to be the preserve of men due to the more physically challenging nature of the work.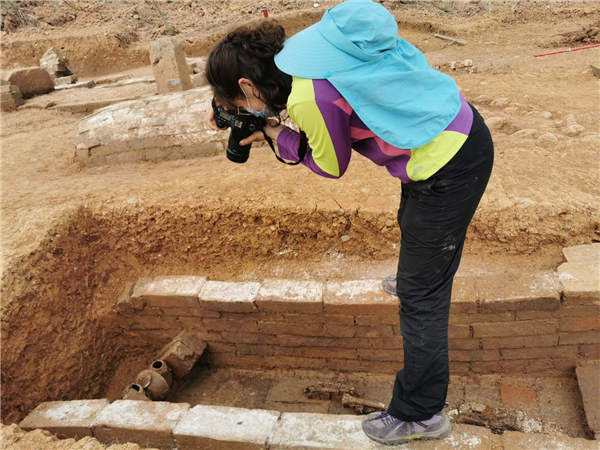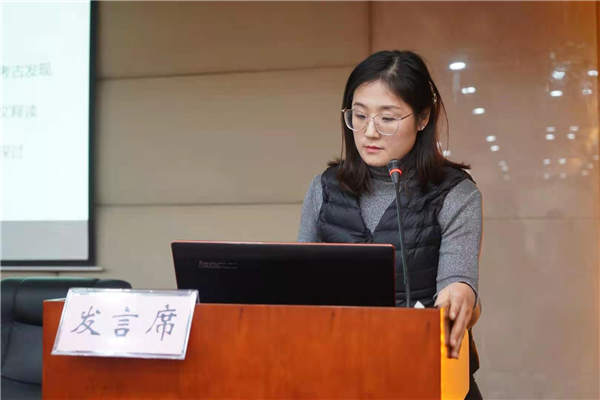 "But I had expertise and official license to lead excavation as well," Yan says. "I don't think there should be such a differentiation."
Cooperating with her male colleagues to unearth a myriad relics all over Chongqing throughout the next decade, the highlight of Yan's career arrived in 2017, when she and four other female archaeologists were assigned to independently host an excavation in Pingshang archaeological site, Zhongxian county.
Covering an area of 82,400 square kilometers, Chongqing is like a miniature province. However, absence of prefecture-level government within the city means that almost all county-level archaeological work has to be directly taken care of by her institution, which is on par with a provincial-level academy.
"We were overwhelmed by many follow-up archaeological projects related to the reservoir area," Bai Jiujiang, director of Chongqing Cultural Heritage Research Institute, recalls.
"Many colleagues are stationed in the field for over 300 days a year," he explains, adding: "We have to send our female researchers to the front line."
At Pingshang site, a tomb complex lasting from the Han Dynasty (206 BC-AD 220) to the Southern Dynasty (420-589) was unearthed, offering key references in studies of craftsmanship and burial customs during that period.
The archaeologists had to take boat to reach the site every day.
"We lived in the homes of nearby villagers, and ran against the rising water of the Yangtze River," Yan recalls. "It's not easy, but it's our job."
The finding was listed among the "top six archaeological discoveries in Chongqing" of 2017. Due to their remarkable achievement, this temporarily-assembled team became an established crew. The all-female archaeological team was set up in 2018.
By 2019, the team had independently taken on 12 excavation projects and published more than 20 academic papers, including five in core journals.
In October, the team was bestowed with the title of National March 8th Red-Banner Collective by the All-China Women's Federation, which is one of the highest honors for excellence that Chinese women can be awarded.
For Yan, leading the team has opened the door to many new challenges.
For example, one task is to recruit local villagers as their assistants when digging the pits, as well as for other tasks. Though it seems a good way to benefit local community in countryside by providing extra income, Yan says winning trust takes time.
"At first, many refused to believe that several women could be real archaeologists," Yan says. "Some people thought we were frauds."
Compared with her male colleagues, who can quickly make friends with villagers by proffering cigarettes or taking a drink together, it is more difficult for Yan to get accustomed to that atmosphere.
"But time is the best test," Yan says proudly. "Seeing our persistence and hard work on the site, many people offer a hand. It needs patience, and we have that."
They also employ other methods to build friendships and trust. Wherever they launch an excavation, they often bring some old toys, books and clothes that they donate to the children of poor families in local villages.
However, sometimes, the love toward their own children is not fully expressed, especially if that love equates to being by their side.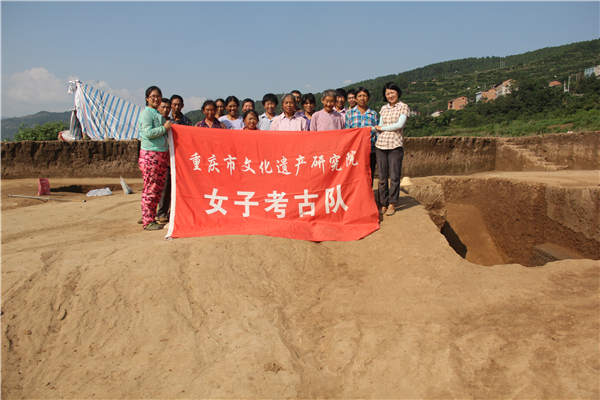 Li Dadi, the director of the archaeology department at Chongqing Cultural Heritage Research Institute, accompanied Ma Xiaojiao, a member of the women's archaeological team, in summer last year.
Ma was on an excavation in Chongqing's Liangping district, which is her hometown. However, for months she was unable to find time to visit her family due to the tight schedule of the dig. A brief opportunity arose when there was a meeting in the downtown area of the district.
"I thought she deserved an opportunity to see her child and I asked her to go back," Li says. "When she was leaving to return to the site, the child wouldn't let her go, holding her legs and crying: 'Mum, will you come back?'
"I was barely able to hold back my own tears, too," Li says, his voice cracking with emotion.
"Women are given many roles-we're expected to be good daughters, wives and mothers," says Yan, the mother of a 6-year-old boy. "But we can also be equally excellent archaeologists like men, which is sometimes ignored in our society-like women in the construction industry or geological exploration. We have every reason to spare no effort to ensure the projects are a success."
In August, when Zhong Fangrong, the girl with the fourth highest national college entrance examination score in Hunan province, chose archaeology at Peking University as her major, it became a hot topic online as some people doubted her choice.
However, something that the public probably does not realize is that many of China's biggest archaeological discoveries are credited to females. The tomb of Fuhao, for instance, of a queen and wartime heroine from the Shang Dynasty (c.16th-11th century BC), was found by Zheng Zhenxiang, veteran Chinese archaeologist, in 1976.
And, six among 16 of Yan's college classmates are also women, and all of them still hold positions in archaeological studies.
"When it comes to archaeology, the general public tends to focus on the unearthing of brilliant cultural relics, and often neglect the unsung, behind-the-scenes heroes who have been stationed in the wild for years and sacrificed a lot," Bai says. "The all-female team is their outstanding representative. We need to salute to them."
Every night away from home, Yan still finds some time to video chat with her husband through WeChat.
"Thanks to easy communication now, I can still follow and guide my son's growth, like helping with his homework," she says. "It's a big task, which needs me and my husband to work together."