As the COVID-19 outbreak hit the world hard this year, children, who may not have had high infection rates compared to other age groups, were victims of more emotional and psychological pain. Some had to say goodbye to their parents, who were medical workers, without knowing when they will return. As the country went through a national lockdown, most kids were confined indoors, not knowing what was outside and how it might seriously harm them.
Thankfully, the country saw a number of picture books on the pandemic targeted for young readers, not only to answer to their questions on the science behind the virus, but also to ease their worries and offer some emotional relief.
Here is a recap of some of these picture books.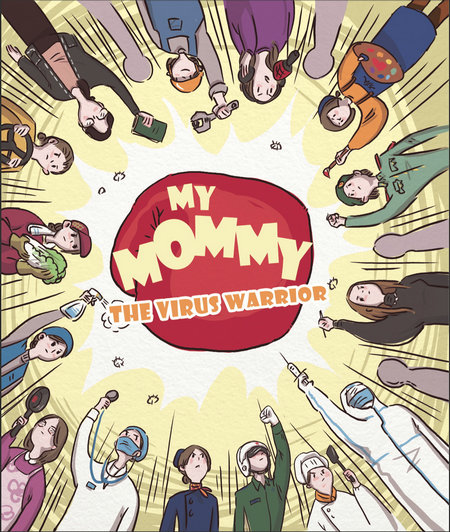 My Mommy: The Virus Warrior
Author: Wu Shengwen
Publisher: Beijing Science and Technology Press
My Mommy: The Virus Warrior is a heartwarming letter to the thousands of children whose parents in the medical profession were in Hubei, supporting the fight against the epidemic. The book was inspired by a tear-jerking scene of a nurse hugging and bidding farewell to her 6-year-old daughter before boarding the outbound bus to the epicenter of the outbreak.
The story unfolds with a conversation between a girl and her mother.
Girl: "Mommy, are you leaving home again?"
Mother: "Yes honey, mommy is going to fight a monster-a horrible virus has invaded a city that many people love dearly, and countless grandparents, aunts, uncles and children have become sick."
In plain language, the questions and answers go on, explaining the symptoms of the illness, and telling the stories of the people, doctors and nurses, couriers and cleaners, workers and scientists, fighting the virus on all fronts.
Besides providing "knowledge" and praising the heroes, the book intends to help children accept their emotions and cultivate a sense of responsibility for society.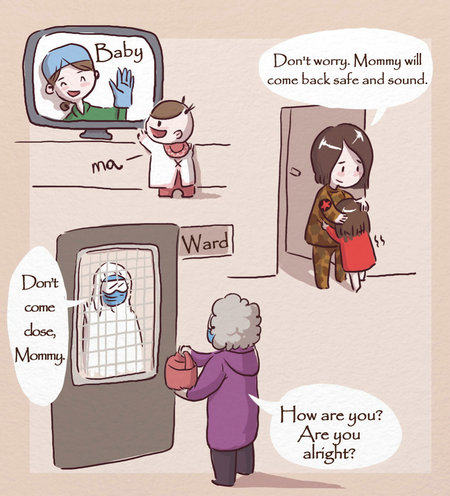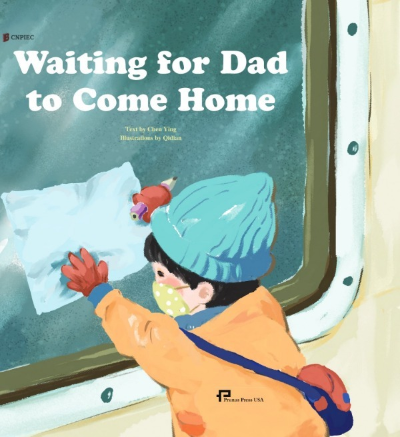 Waiting for Dad to Come Home
Author: Chen Ying
Publisher: Changjiang Children's Press
The illustrator and his colleagues at the Wuhan-based publisher have been witnesses of, and impressed by, the contributions of doctors and nurses fighting to save lives at the front line of the epidemic. The idea of making the picture book came after the team was deeply moved by a news photo showing a mother in her army uniform wiping the tears off her girl's face, before leaving for Wuhan on Lunar New Year's Eve.
Completed in just 17 days, the 40-page picture book is narrated by a boy discussing his disappointments when his father has to leave to treat patients and is unable to keep his promise of playing with him during the holiday. The child's resentment wanes as he sees the empty streets. In his dream, behind a glass wall, he sees his father in medical protective clothing, saying sorry to him with a note on a slip of paper. With his written reply, the boy tells his father to take care and he will wait for his daddy's return, and will save his favorite candy as a homecoming gift.
From a child's perspective, the book combines basic knowledge of the virus in its plotline, and serves as a record of the heroes everybody could become.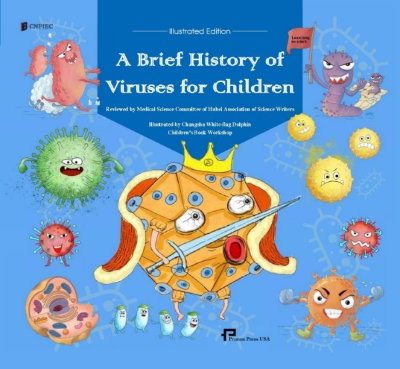 A Brief History of Viruses for Children (Illustrated)
Author: Jin Runming
Publisher: Changsha White-flag Dolphin Children's Book Workshop
What are viruses? Where did they come from? How do they infect humans and how have we coped and fought with them? How have humans "trained" viruses to serve us? This book explains things in terms that are easy to understand for young readers.
A popular virus book dedicated to all children and created in just six days, it talks about the origin of the virus and its impact on human society in the form of storytelling and illustrations so that the readers can understand the history of the virus. The book specifically has a section titled "Ten Questions about COVID-19", which explains in detail the relevant knowledge about the novel coronavirus as well as preventive measures, helping children to understand and scientifically curb the virus.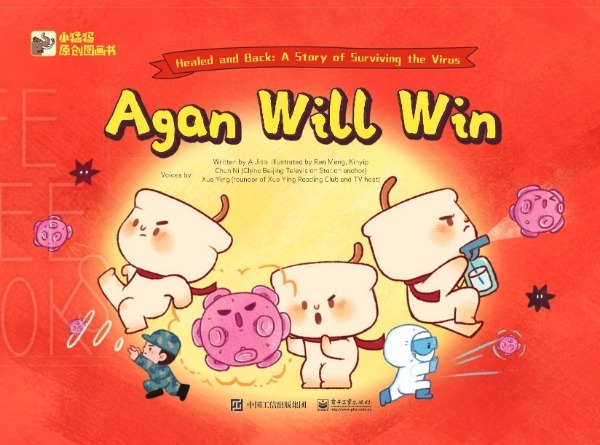 Agan Will Win
Author: A Jiao (original name: Zhang Xuejiao)
Publisher: Publishing House of Electronics Industry
Told by Chun Ni, a famous anchor from the China Beijing Television Station, and Xue Ying, founder of the Xue Ying Reading Club, Agan Will Win is a story about how Agan, a personification of Wuhan's well-known street food hot dry noodles and the protagonist, fights against the virus and finally wins.
While he unfortunately becomes infected with the virus, Agan remains positive and optimistic and also complies with the guidance of doctors, and at last he defeats the cunning virus.
This is a warm and caring picture book that consoles people who are having a difficult time during the epidemic.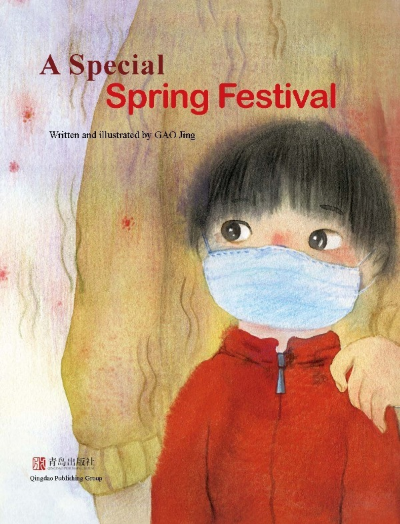 A Special Spring Festival
Author: Gao Jing
Publisher: Qingdao Publishing Group
This book pictures a special Spring Festival during the outbreak of COVID-19. It tells the story of an ordinary family in China, centered around the little boy's confusion about why he is not allowed to play outside his home.
Integrating scientific knowledge with comforting words, the book illustrates some basic knowledge on COVID-19 as the story develops, including what the coronavirus is, how it spreads, and how we can protect ourselves against it.
The pictures in light watercolor convey love between family members, friends and everyone, and the story demonstrates how Chinese people are fighting together against the coronavirus in a soft yet powerful tone.
Through reading, both children and grown-ups may better cherish the simplest pleasures in life, be grateful and try to do all they can do to help.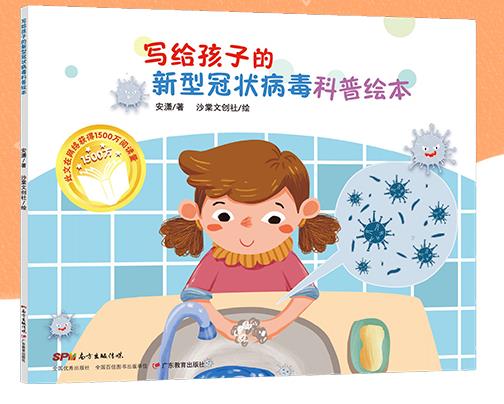 A Coronavirus Picture Book for Children
Author: An Xiao
Publisher: Guangdong Education Press
Written for young readers aged 3 to 6, A Coronavirus Picture Book for Childrenexplains the basics of the coronavirus and daily preventative tips suited for the cognitive developmental stage of the target age group.
With simple language and heartwarming stories, the picture book offers a clearer view of the outbreak, but also asks more profound questions such as how humankind should reflect upon this outbreak. The biggest aim is to help young readers to build a self-protective and self-restraining mindset in coping with the disease so that they do not feel left out or lost with a lack of understandable information while encouraging them to make their own small contribution to the fight against the pandemic.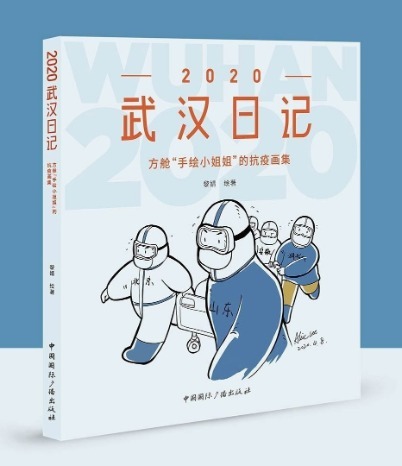 Wuhan Diaries
Author: Li Jing
Publisher: China International Radio Press
Illustrator Li Jing, a native of Wuhan who recovered from a personal battle with COVID-19, believed that the indelible memories of those who helped the city through the difficult period should be recorded and remembered.
She captured touching moments of the fight against COVID-19 in Wuhan in an illustrated record of stories based on various sources, ranging from her own experiences, those recounted by her friends as well as news reports and media coverage.
The book, which could be viewed as a sort of diary, contains 288 hand-painted illustrations depicting medical staff, delivery workers, builders of the Leishenshan and Huoshenshan hospitals, police, sanitation workers, community workers, volunteers and many others who participated in the city's tenacious fight against the virus, as well as conveying the fear and love she experienced over the course of the 105-day period.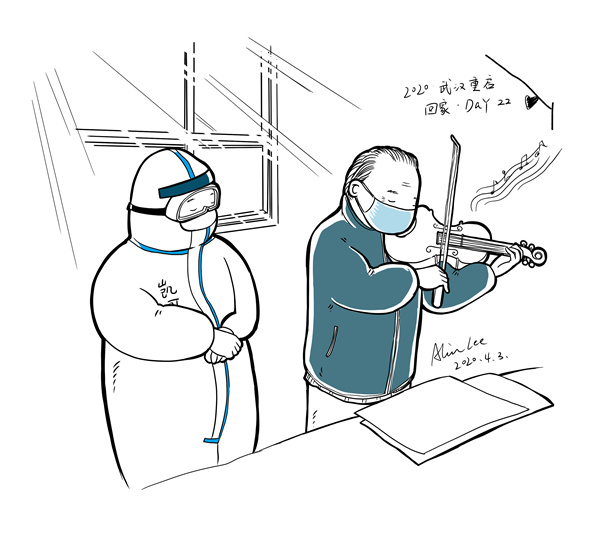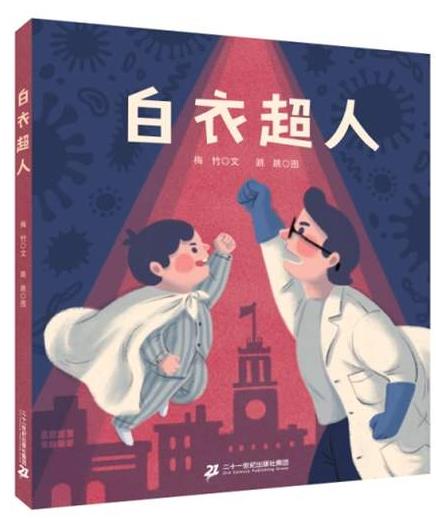 Superman in White
Author: Mei Zhu
Press: 21st Century Publishing Group
"There's no Superman -- only ordinary men who stand up against the odds," reads the back cover of the picture book Superman in White.
As the COVID-19 pandemic took China by surprise, countless medical workers used their flesh and blood to build a safe shelter for the Chinese people. Not knowing what was ahead and even unsure whether they would return, the medical workers, who are also ordinary men and women just like the rest of us, marched head with bravery and love for the people and the country.
Superman in White tells the story of a young boy who has been diagnosed with COVID-19 and is receiving treatment in an isolated ward in a hospital. During his treatment, the boy's attitude toward his physician drastically changed, and the doctor also shared a small secret with his young patient. As the boy was cured and discharged from the hospital, the youngster, who took Superman as his idol and hero, comes to understand what makes a real superman.
Inspired by the heroic acts of doctor Zhang Dingyu, head of Jinyintan Hospital in Wuhan, who played a critical role in pointing out the etiology direction for China's anti-epidemic fight and bought time for the treatment of the disease and the development of vaccines. Zhang was diagnosed in 2018 with amyotrophic lateral sclerosis (ALS), which have caused his legs to progressively lose muscle strength. Nevertheless, his own physical condition did not slow him down in his fight against COVID-19. Put in his own words, "I must run faster, if I want to win the race against time."
"Doctors are Supermen in white armor. I hope you will grow up to be a Superman in white and protect every bouncing life," said doctor Tao Yong, director of the ophthalmology department of Beijing Chaoyang Hospital.