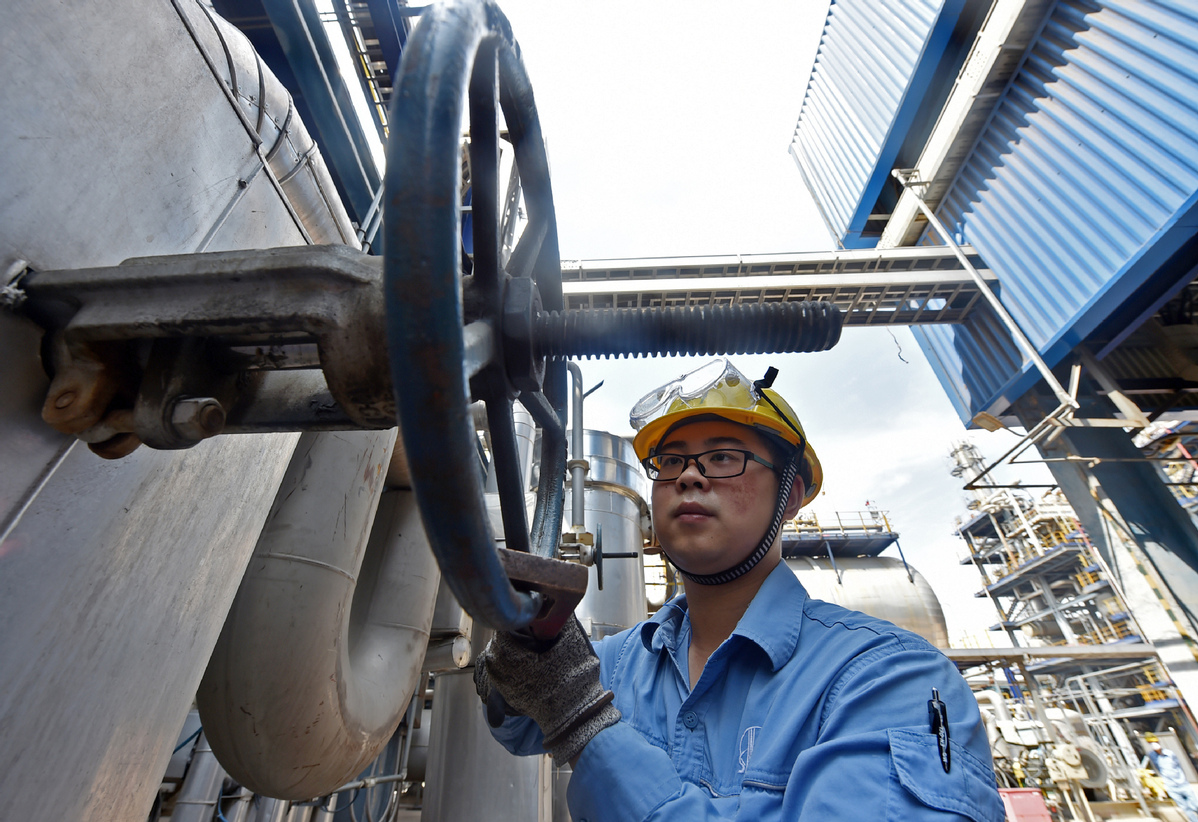 China is expected to add 110 million metric tons of new refining capacity during the coming five years, according to an industry report.
With this, the total annual refining capacity will reach 1 billion tons, overtaking the United States and making China the world's biggest refiner.
China's additional refining capacity will come mainly from new private companies, including Zhejiang Chemical, China Risun Group Ltd and Shenghong Petrochemical, according to the 2021 edition of the annual China Energy and Chemicals Industry Development Report, published by the Sinopec Economics and Development Research Institute.
Traditional teapots, or independent refineries, and the newly formed private refiners will account for 37 percent of the country's total refinery capacity, overtaking the share by China National Petroleum Corp, the country's largest oil and gas producer by annual output, and China Petrochemical Corp, the report said.
The average new and expanded refinery capacity was below 5 million tons per year during the 2015-20 period, and will reach 13 million tons per year during the 2021-25 period, said the report.
BloombergNEF, a research firm, said it believes Chinese refiners enjoy certain advantages on the global stage.
Tang Sisi, an analyst at BloombergNEF, said China's integrated facilities have shown their strategic advantage this year.
"They have been able to shift their product yields from refined fuels to petrochemicals, cushioning the blow to margins and profitability caused by the sharp drop in demand for road and aviation fuels," she said.
According to the institute, by 2025, there will be 33 refiners with refinery capacity exceeding more than 10 million tons per year, with an average refinery capacity reaching more than 7 million tons per year, almost that of the global average.
Demand for refined oil is also expected to rise to a peak of 356 million tons by 2025 from 332 million tons in 2019. The newly added refinery capacity is mainly located along the eastern coast, which is also the major region for refined oil consumption.
However, as some of the manufacturing industry has been shifting westward from comparatively developed regions like Jiangsu, Zhejiang and Guangdong provinces, consumption growth of refined oil products in these regions will be slower than that of inland areas, the institute said.
Domestic natural gas consumption will remain high in the coming years, with domestic gas consumption likely to rise to 320 billion cubic meters by this year-end from 189.6 billion cubic meters in 2015, an average annual increase of 26 billion cubic meters, the report said.
Demand for natural gas is expected to reach 450 billion cubic meters by 2025, with an annual increase of 7.1 percent, 4 percentage points lower than that of the 2015-20 period.
Meanwhile, domestic gas production will reach 232.5 billion cubic meters by 2025, 46.5 billion cubic meters more than that this year, an increase of 25 percent, it said.