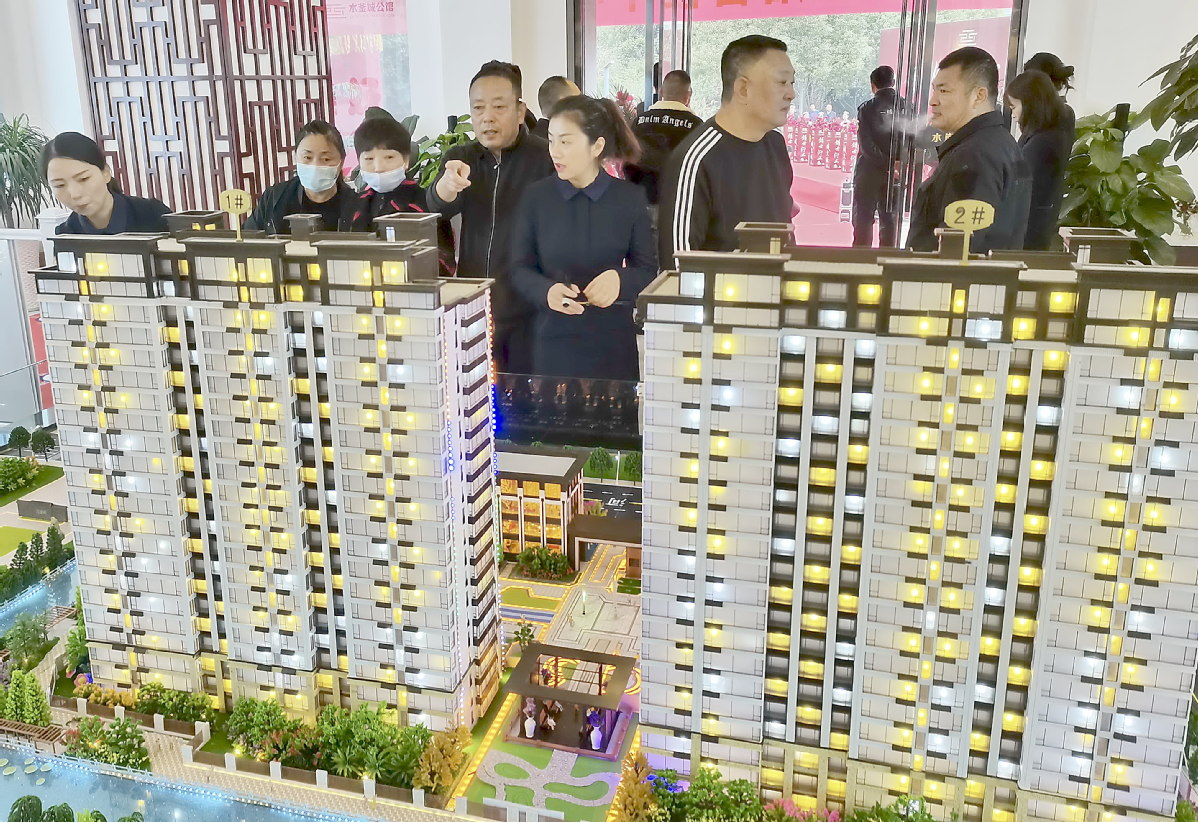 New home prices rose at a slower pace in China for the third straight month in November, indicating that the cooling measures implemented by the central and local governments are bearing fruit and the market will see long-term and healthy development, experts said on Monday.
Led by Jining of Shandong province, the average price of new homes in the 70 major cities tracked by the National Bureau of Statistics, rose by 0.1 percent in November from October, and by 4 percent on a yearly basis.
Jining was the only city to see a month-on-month growth of more than 1 percent. It was also the fifth consecutive month for new home prices in the 70 cities to see a decline in growth on a yearly basis, according to Yan Yuejin, director of Shanghai-based E-house China Research and Development Institution.
Sheng Guoqing, chief statistician of the NBS, said the cooled down housing market was largely a result of the firm stance adopted by local governments that "housing is for living in, not speculation "and their strong support to the central government's plan of establishing a long-term mechanism for the property sector.
After reaching a peak in July and August, the overall home market showed signs of slowing since September with a considerably fewer number of cities reporting growth in new home prices on a monthly basis.
New home prices increased in just 36 out of the 70 cities in November, 9 less than in October, 19 less than in September, and 23 less than in both July and August, according to NBS data.
Among the four first-tier cities, home prices in Beijing decreased by 0.1 percent from a month earlier, and those in Shanghai and Shenzhen stayed flat. Prices in Guangzhou rose by 0.9 percent. The four top-tier cities saw a 3.9 percent growth year-on-year in their new home prices, 0.2 percentage points less than that from the previous month, according to the NBS.
In the pre-owned home market, 44 out of the 70 cities saw growth in transaction prices, five more than the previous month, but six less than that of September.
Guangzhou reported the largest month-on-month increase of 0.8 percent in transaction price among the four first-tier cities, followed by Shenzhen with 0.6 percent, Beijing with 0.5 percent, and Shanghai with 0.3 percent. Compared to last year, the four top-tier cities saw 8.3 percent growth in their existing home prices in November.
The escalation in the regulatory policies by central and local governments is regarded one of the major reasons for the moderate home price growth. By November, 32 cities had announced tighter property market regulations and the central government made the monetary requirements even more rigid to keep prices from rising, said Zhang Dawei, chief analyst at Centaline Property Agency Ltd.
Despite the active performance of the pre-owned home market so far this year, the secondary markets of Beijing and Shanghai have become extremely sophisticated, with transaction volumes remaining steady on a long-term basis, and trading prices staying stable with marginal growth, said Wang Yongqun, chief operating officer of Lianjia, a real estate brokerage firm.
"The high frequency of tightening macro measures on property since late November, including restricted supply and demand, and financing, will keep home prices from rising in December and beyond (in 2021)," said Xu Xiaole, chief market analyst with the Beike Real Estate Research Institute.