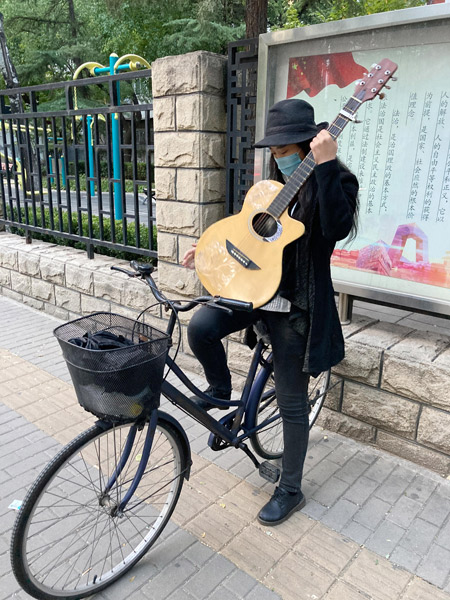 When one is not enough, some Beijingers juggle two or more jobs and seem to fit into each role like it were tailor-made for them, Tareq Zahir reports.
They say that everyone should pick up a job of their choice and then they can stop working. But when people pick up a job that is different from their hobby, the hobby keeps popping up till it too assumes a life of its own. We look at three cases here.
Every evening at 7:30 pm, Zhang Heng will be cycling to Sanlitun, after finishing her day's job for an online education website-changing the site's banner, redesigning it sometimes, writing new content, and posting it also on the company's WeChat. All this to fill her belly before some soul food.
Parking her cycle against the wall of a residential community between the Diplomatic Residence Compound and Uniqlo, she takes out her most prized possession-an acoustic guitar-and then, after ensuring her hat is in place, she perches herself on her cycle and begins strumming. Lightly. And then hums a tune. Like Hey Jude.
Arriving in Beijing in 2006 after graduating from a teacher training college in Tangshan, Zhang settled for a coaching center job before joining the website. While renting a place those days she found the abandoned guitar. She bought it at a pittance from the house-owner and learned how to play it all by herself. "I can use both hands." Since 2015, she has been cycling to Sanlitun, some 20 minutes from her place, to play and sing from 7:30-9:30 pm.
Unless there is a specific request, she sings songs by rock bands like The Cranberries, Linkin Park, Green Day, Suede and BRMC. Sometimes people ask her to sing Ed Sheeran and Charlie Puth, but "I don't like them".
They also ask her to sing Chinese folk songs such as Cheng Du by Zhao Lei or Dong Xiao Jie by Song Dongye, "but I'm not confident singing Chinese songs. I sing only in English".
If people surround her and become loud, or unruly, she sings unpopular songs and they soon decide to go away.
Two Africans paused to hear her sing one evening. Then one of them stepped forward to record her singing on his phone, while the other took out some money and placed it on her cycle basket. "She plays the guitar well," says Jone Kamal from Kenya. He couldn't say which song it was, but "that hardly matters".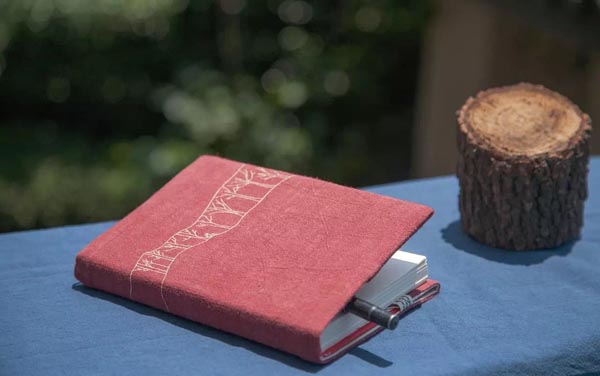 Two women, three jobs
Yang Ziduo, 31, recently joined as product planner at Douban, a website creating content related to films, books, music and recent events, after working as an editor for Guomai Culture and Media Co, a publishing house.
She now advertises the products Douban makes, but sometime next year she will be deciding content for bookmarks, candles, watches and even pillows themed on Chinese writer and poet Lu Xun and Shakespeare. She will also work on Douban's 2022 calendar. For someone who used to edit Chinese books, the work might seem very different, but not to Yang.
Together with her friend Yi Jie, 38, Yang has been producing and marketing book jackets since 2011.They also make pencil and Kindle cases. Her friend Yi paints. Yang, being good at photography, markets the products on Taobao.
In 2010, Yang, then a student of Chinese language at the Northwest Normal University in Lanzhou, capital of Gansu province, shared an apartment with Yi who, after graduating in screenwriting from the Central Academy of Drama in Beijing, wrote scripts for some organizations.
The two joined an art festival for which they bought 100 tiles and painted 70 of them, with Yi painting the bulk. They managed to sell all but 7 to 8 tiles for 50 yuan ($7.65) each. The following year, they carried lighter and handmade book jackets to the festival and were surprised to find so many takers for their book covers, which can shield books from oil and dirt. "Also, there are subway passengers who don't want others to know what they are reading," says Yang.
The art fair took place on June 6 and 7 and by June 9, 2011, their brand, EchoKid, was born on Taobao, which wasn't an app yet.
In the beginning they made covers for standard book sizes. Later on, "if there was a specific theme, the design was tweaked likewise", says Yi.
Asked if she made book covers at Guomai, which she joined in 2018, Yang says: "Handmade and real book covers are a world apart. I went to Guomai to learn how to be a book editor. I'm not a book designer, but I can cooperate with one."
EchoKid hasn't tied up with any publishing house, but recently Thinkingdom Media Group approached them to make handmade covers for poet Yu Xiuhua's work Wo Men Ai Guo You Wang Ji (We Loved and We Forgot). Echo-Kid made 700 covers.
While Yang has now moved to Douban, Yi joined as art director at Gansu Wisdom Cultural Tourism Co in 2019. So has the book jacket work suffered? "I look after fabric and design, our tailors do the rest," says Yi. Being in different cities, they correspond over WeChat while choosing fabric. "We work on the computer, while our tailors do the laborious handwork," says Yang.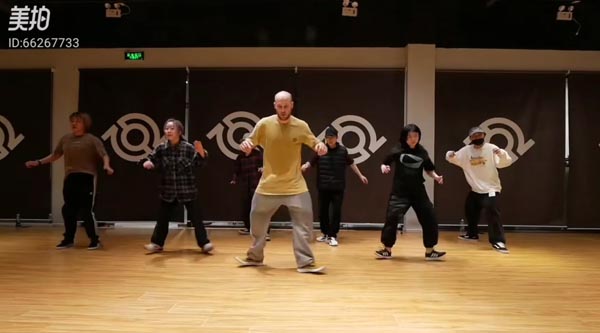 Five in one
If two is company and three a crowd, then ask 28-year-old Grabar Vladimir. The Russian is project manager with Red Dolphin, a China-Russia business consultancy firm; freelances for Kazakh and Russian news channels as a cameraman; teaches house dancing, a freestyle street dance, at his Pure Soul Studio in Huagong; teaches Zumba at Smile Gym, where he is a fitness instructor; and teaches hip-hop to kids at the Diplomatic Residence Compound in Liangmaqiao.
The resident of Irkutsk in Siberia arrived in Shenyang, capital of Liaoning province, in 2011, after graduating in commerce, to complete his economics and trade and translation (in Russian and Chinese) course. Within a week, he joined a dance center to pick up Chinese dance moves and also learn the Chinese language. He had learned street dance, which includes hip-hop and house dance, in high school. By 2012, he was teaching street dance in Shenyang.
He moved to Beijing in 2016, to work for Pacific Express International Co, facilitating trade between China and Russia. He helped sell Russian ice cream in China for two years, while teaching street dance and learning Zumba.
In 2019, he joined Red Dolphin as a project manager. The firm facilitates the sale of Russian products in China, provides visa consultancy and helps with translation work for deals, apart from accompanying potential businessmen to exhibitions as guides.
Before arriving in China, Vladimir had learned video recording from his friends in Russia who made wedding videos and also learned photography from an online portal. He'd shoot promotional videos for wannabe models sometimes and when a friend, a reporter with a Kazakh television channel, asked him to fill in for him during the novel coronavirus epidemic this year, Vladimir began making news clips for the Kazakh television channel and then for a Russian television channel.
Vladimir goes to the Red Dolphin office around 9:30 am on Monday. After 7 pm he teaches Zumba to around 20 students at Smile Gym.
On Tuesday, he teaches Zumba before work and practices with his team afterward. On Wednesdays he works and then teaches Zumba for an hour. On Thursdays he teaches hip-hop to kids after work. On Fridays, it is Zumba followed by office. On Saturdays, he trains in the morning, teaches hip-hop in the afternoon and Zumba in the evening. On Sundays, he teaches house dance in the afternoon.
He also takes time out for his freelance work, making 15 to 17 videos every month for the TV channels.
He likes photography and dancing the most. "If I enter a dance contest and lose, I draw solace by recording the others' performances."
Experts have wondered if the gig economy can address unemployment problems, but some things transcend money. What Zhang earns by singing in Sanlitun isn't big. People pay what they like. So how about singing for a live band? "My guitar can't connect to an amplifier," she says. "I'll just play and let it go."
Yang and Yi have not given much time to EchoKid in recent years, but they are happy being the first to make handmade book covers.
Vladimir says the trade work "is not very interesting". He derives energy and happiness from dance and photography and is hopeful of "making some good money" too.
Contact the writer at tareq@chinadaily.com.cn