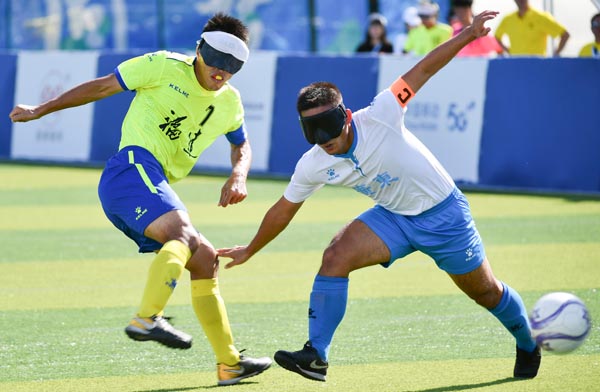 NANJING-On a damp and cold day in eastern China, Chen Shanyong wears a blindfold and surges forward on a soccer pitch, making a powerful volley after perfectly dribbling the ball into the box.
For the 32-year-old Chen, taking a shot in the dark is like a walk in the park, as the star player of Jiangsu province's blind soccer team has been in "touch" with the sport for over 15 years.
Blind soccer is a five-a-side game with four outfield players who are visually impaired and a goalkeeper. It is played on a downsized rectangular field surrounded by rebound panels, where the players wear eyeshades to ensure the competition is on equal terms.
China has the largest number of blind people in the world, with the number exceeding 17 million, and most of them are trained and employed in massage parlors.
"Soccer has brought us another world, where we can chase our dreams," says Chen, who is completely blind and has been since birth.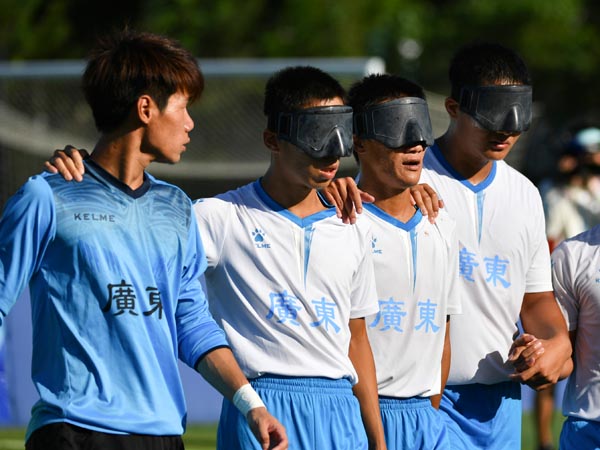 Chasing light
Chen lived his childhood in the Nantong Special Education Center, a school designed for disabled teenagers in the city of Nantong, and he was often found, sitting alone, near the playground.
"Some sighted kids loved playing soccer, using plastic bags to wrap the ball so it rattled when it moved and I joined them out of curiosity," Chen says. "Soccer then became my biggest joy in life."
In 2005, China began to introduce blind soccer nationwide and Jiangsu set up its first blind soccer team in Nantong that year. Chen, diligent and skillful, was successfully enrolled in the first batch of players of the team.
"We can only hear, touch and rely on our coach in training," he says, adding that they would learn a move by dividing it into several parts. "The act of shooting, for instance, can take a blind player 10 days or even half a month to master."
Chen and his teammates also practice distinguishing sounds, as the ball contains loose ball-bearings so that blind players can hear where it is, and they need to shout before attempting to make a tackle.
The chances of a blind player getting injured are much higher. Chen has broken his nose three times, lost a tooth and has suffered rib and ankle fractures.
"I didn't regret it. It's all about love and passion, and I didn't feel any pain," Chen says.
With great enthusiasm and hard work, the Jiangsu blind soccer team won the national blind soccer championship in its first year and successfully defended their crown the following season. Chen, a forward, scored 15 goals personally, nearly half of the team's total over the two tournaments.
Chen was elevated into the Chinese national blind soccer team in 2007 and helped them obtain the silver medal in the 2008 Beijing Paralympic Games.
Their vision
Chen hesitated to join the national squad in 2007 when he graduated from school, as he was caught between the unknown future of playing soccer and being a masseur to earn a living.
"Don't think too much when you are young. Set your mind on what you love and go for it. Don't give up without trying," Chen says, recalling the wise words of advice his mother offered, which gave him strength to take up the challenge.
Because of blind soccer, Chen has had an opportunity to travel outside of Nantong and Jiangsu, and to go abroad by plane for the first time, making friends from all over the world.
"If I don't play soccer, I would probably just stay in my hometown for my whole life, and get fat," he says with a grin, adding that, thanks to the sport, he can travel and enjoy greater opportunities in his life.
"The lives of the blind should not be limited, and the soccer team gives us a stage upon which to show our abilities," says Chen Shanyong's Jiangsu teammate, Chen Kaihua, a 26-year-old forward who had both eyes removed due to an illness.
Chen Kaihua owns a massage shop in Nantong, but he often suspends his massage business for several months for team training if they are scheduled to play a game, giving up all his regular customers.
"Being part of the team gives us added self-worth and an escape from the routines in the massage trade," Chen Kaihua says.
"Soccer is our vision and it shows us the beauty of the world," he adds.