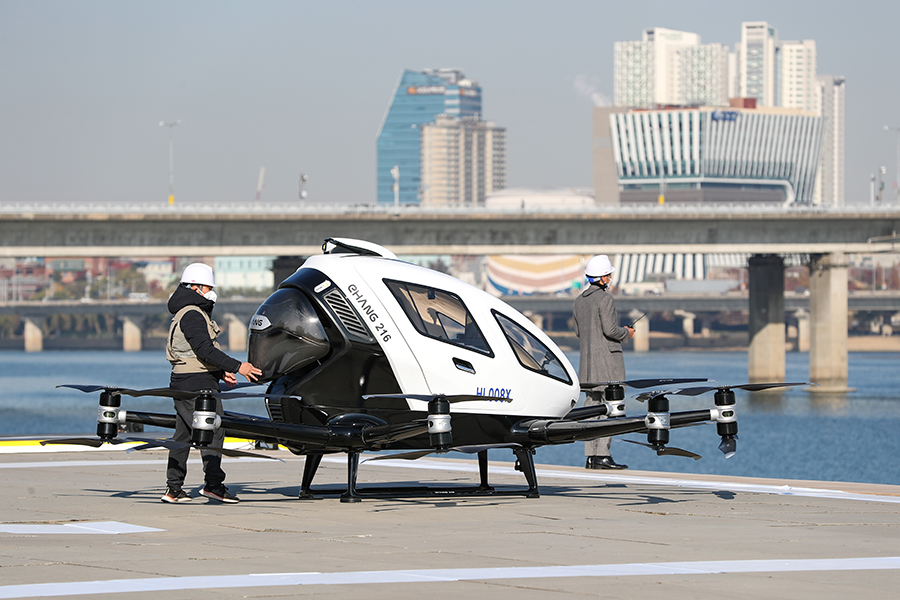 EHang's ultra-modern drones promise to make urban transport comfortable, efficient
Guangzhou, Guangdong province-based EHang Holdings Limited, a manufacturer of autonomous aerial vehicles, or AAVs that are basically specialist drones with niche applications, is expanding in the global urban air mobility industry.
EHang also provides commercial solutions in the form of air mobility, including passenger transportation and logistics, smart city management and aerial media solutions.
Its two-seater autonomous "air taxis" will be used soon in commercial operations in some countries.
The company has recently completed maiden flights of its two-seater passenger-grade AAV, the EHang 216, in three locations (South Korea's Seoul, Daegu, and Jeju Island).
As part of the trials, EHang also introduced urban air mobility or UAM solutions to South Korea, covering passenger transportation, emergency medical services and aerial sightseeing.
In Seoul, the EHang 216 took off from Yeouido Island's downtown area for an autonomous flight over a densely populated area.
The second flight was in Daegu to deliver a package containing a fire emergency kit, a cardiac pacemaker and other emergency rescue equipment.
The last flight was in Jeju Island, where the drone flew over the coastline to demonstrate the real-use case of aerial sightseeing.
The three flights were completed after EHang received the first special airworthiness certificate, or the SAC, issued for a passenger-grade AAV by South Korean authorities.
The company said the successful completion of the flights may lead to opportunities for future cooperation between EHang and its South Korean partners in potential UAM operations. It will also work with its partners in potential smart city transformations with its AAV technologies.
"We are excited to be the world's first company to provide safe, comfortable, efficient and eco-friendly urban mobility solutions to South Korea, and expect to accelerate UAM development and to expand in the market in the near future," said Hu Huazhi, founder, chairman and CEO of EHang.
Seo Jeong-hyup, the acting mayor of Seoul, said: "The air taxi is a dream of mankind for the future transportation. Urban air mobility services are drawing keen attention as an option to alleviate ground traffic congestions with a huge potential for growth."
In March, EHang announced that it obtained operational flight permit for its EHang 216 from the Civil Aviation Authority of Norway. This is the first operational flight permit for long-term test flights of an AAV model in Europe, laying a solid foundation for future UAM operations in other European Union countries.
The autonomous passenger aircraft of the future can contribute to more efficient transport, particularly in urban areas, and the electric models are a great contribution to the green shift, said Bente Heggedal, head of the section for unmanned aviation of CAA Norway.
"We look forward to EHang demonstrating a well-proven and secure system, so that passenger AAVs can be a safe alternative for passenger transport."
At present, the Norwegian offshore drilling platforms are still using helicopters for various transportation tasks like moving personnel, spare parts, supplies, and oil and gas samples, which are resulting in high costs of fuel and labor.
With key features of safety, automation, vertical takeoff and landing, big payload, centralized management, efficiency, and low cost, the EHang's AAV solution is expected to play a significant role in various tasks, like frequent and point-to-point oil and gas samples delivery, maintenance and inspection, wind power plant servicing, and transportation of radioactive materials.
"In the new wave of the development of the oil industry in Norway, EHang expects to empower the O&G(oil and gas) industry with our AAV technologies to reduce costs and increase efficiencies, and promote the use of green energy", Hu of EHang said.
Moreover, EHang has established a strategic partnership with Lliria, a medium-sized city to the north of the Valencia region in Spain. The city will be EHang's fourth urban air mobility pilot location globally, following Seville in Spain, Linz in Austria and Guangzhou in China.
It will collaborate with the Lliria City Council to develop a 3D air mobility solution for smart cities and launch a pilot operation program of passenger-grade AAVs designed to explore different application scenarios, including tourism.
In addition, the partners will work together with the Spanish Aviation Safety and Security Agency to establish relevant systems and standards to support this new transportation ecosystem.
They will also co-develop a modernized and integrated AAV command-and-control platform in Lliria for low-altitude airspace and air traffic management, which will integrate the government demands for AAVs in smart city management.
EHang intends to improve logistics delivery efficiency through deploying AAVs and leveraging Lliria's geographic advantages of its proximity to Valencia, one of the important ports in Europe, and its location surrounded by sea, islands and mountains.
"The passenger-carrying drone, which is equipped with very advanced technology, is a new area and will boost technological innovation and development for the whole industry," said Pan Xuefei, a senior analyst at IDC, a market research firm.
But because of the high safety and reliability standards that must be met, such drones will still be subject to strict trials before large-scale commercial operations can start, Pan said.
In January, EHang conducted the first-ever trial flight of the EHang 216 in the United States. The event marked the first flight approval from the US Federal Aviation Administration.
Hu noted that pilotless air taxis have the power to transform everyday life in urban areas since they can reduce pollution, expedite emergency services, and save individuals and businesses time and money through shorter travel times.
The company first unveiled the passenger-grade AAVs at the Consumer Electronics Show in Las Vegas in 2016. The 184 model, which is the world's first AAV, can fly for up to 30 minutes at a maximum cruising speed of 160 kilometers per hour and has an average cruise speed of 100 km/h.